Column: Latest International Swimming Hall of Fame Class Celebrates Greatness; 13 Honorees Inducted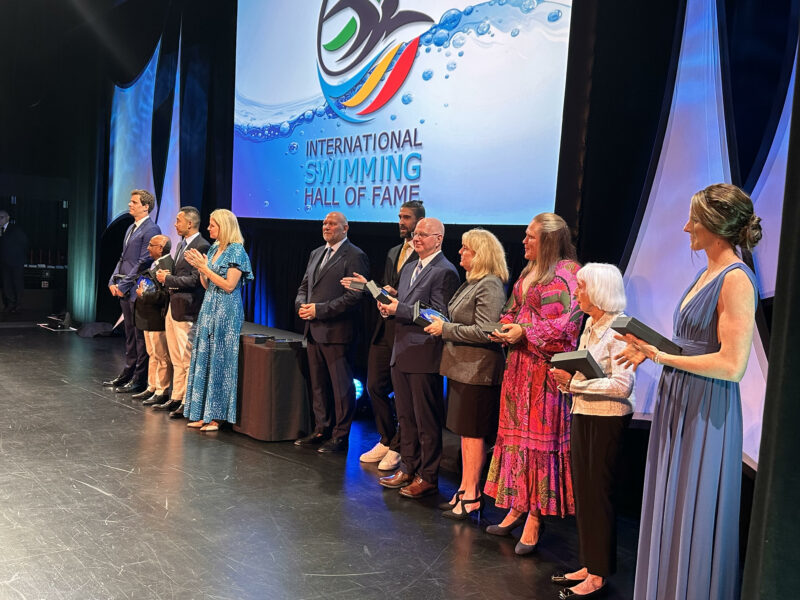 ---
by JOHN LOHN – EDITOR-IN-CHIEF
30 September 2023, 06:33pm
Latest International Swimming Hall of Fame Class Celebrates Greatness
There was always going to be something special about the first class of the International Swimming Hall of Fame. The year was 1965, and like any initial induction, the athletes enshrined accounted for a Who's-Who of the sport. Just a few: Johnny Weissmuller. Dawn Fraser. Duke Kahanamoku. Robert Kiphuth. Gertrude Ederle.
In the five-plus decades since, ISHOF has continued to celebrate the greats of aquatic sports. The yearly induction ceremony in Fort Lauderdale is a special event, one which honors individual excellence, but also recognizes history and offers inspiration for the future. Really, that combination is the essence of all Halls of Fame.
On Saturday night, ISHOF's latest class – its 58th – was feted at the Parker Playhouse. Those in attendance applauded vociferously and rose to their feet for several standing ovations. For the first time, the event was broadcast by ESPN+, enabling fans, family, and friends to witness the event from around the world.
By definition, any Hall of Fame class is grand. It's a pinnacle accomplishment in a career, and enshrinement isn't doled out like a pizza-shop coupon. ISHOF conducts an exhaustive, year-round process is utilized to select each year's honorees. Eventually, that year's group of legends is revealed, and they are brought to Southern Florida to receive their due – and place in aquatics history.
As it should be, there is something special about this 2023 class. The career accolades of the 13 individuals recognized would stand strong against any other year. The five swimmers totaled 51 career Olympic medals. But the class, too, has range – athletes from the artistic, Paralympic, diving, governance and water polo worlds all having reached spectacular heights. Arguments can be made that Trischa Zorn (Paralympics) and Natalia Ishchenko (artistic swimming) are the best in history from their respective domains.
Here is a look at the full class of inductees:
Bob Bowman (USA) / Honor Coach
Chris Carver (USA) / Honor Coach
Cesar Cielo (BRA) / Honor Swimmer
Kirsty Coventry (ZIM) / Honor Swimmer
Missy Franklin (USA) / Honor Swimmer
Natalia Ischenko (RUS) / Honor Synchronized Swimmer
Kosuke Kitajima (JPN) / Honor Swimmer
Heather Petri (USA) / Honor Water Polo Player
Michael Phelps (USA) / Honor Swimmer
Wu Minxia (CHN) / Honor Diver
Sam Ramsamy (RSA) / Honor Contributor
Stéphane Lecat (FRA) / Honor Open Water Swimmer
Trischa Zorn (USA) / Honor Paralympic Swimmer
In Michael Phelps, there is no debate concerning his status as the greatest swimmer his sport has seen. He was a modern-day Moses, moving water like no other. It equated to 28 Olympic medals, 23 of the gold variety. During a career that spanned 2000-2016, Phelps was the undisputed face of the sport. He proved anything was achievable, such as claiming eight gold medals in a single Olympiad, and he served as an inspiration for youngsters dreaming of their own success in the pool.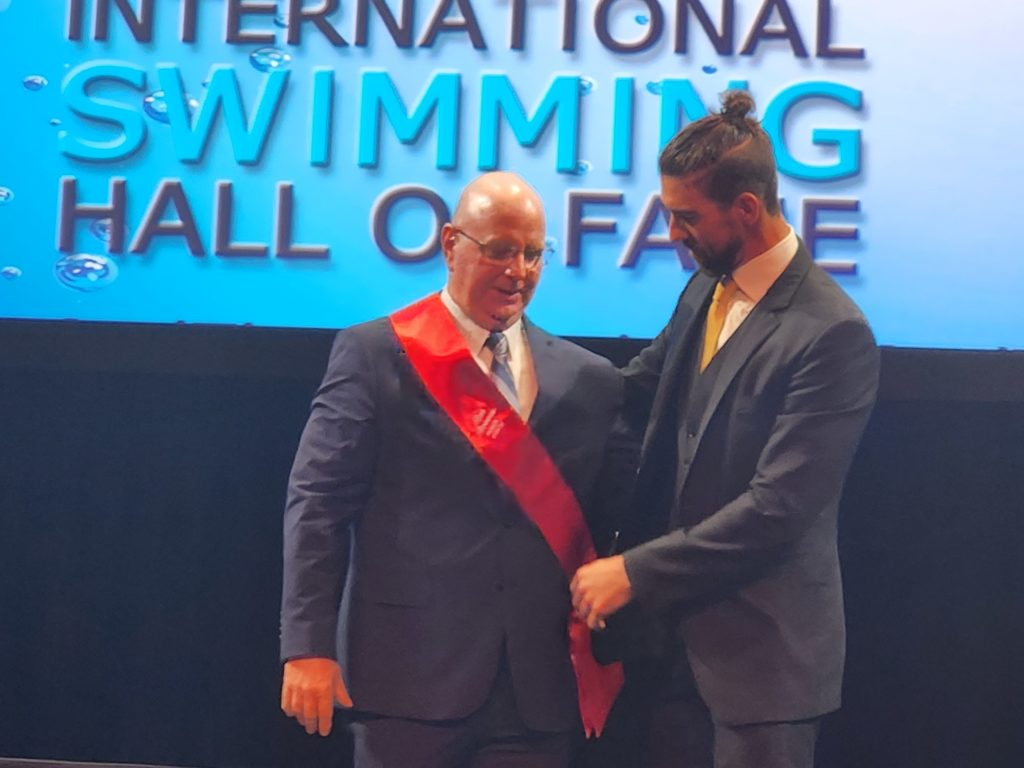 The fact that Phelps was inducted on a night when his longtime coach, Bob Bowman, also earned enshrinement was only appropriate. It was Bowman who was willing to tell an 11-year-old's parents that he had the potential for greatness. He then followed that claim by molding Phelps' career in deliberate and careful fashion.
As she delivered her acceptance speech, six-time Olympic medalist Missy Franklin wore her trademark smile. Franklin will long be remembered for her backstroke and freestyle prowess, her double-gold in the backstroke events at the 2012 Olympics an iconic sweep. Yet, she will also be recalled for what she brought to the sport from a personality standpoint. Franklin's bubbly, full-of-life demeanor showed that you don't have to be a robot, or free of verve, to excel. She showed you can also reach the top of the sport with pure joy, and while connecting with a fanbase – something she continues to do today.
Photo Courtesy: John Lohn
Meanwhile, Kirsty Coventry was honored following a career that yielded seven Olympic medals. Who would have thought such a run could be made by an athlete born in Zimbabwe, not exactly a hot bed for swimming. But Coventry found a way, and provided proof that success can come from any locale, as long as belief and hard work click in unison.
The night of Saturday, September 30 is now part of swimming's history. There are 13 new members of the International Swimming Hall of Fame. Their stories will resonate in perpetuity, and soon have a place in the new ISHOF museum. Just like that inaugural class from 1965, these athletes will continue to have an impact on the aquatics' world.
The past, present, and future have again been celebrated, and will forever be intertwined. It's what a Hall of Fame is all about.