The International Swimming Hall of Fame announces the 2021 Paragon Award Recipients, Presented by Pentair Aquatic Systems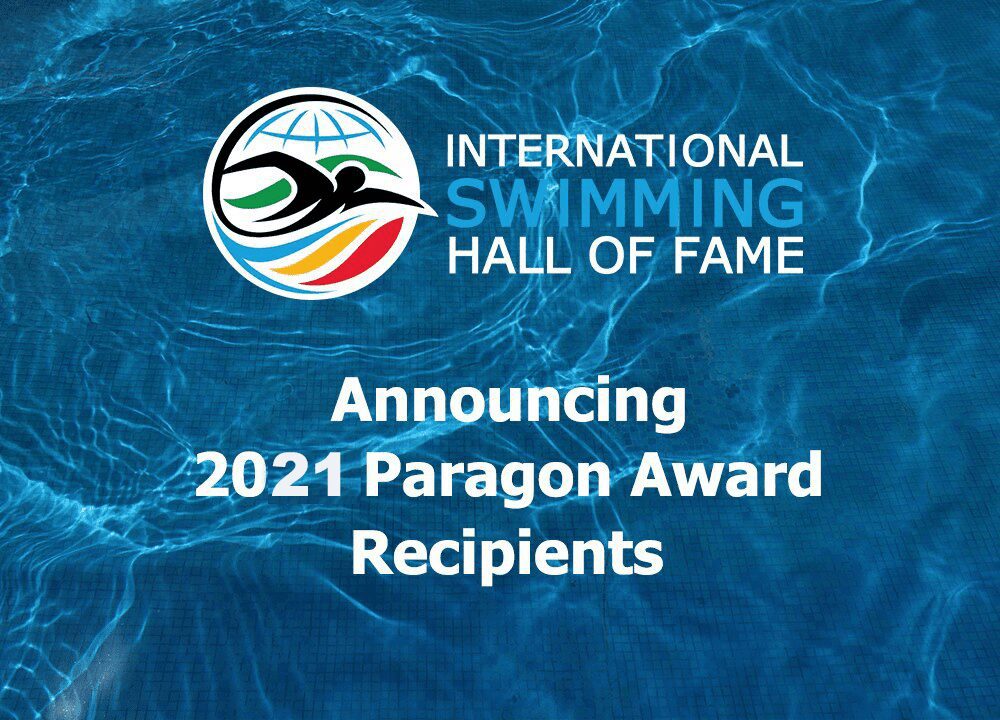 ---

The International Swimming Hall of Fame (ISHOF) announced the recipients of the 25th Annual Paragon Awards, sponsored by Pentair Aquatic Systems. The Paragon Awards are presented annually to individuals or organizations for outstanding contributions to aquatics in six categories. This year's recipients are Teri McKeever for Competitive Swimming; Lynn Comer Kachmarik for Water Polo, Dave Burgering for Competitive Diving; Linda Quan, M.D. for Aquatic Safety; Betty Hazle for Synchronized Swimming and Florence Werner for Recreational Swimming. This year's awards has been moved to Friday evening October 8, 2021 due to Covid in ceremonies during the International Swimming Hall of Fame Honoree Induction weekend, in Fort Lauderdale, Florida, USA.
"For more than 20 years now, Pentair has been honored to be associated with the International Swimming Hall of Fame in recognizing leaders in the aquatic industry who play a prominent role in the promotion of aquatics with the Paragon Awards", said Jim Drozdowski, Institutional Aquatics Sales Manager for Pentair Aquatic Systems.
"The annual Paragon Awards is a spectacular event that celebrates the unsung heroes who make competitive and recreational aquatics possible. These are the people who save lives, promote water safety and further aquatic education around the world. We are so proud to recognize these important people at the International Swimming Hall of Fame through the sponsorship of Pentair every year," said ISHOF President/CEO Brent Rutemiller.
About This Year's Paragon Award Recipients:
Competitive Diving
Dave Burgering competed on the U.S.A. Diving National Team from 1977-1984 and was he a member of the 1980 USA Olympic Team that boycotted the Moscow Olympic Games Burgering became the head diving coach of Swimming Hall of Fame at the Hall of Fame Pool, where he currently coaches. He has coached over 169 Junior National finalists, which include 30 gold medalists at the Junior National level and 11 Senior National gold medalists. He is the past President of USA Diving, was the 2008 U.S. Olympic Diving Coach, and has been a member of the USA Diving Coaching staff for numerous other events, including Grand Prix events, World Series and Junior Pan-Am Games.
Artisitc (Synchronized) Swimming
Betty Hazle has been on the U.S. Synchronized Swimming's International Relations committee for the past 20+ years. She oversees the exchange programs through clubs with other nations with a mutual understanding of athletes learning fellowship, culture and sport. Hazle is a FINA A judge, she is on the UANA Technical committee and will be a judge representing the United States, in the upcoming 2020 Tokyo Olympic Games.
Water Polo
Lynn Comer Kachmarik is the founder and CEO of True Brand Sports LLC, and Vice President of Equilibria in Sports. She has 47 years of leadership and coaching experience at all sport levels. She was a twelve-time All-American water polo player and swimmer at Slippery Rock University. She was a 10-year member of the United States National Water Polo team, and then served on their Executive Committee. Throughout an 18-year career at Bucknell University, she held various coaching positions, including serving two decades as the head coach for the Men's and Women's Water Polo and Swim teams. Kachmarik has been inducted into six athletic Halls of Fame, including the United States Water Polo Hall of Fame, Bucknell University Athletic Hall of Fame, and the Collegiate Water Polo Coach Hall of Fame
Competitive Swimming
Teri McKeever was in her 28th season overseeing the University of California women's swimming & diving program in 2019-20. She has guided the Golden Bears to four NCAA and four Pac-12 team championships. She was the 2012 U.S. Olympic Team Head Coach and has been a two-time U.S. Olympic Team Assistant Coach. McKeever has coached 26 swimmers who have won 36 Olympic medals, 64 swimmers and divers who have been named CSCAA All-American Scholars and has coached 133 swimmers and divers who have been named to the Pac-12 All-American Academic Team. She has been inducted into the American Swimming Coaches Hall of Fame and the Cal Athletic Hall of Fame.
Recreational Swimming
Florence Werner was an active American Red Cross Instructor for over 50 years. For Werner, swimming was her life. And although she is retired, she continues to offer guidance to swimmers and instructors alike. Her career began in 1961 at the Curtis Pool, a City of Miami Pool, just a few blocks from downtown Miami, which was once located along the Miami River. She was recognized for her 50 years of service and teaching by the American Red Cross, but what really mattered to Werner was teaching people to swim, young and old and making them safe.
Water Safety
Linda Quan is a Pediatric Emergency Medicine Physician at the Seattle Children's Hospital and Regional Medical Center and a professor at the University of Washington's Department of Pediatrics (Center for Child Health, Behavior and Development). Dr. Quan has been involved in drowning research and guidelines for many years on a national and international level. Dr. Quan and her longtime collaborator, Elizabeth Bennett's research helped define the problem that in King's County, teens 15-19 were at greater risk of drowning than any other age group besides preschoolers, and that drowning in lakes and rivers posed the greatest risk to teens.
The Paragon Awards are part of ISHOF's 56th Annual International Swimming Hall of Fame and Masters Honoree Induction Weekend, October 8-9, 2021. For ticket information visit www.ishof.org or call 570 594-4367. For more information about the Paragon Awards, https://ishof.org/paragon-awards.html
About Pentair Aquatic Systems: Pentair Aquatic Systems is a world-wide leader in the manufacture of residential and commercial swimming pool equipment including PARAGON™ Competitive Starting Platforms, which have been the leader in innovation, design and quality for over 50 years. Pentair is a proud sponsor of the ISHOF "Paragon Awards" since 1996. For more information about the Paragon Awards, see: https://ishof.org/paragon-awards.html
About ISHOF
The International Swimming Hall of Fame (ISHOF) museum opened its doors to the public in December of 1968 in Fort Lauderdale, Florida. That same year, the Fédération Internationale de Natation (FINA) – the governing body for Olympic aquatic sports – designated the ISHOF museum as the "Official Repository for Aquatic History". In 2018, Sports Publications Inc, publisher of Swimming World Magazine and its multi-media platforms, merged with ISHOF to expand the museum's reach and impact. Today, ISHOF's vision is to be the global focal point for recording and sharing the history of aquatics, promoting swimming as an essential life-skill, and developing educational programs and events related to water sports. Show your support for the sport of swimming by becoming a member of ISHOF.
About the International Swimming Hall of Fame Induction Weekend

:

The International Swimming Hall of Fame (ISHOF) Induction Ceremony is shaping up to be a star-studded weekend with ISHOF Honoree and Sullivan Award Winner, Debbie Meyer, and double Olympic gold-medalist and everyone's favorite Olympic swimming broadcaster, Rowdy Gaines acting as co-emcees and hosts of the induction with multiple events spread out over two days in beautiful Fort Lauderdale, Florida.

Make your plans now to attend the weekend of October 8-9, 2021! ISHOF Members can purchase the Complete Weekend Package (see below) and save! (Get info on membership here.) Can't attend the event? Donate to ISHOF to support our honorees.

This year's International Swimming Hall of Fame Honorees include:

HONOR SWIMMERS: Brendan Hansen (USA), Michael Klim (AUS), Jon Sieben (AUS), Rebecca Soni (USA), and Daichi Suzuki (JPN)

HONOR DIVER: Matthew Mitcham (AUS)

HONOR SYNCHRONIZED (ARTISTIC) SWIMMER: Elvira Khasyanova (RUS)

HONOR WATER POLO: Mirko Vičević (YUG/MON)

HONOR OPEN WATER SWIMMER: Marilyn Bell (CAN)

HONOR COACH: Ursula Carlile (AUS) and David Marsh (USA)

HONOR CONTRIBUTOR: Bob Duenkel*(USA) and Peter Hürzeler (SUI)

*deceased

The Induction Weekend Schedule

Friday, October 8, 2021

Paragon & ISHOF Awards Night
5:30 pm Cocktails
6:30 pm ISHOF and Paragon Awards
Saturday, October 9, 2021
ISHOF & Masters (MISHOF) Honoree Induction Day Luncheon – Join Rowdy Gaines and go on a behind the scenes tour of the Aquatic Complex construction
Official 56th Annual International Swimming Hall of Fame ISHOF & Masters (MISHOF) Induction Ceremony and Dinner
5:30 pm VIP Reception
6:30 –10:00 pm Induction Ceremony & Dinner
Ticket Information
October 8-9th Complete Weekend Package

(Includes Paragon/ISHOF Awards Night, Saturday Luncheon, and Induction Ceremony-ISHOF and MISHOF-Masters)
ISHOF Non-Members $425 BEST PRICE!!
October 8th Paragon Awards and ISHOF Awards Night

(Hors D'oeuvres and Open Bar) 5:30 pm
October 9th Saturday Luncheon

12:00-1:30 pm
October 9th Induction Ceremony and Dinner

5:30 pm
10 Person Table $3,500 and $5,000 (Prime location) options
HOTEL INFORMATION
Host Hotel: Fort Lauderdale Marriott Harbor Beach Resort & Spa
Upscale retreat with private beach access, two pools, four restaurants, full service spa and oceanside bar. Location of the Saturday evening induction ceremony. ¼ mile south of the International Swimming Hall of Fame.
3030 Holiday Drive, Ft. Lauderdale, FL 33316 (954) 525-4000
Special ISHOF Guest Rate of $259 per night
Book your group rate for International Swimming Hall of Fame
NOTE: RESORT FEE IS INCLUDED in the $259 rate
Courtyard by Marriott Fort Lauderdale Beach
440 Seabreeze Blvd., Ft. Lauderdale, FL 33316 (954) 524-8733
Special ISHOF Guest Rate of $169 per night
Honoree Ceremony October 9, 2021
Start Date: Wednesday, October 7, 2021
End Date: Tuesday, October 12, 2021
Last Day to Book: Friday, September 15, 2021
Book your group rate for Honoree Ceremony October 2021
Questions: contact Meg Keller-Marvin at meg@ishof.org or 570-594-4367