Sun Yang Awarded Gold Medal in 200 Free after Danas Rapsys Wins but is Disqualified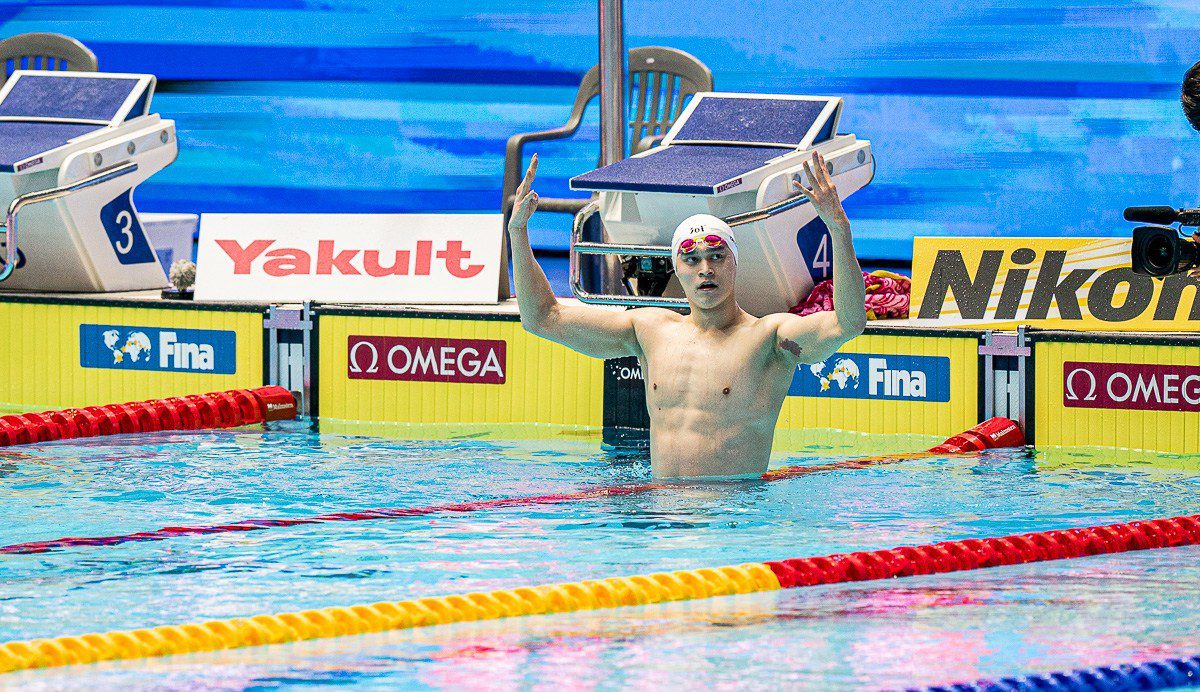 ---
23 July 2019, 04:11am
FINA World Swimming Championships
Gwangju 2019
Sun Yang won the 200 Free Final despite not touching first.
Photo courtesy: Becca Wyant
Day Three Finals (Men's 200 Free)
In a severe turn of events in the pool on Tuesday night at the 2019 FINA World Swimming Championships in Gwangju, China's Sun Yang won the 200 free final with a 1:44.93. Lithuania's Danas Rapsys, who originally touched first at 1:44.69 was disqualified for a false start. The DQ became official immediately after the race for movement on the blocks.
The large contingent of fans from China on the lane 8 side of the pool screamed and shouted in delight when the official results were flashed on the scoreboard, with the rest of the pool jeering and booing the outcome.
Sun has been the talk of the venue in Gwangju this week after his controversial past with doping. The controversy came to a forefront when Australia's Mack Horton lodged a silent protest in the medal ceremony of the 400 free on Sunday night, much to the delight of majority of the athletes competing.
Had Rapsys' win counted, it would have been the first medal of his career at the World Championships. He would have moved up to eighth all-time.
This is Sun's third straight medal in this event at the World Championships and he also defends his gold from 2017. He Joins the likes of Michael Phelps (2005, 2007), Ian Thorpe (2001, 2003), Michael Gross (1982, 1986) as repeat winners at Worlds. He also joins Thorpe as winners of the 200 & 400 free in back to back World Championships.
"My victory was because of my hard work," Sun said after the race. "I continued to keep fighting, I didn't give up when I was in second place."
"I was the only one to enter the 800 this morning, so I was very tired. I just slept for an hour and a half this afternoon."
The silver medal went to Japan's Katsuhiro Matsumoto at 1:45.22. It was his first individual medal in his career and the first one for Japan at the World Championships. Russia's Martin Malyutin and Great Britian's Duncan Scott each picked up the bronze medal at 1:45.63. It is the first medal for either swimmer at the World Championships in an individual event.
"I guess I've sort of got to celebrate off someone else's misfortune," Scott said after the race. "I'd liked to have done it outright but it's my first ever individual worlds medal so I have got to be happy with that and try and move things on in the rest of the week because I've still got more events to come."

"To be perfectly honest I've definitely got more in there time wise. I have done a lot of 1:45s and I've swum them a lot of different ways as well. Learning but then I'm just disappointed I wasn't able to go in there and get a best time. It's two years now and I've not really moved it on timewise. It's good that I am now consistent and I have been consistently dropping 1:45s at major meets which is good but it's now trying to move that on as well."
Early leader Clyde Lewis of Australia finished in sixth at 1:45.78. He was leading the race through 150 meters but fell off big time on the final. He had a meteoric rise last night in the semifinals, swimming a huge best of 1:44.90 last night to move him up to 10th all-time.
1
SUN
Yang

CHN

1:44.93
2
MATSUMOTO
Katsuhiro

JPN

1:45.22
3
MALYUTIN
Martin

RUS

1:45.63
3
SCOTT
Duncan

GBR

1:45.63
5
MEGLI
Filippo

ITA

1:45.67
6
LEWIS
Clyde

AUS

1:45.78
7
KOZMA
Dominik

HUN

1:45.90
RAPSYS
Danas

LTU

DSQ
More controversy came about during the medal ceremony when Scott refused to take a photo with the medalists, shaking hands with Malyutin and Matsumoto, but refusing to make eye contact with Sun. Scott then took a photo with his medal alone but not with the other three medalists. He walked off after the ceremony was over and waved at the crowd.