ROCKY, YODA, GRETZKY…MOTIVATIONAL QUOTES THAT INSPIRE THE NY BREAKERS; PERSONALIZED APPAREL NOW AVAILABLE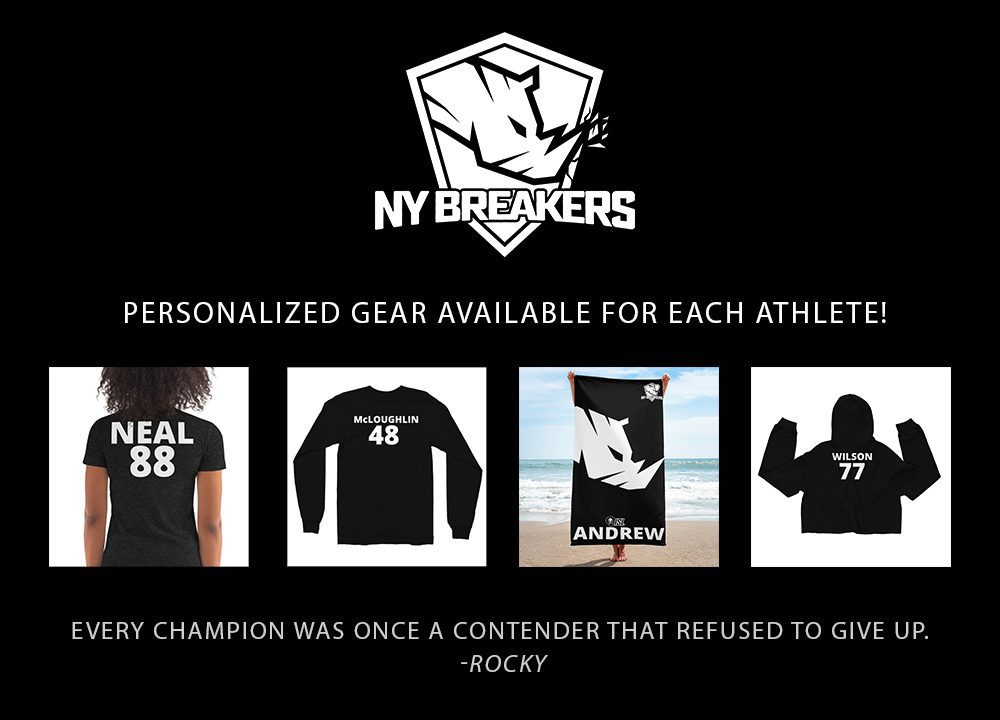 ---
10 October 2019, 04:22am
Even the most talented and successful athletes need a boost of motivation once in a while to help push through the tough days of training that leave one depleted mentally and physically. The athletes on the New York Breakers reveal the motivational quotes that give them that inspiration to push forward, reach for the next level, and leave everything they have in the pool. (And then wake up and do it all over again the next day!)
Michael Andrew: Do or do not, there is no try. -Yoda
Haley Black: Always keep believing.
Pernille Blume: I don't like to gamble, but if there's one thing I'm willing to bet on, it's myself.
Marcelo Chierighini: What we do in life echoes in eternity.
Mack Darragh: Train insane or remain the same.
Joao De Lucca: I can and I will.
Ali DeLoof: Good things come to those who wait.
Catie DeLoof: Fate whispers to the warrior "You cannot withstand the storm." The warrior whispers back "I am the storm."
Gabby DeLoof: Never give up on a dream just because of the time it will take to accomplish it. The time will pass anyway. -Earl Nightingale
Emily Escobido: You miss 100% of the shots you don't take. -Wayne Gretzky
Reva Foos: Hard work beats talent.
Jonathan Gomez: The difficult takes a little bit of time, the impossible just a little bit longer. -Jeff Olson
Marco Koch: Don't stop when you're tired, stop when you're finished.
Marius Kusch: We did not just come here to take part, we came here to take over. -Conor McGregor
Breeja Larson: This pain is not your curse, this pain is your privilege. -Arnold Schwarzenegger
Clyde Lewis: Overthinking, over analyzing, separates the body from the mind; Withering my intuition, missing opportunities and I must feed my will to feel my moment. -Maynard James Keenan
Justin Lynch: Be the best version of yourself in anything you do.You don't have to live anybody else's story.
Jack McLoughlin: If something is worth doing its worth overdoing.
Lia Neal: Everything happens for a reason.
Emily Overholt: The greatest achievement was at first and for a time a dream.
Jacob Pebley: There is only one thing that makes a dream impossible to achieve: The fear of failure. -The Alchemist
Tomas Peribonio: There is no pressure when you are making a dream come true. -Neymar
Christopher Reid: Yesterday is history, tomorrow is a mystery, and today is a gift… that's why they call it present. -Master Oogway
Pedro Spajari: Fight always, win sometimes and never give up.
Brad Tandy: Be great, have fun.
Grigory Tarasevich: Ain't no rest for the wicked. -Quote popularized by Cage the Elephant song with the same title.
Alys Thomas: Every champion was once a contender that refused to give up. -Rocky
Markus Thormeyer: Don't sit and wait for the storm to pass, but instead learn how to dance in the rain.
Madi Wilson: A champion is defined not by their wins but by how they can recover when they fall. -Serena Williams
Abbie Wood: If it was easy everyone would do it.
Personalized Gear Now Available For Each NY Breakers Athlete
Get inspired by your favorite New York Breakers swimmers through their personalized apparel collections available on www.NYBreakers.com. The apparel and home items in the collections include unique features that were hand selected by each athlete to reflect his/her personal style and inspiration.
And for a limited time, the New York Breakers will donate a portion of all merchandise sales to the International Swimming Hall of Fame (ISHOF) and Museum. ISHOF serves as the central point for the study of the history of swimming in the United States and around the world. After the limited time fundraiser with ISHOF, 50% of all proceeds for personalized gear will go directly to the athletes.
Select t-shirts, hats, towels, sweatshirts, shorts, coffee mugs, and more are available with any NY Breaker athlete's name.
New York Breakers General Manager, Tina Andrew, announced:
"We are thrilled to partner with Swimming World in this effort to raise funds. Our goal is to contribute $1k per athlete to ISHOF before the end of the season. It is only natural to support an organization that records historical moments in the sport.

"The launch of the International Swimming League (ISL) is a historical feat, and we are very proud to be a part of it. As an organization, we are huge fans of the swim community and we, personally, want to invite everyone to become a New York Breaker fan."
Since announcing its roster of decorated swimmers that will compete in the new International Swimming League (ISL) when it gets underway in Indianapolis in October with the first of six matches leading to a grand finale in Las Vegas on the cusp of Christmas, The New York Breakers now launch their athletes' stores to add value to their fans and give back to the swimming community.
ISHOF President, Brent Rutemiller, expressed his appreciation:
"In this exciting time for the sport of swimming, we are honored to work with this talented organization and group of athletes to support the International Swimming Hall of Fame. We are grateful for this partnership with the New York Breakers and the opportunity the ISL has given to athletes to continue to pursue their dreams and compete on a professional level."
The New York Breakers full roster of swimmers:
Men: Michael Andrew (USA), Marcelo Chierighini (Brazil), Mack Darragh (Canada), Jonathan Gomez (Colombia), Marco Koch (Germany), Marius Kusch (Germany), Clyde Lewis (Australia), Joao De Lucca (Brazil), Justin Lynch* (USA), Jack McLoughlin (Australia), Jacob Pebley (USA), Tomas Peribonio (Ecuador), Chris Reid (South Africa), Pedro Spajari (Brazil), Brad Tandy (South Africa), Grigory Tarasevich (Russia) and Markus Thormeyer (Canada)
Women: Haley Black (Canada), Ali DeLoof (USA), Catie DeLoof (USA), Gaby DeLoof (USA), Emily Escobedo (USA), Reva Foos (Germany), Lara Grangeon (France), Breeja Larson (USA), Lia Neal (USA), Emily Overholt (Canada), Alys Thomas (UK), Madi Wilson (Australia) and Abbie Wood (England).
*not on travel team
The Breakers will compete at the following three meets, with the opportunity for a spot at the season-ending championship in Las Vegas (December 20 – 21 up) for grabs:
Lewisville, Dallas, Texas, USA (October 18 – 19)
Budapest, Hungary (October 26 – 27)
Washington D.C. (November 15 – 17)
The NY Breakers commitment to swimming and the home of its history could hardly have come at a better moment as the the new Hall of Fame starts to take shape:
ABOUT THE NEW YORK BREAKERS in their own words: Founded in April 2019, the New York Breakers is New York's newest Professional Sports Club. With a gender equal 27-swimmer roster, the Breakers aims is to establish a winning culture by rewriting the playbook for pro swimmers.
The team's mission is to provide a highly competitive and team-oriented professional swim team where character and personhood are valued on the same scale as performance; one where athletes and coaches alike are motivated by a higher purpose than self; and one where the words 'team' and 'family' are used interchangeably.
The Breakers believe in providing financial security and building wealth for every member of the team so that we are all free to perform at our best, making it a reality to make a living in the sport we love. We believe that our values will offer future investors exciting opportunities & reasons to invest in our sport and enter into win/win partnerships.
The Breakers will compete in the new International Swimming League (ISL) which gets underway in October 2019.