Passages: Honor Masters Swimmer Burwell "Bumpy" Jones Dies at Age 87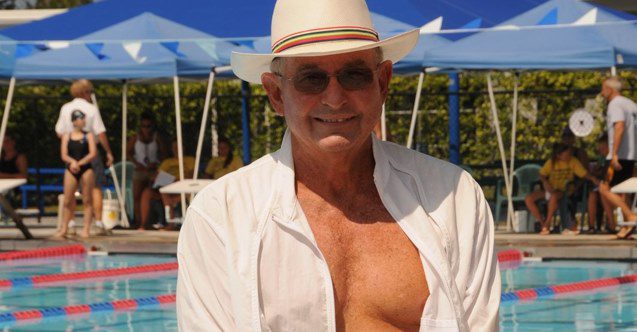 ---
11 February 2021
2005 Honor Masters Swimmer Burwell "Bumpy" Jones passed away last week February 6, 2021 at the age of 87, his family confirmed in a Facebook post. Jones was inducted into the International Masters Swimming Hall of Fame in 2005. There is a masters meet hosted in his name in Sarasota, Florida every year.
A memorial service has been scheduled for Wednesday the 17th at the national cemetery at 12:30 on Clark Road in Sarasota Florida. There will be a luncheon in Sarasota at Laurel Oak Country Club at 1:30.
At the age of five, a young Bumpy Jones started swim racing, embarking on an illustrious career that would span over 70 years, setting world records as a collegiate swimmer and again years later as a Masters swimmer.
Bumpy has taken part in many swimming firsts. He competed in the first Pan American Games in 1951 winning gold and bronze medals, was a world-record holder in the 150 individual medley and competed during the first year of Masters swimming in the United States in 1971.
Born in Detroit in 1933, Bumpy chose swimming over other sports. At age 12, he enrolled at Matt Mann's swimming camp, Chikopi, located in Ontario, Canada, where over the next several summer seasons he rose from camper to counselor. This began a lifetime coaching relationship with Matt that developed while he swam for Redford High School and continued into college at the University of Michigan. While attending Redford, he would sometimes drive from Detroit to Ann Arbor to swim with the many Michigan All Americans coached by Matt.
Bumpy Jones was a high school and college All-American and a three time NCAA champion at the University of Michigan. He was a member of the 1952 Olympic gold medal winning 4×200 meter freestyle relay swimming in the preliminary heats. He competed on U.S. teams in Bermuda, Japan, and England. He set three world records in the 400 individual medley. In 1954, Jones was elected captain of Michigan's Swim Team and was a Sullivan Award nominee. During these years, he swam part time under other Hall of Fame coaches including Bob Kiphuth at Yale, Soichi Sakamoto at Hawaii, Mike Peppe at Ohio State and Gus Stager at Michigan.
In 1959, Bumpy graduated from the University of Michigan Medical School and then interned in Ann Arbor for one year. In the summer of 1960, after a five year retirement from swimming, he spent one month training for the Olympic Trials in Detroit. His time in the 200 meter freestyle greatly improved from 1952, but the best swimmers in the country were also much faster. After failing to make the finals, he retired from swimming again and spent his next years in residency at the University of Virginia, in the Air Force, and finally at Duke University. It was during this time that he became an accomplished golfer, winning 28 state and local tournaments.
In 1965, Bumpy Jones moved to Sarasota where he began and continued his private practice in Dermatology.
When Masters swimming began in 1971, it was thought to be a get-together party for former swimmers. But that soon changed from not only being a fun gathering, but also a highly competitive challenge too. During his Masters career, which began at age 38, Bumpy has won 110 National Masters Championships, 5 FINA Masters World Championships,7 Canadian and 22 YMCA championships. He has set 39 FINA Masters World Records and 145 Masters National Records. During his Masters career he has 38 number one, 18 number two and 10 number three Masters world rankings. His Masters times nearly equaled his best collegiate times. His competition has always been tough and the camaraderie has been at its best.