One Hundred and Fifteen years ago, Open Water Pioneer Swimmer, Gertrude Ederle was born in New York City !!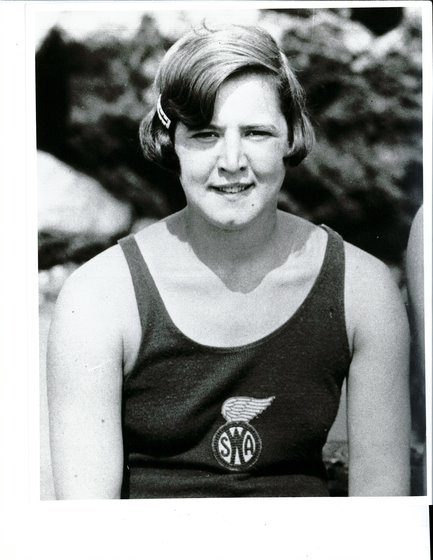 ---
GERTRUDE EDERLE (USA) 1965 Honor Swimmer
FOR THE RECORD: OLYMPIC GAMES: 1924 gold (4x100m freestyle relay), bronze (100m, 400m freestyle); WORLD and NATIONAL RECORDS: 29 (from 1921 to 1925 – in 1922 she set 7 world records in the course of one 500m swim); First woman to swim the English Channel, 1926 (beating all previous times by men).
Gertrude Ederle's two greatest days in swimming were at Brighton Beach in 1922 and in the English Channel in 1926, the first as an amateur, the second as a professional.
At Brighton Beach, Miss Ederle broke seven world records at various distances in the course of a single 500 meter swim. In England, she became the first woman to swim the English Channel.
Trudy's great Channel swim was 51 years after Matthew Webb, the first man to swim the Channel, had achieved the impossible, and it completely captured the public imagination because such swimming immortals as Annette Kellerman had tried and failed, claiming the feat completely beyond the limits of a woman's strength and endurance. Gertrude Ederle not only swam the Channel but swam it faster than any man before her.
She held 29 U.S. national and world records from 1921 until she turned professional after the 1925 season. Her amateur national championships were won at distances from 50 yards to the half mile and her great professional Channel effort was 20 miles. Olympian Ederle was tough at any distance at the 1924 Paris Olympics.
Gertrude Ederle was the female counterpart of Johnny Weissmuller in that they were discussed in every household as the two greatest swimming figures of the 1920s, idols of the "Golden Age of Sport".
When "Trudy", as she was known, returned from Europe after her successful channel swim, the city held a ticker-tape parade in her honor in New York City. It was the largest parade the city had ever seen. People were everywhere, falling off sidewalks and into the streets, all just to get a glance of Trudy.
The parade was held in the Canyon of Heroes, a section in lower Manhattan that starts at about City Hall Park and ends at the Battery. It's about a mile long stretch. It is estimated that Ederle's parade drew more than two-million people, who lined the streets of New York.
Ederle was inducted into ISHOF's first class of Honorees. Of course, she certainly deserved it. She became fast friends with Buck Dawson and returned several times after her induction in 1965, to help support ISHOF and induct other Honorees. Here she is below in 1978, helping induct Honor Swimmer, Lynn Burke.
Ederle never married, but went on to teach children, particularly deaf children to swim. She lived to be 98 years old and died on November 30, 2003.
Those of you who remember Buck Dawson and Bob Duenkel, may be interested to know that up until the end, Bob and Buck would stop in and visit with Trudy every year on their way to and from Camp in the Summers.