On this day in 1943, Honor Italian Coach Alberto Castagnetti was born….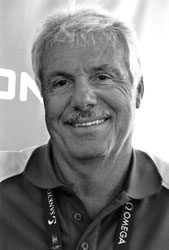 ---
Alberto Castagnetti (ITA) 2013 Honor Coach
FOR THE RECORD: ITALIAN NATIONAL TEAM SWIMMING COACH (1987-2009); COACH OF GIORGIO LAMBERTI, DOMENICO FIORAVANTI, FEDERICA PELLEGRINI, ROSOLINO MASSIMILIANO, DAVID RUMOLO, STEFANO BATTISTELLI; DESCRIBED AS "THE WIZARD OF SWIMMING"; COMPETITOR AT 1972 OLYMPIC GAMES AND 1973 WORLD CHAMPIONSHIPS.
Considered a coaching genius, Alberto Castagnetti was a "wizard of swimming" who made the Italian colors shine on the world stage. But he did not do magic. The reality was that he obtained magnificent results through hard work and unsurpassed professionalism. These were the talents that allowed him to write his name on the greatest chapter of Italian swimming history.
Alberto Castagnetti was born in 1943 in Verona, Italy, to a father who instilled in him not only his love for sports – swimming, skiing, water polo, diving, tennis, triathlon and basketball – but also a passion for learning. As a swimmer, he won numerous Italian championships and he competed in the Munich Olympic Games in 1972 and the first FINA World Championships, in Belgrade in 1973. Apart from the success of Novella Caligaris in the early 1970's, Italy had played a small role in international swimming until Castagnetti took the helm of Italian swimming in 1987. He was a natural-born coach who got even better by attending clinics conducted by the American Swimming Coaches Association and studying Doc Councilman's "Science of Swimming".
His first big international swimmer was Giorgio Lamberti, who broke the world record in the 200 meter freestyle in 1989 and won a gold medal in the same event at the 1991 Perth World Championships. After this, national and foreign swimmers began to join his team. Among them, future Olympic champions Massimiliano Rosolino, Domenico Fioravanti and Federica Pellegrini. During the Castagnetti era, Italy won 264 medals in major international competition with 31 of the 34 gold medals ever won by Italy, including 11 Olympic medals: four gold, two silver and seven bronze medals, making it one of the most important world swimming powers. Pellegrini alone set nine world records in the 200 and 400 meter freestyle.
He was making plans to build on the Italian success of Pellegrini and Filippo Mangini at the 2009 FNA World Championships in Rome, when he died of complications following heart surgery on October 12, 2009.
Alberto Castagnetti will always be remembered as a man of vision, passion and ideas. One of the great modern European coaches, he was notable for his work directly with athletes, his willingness to speak out and to represent his fellow coaches and his profession.