Look who made the front page!!!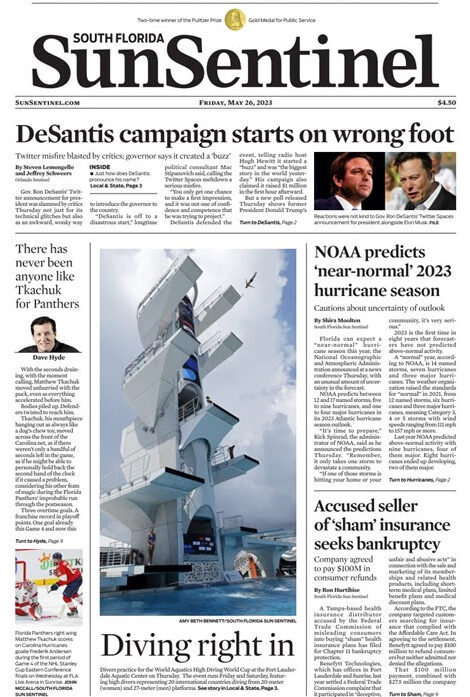 ---
Thanks to the World Aquatics High Diving World Cup being in town and competing at the Fort Lauderdale Aquatic Complex, our beautiful new tower once again made the front page of the Sun Sentinel.
Article from today's Sun Sentinel:
High-diving competition draws divers from all over
Participants could punch a ticket to championship event
By Abigail Hasebroock South Florida Sun Sentinel
Before Braden Rumpit jumps into some weekend fun, he will face a far more daring plunge — one that involves falling a distance of about eight stories.
High divers from 20 countries around the globe will compete Friday and Saturday at the High Diving World Cup. This year, the international event will be held at the Fort Lauderdale Aquatic Center.
Competitors are vying not only for World Cup champion titles but also a spot at this summer's 2023 World Aquatics Championships in Fukuoka, Japan.
For the upcoming showdown, teams are traveling to Fort Lauderdale from countries such as Australia, New Zealand, Switzerland, Ukraine, Mexico, Germany and more.
Rumpit, who is representing New Zealand because his father is from there, became the youngest person ever to perform a quintuple flip of a 27-meter diving platform at 21. He moved to Fort Lauderdale from Wisconsin in October to train with Steven LoBue, a professional diver.
This is the biggest competition Rumpit has ever contended with, but because he's been training on the Fort Lauderdale dive tower, which is what all divers will use during the competition, he said he feels prepared. "I'm hoping that can carry me through and give me some extra confidence going into this weekend," he said. "But for the most part, 27 meters is 27 meters."

Four divers, including Rumpit, constitute Fort Lauderdale's team.

The other three are: Eleanor Smart, 27, from Missouri, who placed second in the the Red Bull Cliff Diving World Series twice.
James Litchenstein, 28, from Illinois, who also competed in the Red Bull Cliff Diving World Series, making his debut in 2022.
Victor Ortega Serna, 35, from Colombia, who competed in the 2008, 2012 and 2016 Olympics.

Women compete on a 20-meter, or about 65-foot, dive tower while men compete on a 27-meter, or about 88-foot, dive tower.

During the event preview on Thursday, Fort Lauderdale Mayor Dean Trantalis presented the athletes from the Fort Lauderdale diving team with construction pieces from the new diving platform as a souvenir.
Rumpit said high diving is a small community, so he already knew almost all his competitors.
"It's going to take some of the pressure off," he said.