Beloved ISHOF Staff Member and Grand Dame Marion Washburn passes away at age 94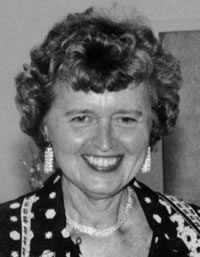 ---
It was a sad day at ISHOF when we learned that Marion Washburn, aka "Marion the Librarian" (1928-2022) passed away Monday at her home in Wilton Manors, Florida. She was 94 years of age. Marion "wore many hats" during her years at ISHOF and saw many of its changes. From as far back as anyone can remember, Marion was always a part of ISHOF. Her kind, smiling face was always there to greet you ~ whether she was in the library, ready to help you find a book, and she always knew where it was ~ unless, of course, Buck had "borrowed it." You could find her balancing ISHOF books (no easy task for a non-profit) or behind the counter selling souvenirs, as we still call them after 50 years. Marion was always there to help, and she was always happy to do it.
When her son Bruce became an age group swimmer at the Casino Pool on Fort Lauderdale Beach more than 42 years ago, Marion became an active parent involved in competitive swimming, with the International Swimming Hall of Fame and the Hall of Fame Dames. To the very end, Marion was one of ISHOF's most loyal supporters.
Marion began working with Bruce's age group coach, mainly as the parent liaison, providing information to the parents regarding swim meet dates, times, and schedules. She collected meet entry fees and was a timer at meets, whether age group or senior. Soon, she became the Vice President of the Fort Lauderdale Swim Association, also known as the Fort Lauderdale Swim Team, and later became the Meet Manager of the prestigious Pine Crest Woodson Invitational Swimming Meet. In the late 1960s, she joined the Hall of Fame Dames, the premier women's volunteer service organization of the International Swimming Hall of Fame. During her years with the Dames, Marion served as Vice President, Secretary, and Treasurer for most of her years. She took on the role of ticket seller at the first of many International Diving Meets held annually in May. After noticing the efficiency and reliability of Marion's work ethic, ISHOF Executive Director Buck Dawson soon hired her to be on the staff of the Hall of Fame, a position she held for 21 years or more.
Marion had many roles during her years at ISHOF. She was the Librarian, responsible for maintaining books, publications, and information research. She served as the Bookstore and Souvenir Department Manager, stocking the shelves and selling the items to the public. She also served as the Office Manager, responsible for maintaining the office equipment and supplies. She served as the ISHOF Bookkeeper, responsible for keeping the financial ledgers in order.
During her 21 years on the staff of ISHOF, Marion contributed countless hours of volunteer service as a Hall of Fame Dame. After her retirement in 1994, she agreed to serve on the Henning Library Advisory Board and then Henning at the International Swimming Hall of Fame for another nine years. In the late 2000s, Marion returned to ISHOF, specifically The Henning, one to two days per week as the main librarian to keep it in proper operating order. In many cases, she had no problem putting in the extra time.
Marion has proved that one person can do many things well. ISHOF and the Hall of Fame Dames were so fortunate to have had her contribute much of her time. You would be hard-pressed to find another more honest, reliable, dependable, and certainly more loved employee than Marion Washburn. Marion, the Librarian, you will be missed more than you will ever know. RIP, dear friend.