Jack Bauerle Retiring After 44 Seasons as Georgia Head Coach; Versfeld and Williams Moreno to head programs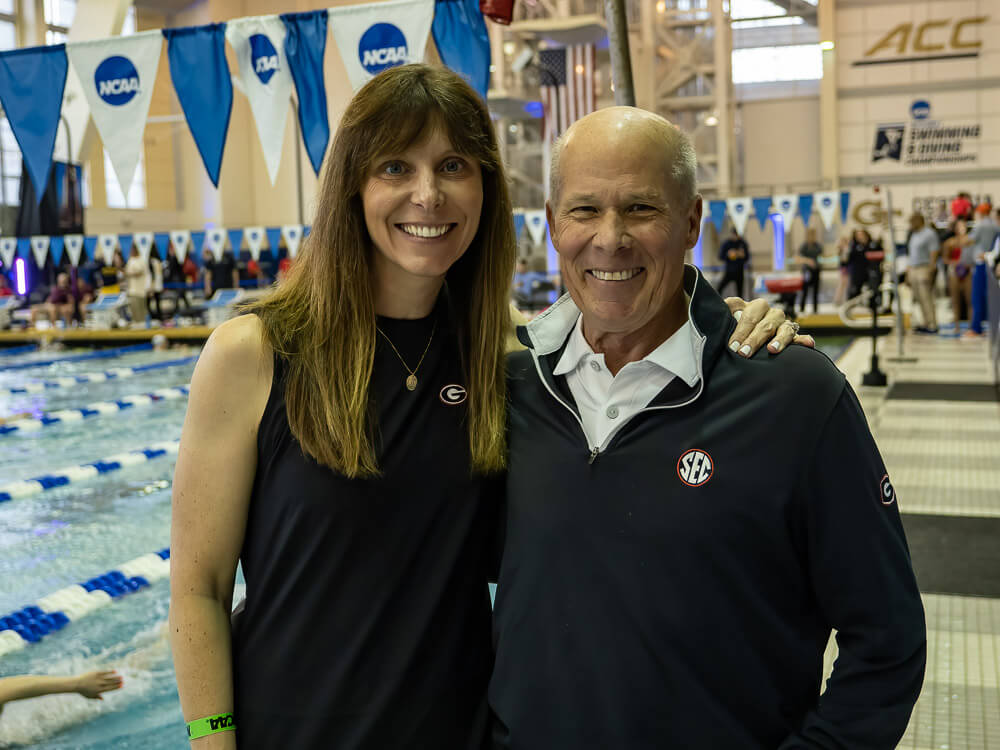 ---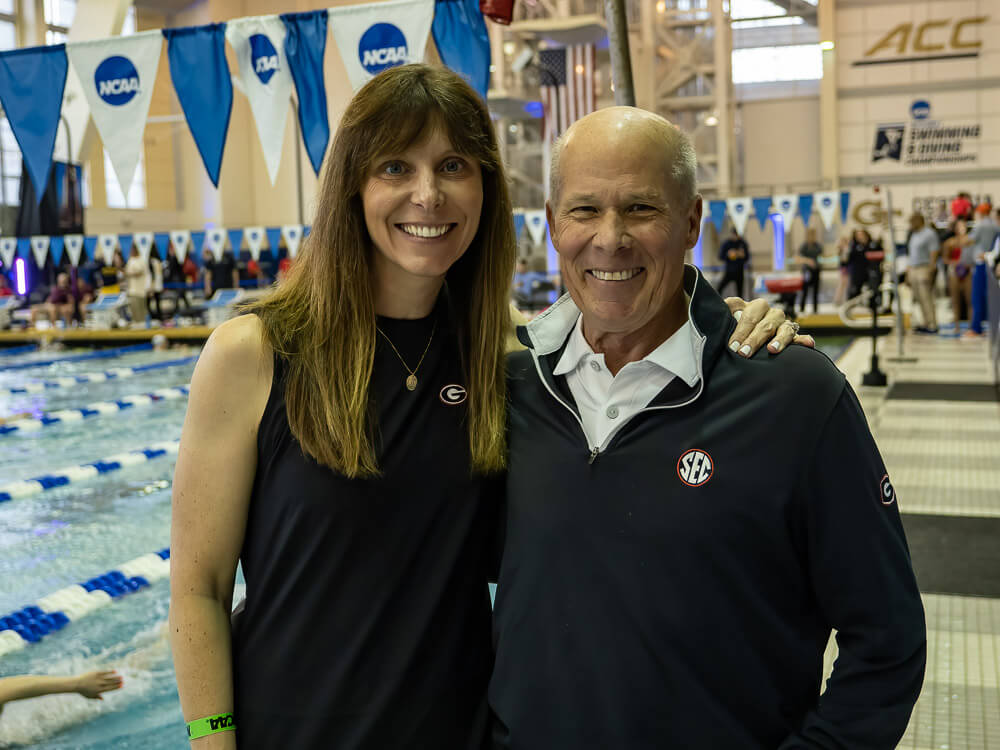 by DAVID RIEDER 08 June 2022,
Jack Bauerle Retiring After 44 Seasons as Georgia Head Coach
Since 1978, Jack Bauerle has led the women's swimming program at the University of Georgia, and he added head coaching duties for the men's team in 1983. Now, the 70-year-old Bauerle will be stepping down.
He announced his retirement Tuesday. "It's time for me, for my family, and for my team," Bauerle said in a statement released by the team.
During his run with the Bulldogs, Bauerle led the Georgia women to 12 SEC team titles and seven national championships, the most recent coming in 2016. That final title tied Bauerle with Richard Quick with a record seven women's national titles at one school.
Additionally, Bauerle was the head coach for the U.S. Olympic women's team at the 2008 Games in Beijing, an assistant on the women's staff in 2000 and an assistant on the men's staff in 2016 and 2020. He served as part of the combined staff in 2021 and as a personal coach in 2004 and 2012. Bauerle was also the head women's coach for three World Championship teams (2003, 2005 and 2011).
In Bauerle's stead step Neil Versfeld to lead the men's program and Stefanie Williams Moreno to head the women's squad. Diving head coach Chris Colwill will remain, working with both programs.
Bauerle's full statement on his retirement is posted below:
First, I want to thank my wife Leigh Ann, and my sons John, Magill and Duke for their commitment and sacrifice over the years. Leigh Ann has not only been a huge source of support, but my greatest motivator. The sport of swimming runs year-round and can be all-consuming at times, but they have constantly been understanding and supportive.

Thank you to our president Jere Morehead, our athletic director Josh Brooks, and our sport facilitator Darrice Griffin for their support. President Morehead and Darrice have been critical in helping us navigate these past few years, and with Josh, one of my few regrets is that I only wish we had more time to work together. I also want to share my gratitude to Vince Dooley and Liz Murphey for taking a chance on me in 1979 and entrusting me with this program. Working for and knowing Coach Dooley has been one of the most fulfilling experiences of my life, and I cherish our friendship.

Thank you to the student-athletes for everything they have given me over the years. They have truly motivated me as much I have motivated them. During my time, we have had the privilege of coaching 87 Olympians from 20 different nations, bringing home 40 medals in the process. Last year in Tokyo was another major success for our program. In addition to our Olympic success, 62 different athletes have won 175 NCAA championships, with hundreds of All-America honors. I have had so many great kids, and I miss so many of them every day.

But our accomplishments have not only come in the water, but in the classroom as well. Over 43 seasons, our program has produced three NCAA Woman of the Year winners and 39 NCAA postgraduate scholarship recipients, more than most athletic departments across the country. Those statistics are the ones that I am proudest of.

Thank you to the coaches I have had the pleasure of working with over all these years. I will miss the conversation, humor, and banter on the deck at 5:30 a.m. We definitely solved a lot of problems before the world woke up every morning, and I am grateful for their dedication and assistance. I especially want to thank Harvey Humphries for serving at my side for 39 years. I am excited to see the coaching careers of my athletes unfold, both here at Georgia and throughout the swimming world.

Additionally, special thanks to the colleagues and mentors who have helped me become a better coach during my career. I specifically want to thank Bob Bowman, Frank Busch, Eddie Reese, Dick Shoulberg, and Jon Urbanchek for their friendship and guidance.

Finally, thank you to the countless members of our support staff who have given their time and talents toward making our program the best one possible. In particular, I want to thank the employees of the Ramsey Center for maintaining a world-class facility for our athletes and our university.

I am not yet sure of what I am going to be doing immediately, but I'll be doing something. When I left Philadelphia for Athens in 1970, I fell in love with Georgia, but I could have never predicted the good fortune I would encounter and the wonderful people I would meet. I will miss being on the deck every day, but I am forever proud of everything we have accomplished at the University of Georgia.
A half-century career in Athens
Prior to becoming head coach of the Bulldogs, Bauerle was an assistant coach for the Georgia women for three years after he swam for Georgia from 1971 until 1974 as a butterfly and freestyle specialist.
According to Bauerle's profile on the University of Georgia's website, he helped lead 62 different swimmers to 175 national championships at Georgia, and his teams finished in the top 10 at the NCAA Championships on 48 occasions. The Georgia women finished in the top five in 21 of 22 seasons between 1995 and 2017, and the team won 103 consecutive dual meets from Nov. 8, 1995 through Jan. 5, 2017. The Texas women, led by former Georgia assistant Carol Capitani, broke that streak on Jan. 14, 2017.
His women's teams won 342 dual meets, one of only two coaches (with former Boston College coach Tom Groden) to eclipse 300. Including men's meets, he was 595-134-4 all-time in dual meets.
Bauerle mentored 304 student-athletes earning 2,116 All-America citations. He was an 18-time SEC Coach of the Year (16 with the women, two with the men men) and seven times the National Women's Coach of the Year.
Most recently, Bauerle was part of the U.S. Olympic team coaching staff last season after he coached Chase Kalisz, Jay Litherland, Nic Fink, Andrew Wilson, Olivia Smoliga and Natalie Hinds to spots in Tokyo. Additionally, Olympians Allison Schmitt, Hali Flickinger and Gunnar Bentz all qualified for the team after racing collegiately for the Bulldogs and spending a large chunk of their career in Athens. This year, another Georgia-trained athlete made the jump to the sport's elite level as Luca Urlando won the 200 fly at the U.S. International Team Trials. In all, he mentored 87 Olympians for 20 different nations that won 15 gold and 38 total medals.
"It is a bittersweet moment in Georgia Athletics history. Jack has been the foundation of unparalleled success of our men's and women's swimming and diving program for a half a century," Director of Athletics Josh Brooks said in a team statement. "While we will miss him on the pool deck, we know that Jack will always be a part of our athletics family, and I look forward to working with him in different capacities as an involved alumnus. We wish him the very best in this next phase of his life."
"I have had the great honor of working with Jack Bauerle since 1999, when I led the UGA Honors Program and so many of Jack's student-athletes were Honors Students and Foundation Fellows," University of Georgia President Jere W. Morehead said. "Jack is an iconic figure at UGA and within the global swimming community, having won multiple national championships while coaching and mentoring many All-Americans and NCAA post-graduate scholars. His coaching record at Georgia and in the Olympics is unmatched in our athletic history and, on behalf of the entire University of Georgia community, I thank him for his profound contributions to our institution."
Moving forward
The university announced it would "make some organizational changes" in dividing leadership of the programs.
Neil Versfeld has spent he last three seasons as an associate head coach. A 2009 graduate of Georgia, he won a national title as a senior, setting an NCAA record in the 200 breaststroke. He competed internationally for South Africa, including at the 2008 Olympics, before a professional career. Versfeld coached at Seal Swimming Club in South Africa, Swim Atlanta and Georgia Tech as an assistant before returning to Athens.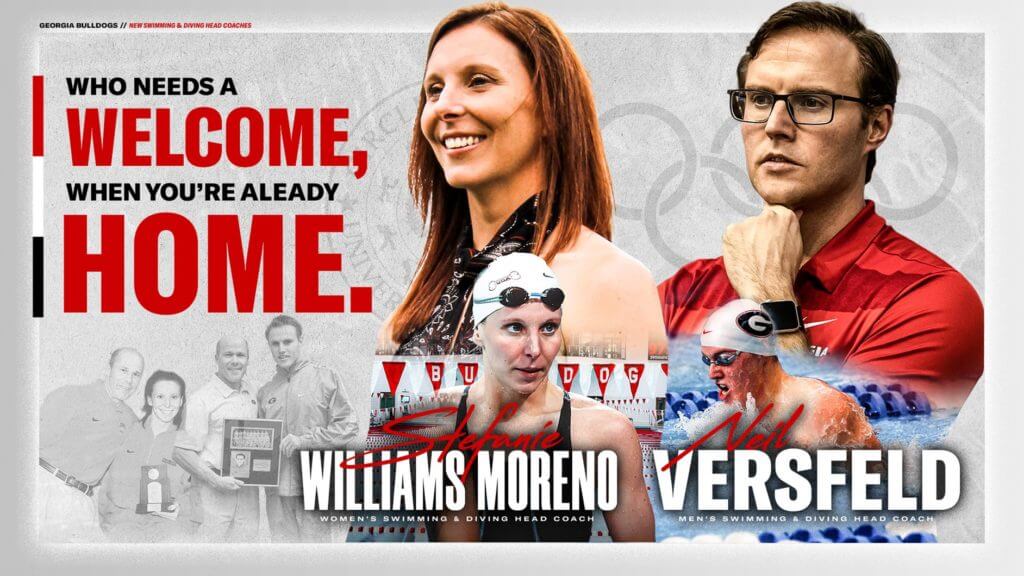 "I am humbled and honored to be named the head coach of the Georgia Men's Swimming and Diving team," Versfeld said. "I am incredibly grateful to Jere Morehead, Josh Brooks, and Darrice Griffin for this opportunity, and to Jack Bauerle for his mentorship and leadership over the past two decades. I could not be more excited to build upon Jack's legacy in this next chapter."
Stefanie Williams Moreno is likewise an alum who has spent the last 10 years in Athens, including four as an associate head coach. Her work has been primarily with the backstroke and middle-distance groups.
She competed for Georgia from 1998-02, winning the program's first three NCAA titles and becoming a 28-time All-America. She won four NCAA titles in relays, two in American records, and was inducted to the University of Georgia Circle of Honor in 2017. Williams Moreno spent three years as an assistant coach at the University of Missouri and four at Ohio State before returning to Athens in 2012.
"I could not be more honored and humbled by this new endeavor. I want to thank Jere Morehead, Josh Brooks, Darrice Griffin, and Jack Bauerle for their confidence in me to lead this remarkable program," Williams Moreno said. "As both an athlete and coach, the University of Georgia and its athletic department have significantly impacted who I am today. I am excited for the opportunity and challenge of continuing the proud tradition of Georgia Women's Swimming and Diving established under Jack Bauerle."
Georgia Athletics is planning a celebration of Bauerle's career at a date to be determined in the fall of 2022.