ISHOF to induct Trischa Zorn as first Paralympic Swmmer into ISHOF as part of the Class of 2023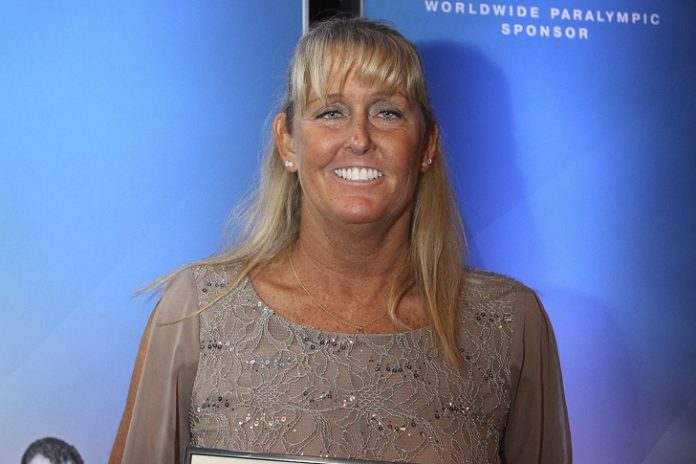 ---
Trischa Zorn is the easily the most successful athlete in Paralympic Games history, having won 55 medals, 41 of which are gold, competing in seven Paralympic Games. To put it into perspective, Trischa has won more Paralympic medals than some countries.
She first began competing as a 16-year old, qualifying for her first Paralympic Games in 1980, in Arnham, Netherlands, where she came away with seven gold medals. Trischa was born with a genetic eye condition that left her blind. After her first Games in the Netherlands, it was on to New York in 1984, where she won six more gold medals. From then on, she never looked back for the next five Games.
In 1982, Trischa was awarded an NCAA Division I scholarship, becoming the first visually impaired athlete to earn a full ride, which she then used to become a four-time All-American backstroker at the University of Nebraska.
Trischa became a teacher for special needs students in Indianapolis. After several years of teaching, she decided to make a career change and entered Law School. She earned her Juris Doctor degree from the Indiana University Law School in 2005. Zorn now works for the Department of Veterans Affairs in Indianapolis where she works to ensure that veterans obtain the care they are entitled to receive.
USA Swimming created the Trischa L. Zorn Award to honor a swimmer or relay team with a disability for outstanding performance and excellence.
Trischa Zorn-Hudson was inducted into the International Paralympic Hall of Fame in 2012 and was inducted into the U.S. Olympic & Paralympic Hall of Fame in 2022.
2023 will mark the first year that ISHOF will induct a paralympic athlete. It was suggested and unanimously voted on by the ISHOF Board of Directors to include Paralympians in the ISHOF family in 2021. With the Covid pandemic, it was agreed that 2023 would be the first year that an athlete would be chosen. A committee was selected and formed with Dave Denniston, as Chairman and his group of experts from around the world, and Trischa was a unanimous selection as the first ISHOF Paralympic Honoree. We are thrilled to welcome the Paralympic family to ISHOF and hope we can broaden the awareness of Paralympics, their sport and dedication.
Come join Zorn and this year's class of 2023 in Ft. Lauderdale. If you cannot join us, consider making a donation.
To make a donation, click here: https://www.ishof.org/donate/
This year's International Swimming Hall of Fame Honorees include:
International Swimming Hall of Fame 2023 Honorees
Bob Bowman (USA)……………..…….………..….……….……….…….…Coach
Chris Carver (USA)………..…………..………..……………..…..…………Coach
Cesar Cielo (BRA)…………..….….………..………………….…………Swimmer
Kirsty Coventry (ZMB)…………….………………..……….…….…….Swimmer
Missy Franklin (USA)…………..……..………….………………………Swimmer
Natalia Ischenko (RUS)…..……..…………………Synchronized Swimmer
Kosuke Kitajima (JPN)………..……………..………………………… Swimmer
Heather Petri (USA)………..….………..…..……..……… Water Polo Player
Michael Phelps (USA)…………………..……..……………..………… Swimmer
Wu Minxia (CHN)…………………..………..…….………………………… Diver
Sam Ramsamy (RSA)…………..…………….…………….……….. Contributor
Stephane LeCat (FRA).…………………………………Open Water Swimmer
Trischa Zorn (USA)………………………………..……. Paralympic Swimmer
ISHOF 58th Annual Honoree Induction weekend Schedule September 29-30, 2023 – Complete schedule will be forthcoming soon
Host Hotel: Fort Lauderdale Marriott Harbor Beach Resort & Spa
To make reservations click here: https://book.passkey.com/e/50527236 file:///Users/megkeller-marvin/Downloads/Fort Lauderdale Marriott Harbor Beach Resort Spa
Upscale retreat with private beach access, two pools, four restaurants, full-service spa and oceanside bar. Location of the Saturday evening induction ceremony. ¼ mile south of the International Swimming Hall of Fame.
3030 Holiday Drive, Ft. Lauderdale, FL 33316 (954) 525-4000
Special ISHOF Guest Rate of $229 per night,
($39 Resort fee – Guests can opt out if not interested in resort amenities)
Additional Hotel Option: Courtyard Marriott Fort Lauderdale Beach – Link Coming Soon
440 Seabreeze Blvd., Ft. Lauderdale, FL 33316 (954) 524-8733
Special ISHOF Guest Rate of $169 per night
Honoree Ceremony September 29-30, 2023: Last Day to Book: Friday, August 31, 2023