ISHOF Curator, Bob Duenkel to be inducted into ISHOF Class of 2021 as Honor Contributor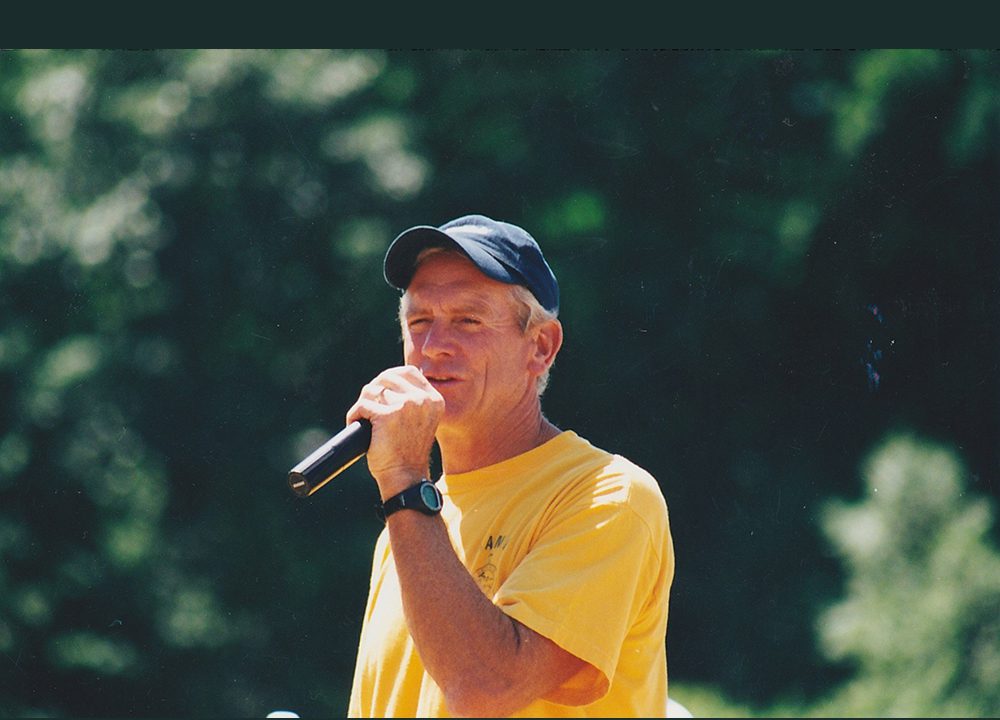 ---
01 July 2021, 09:30am
Bob Duenkel's greatest contribution to swimming, was his 40+ years of dedication and service to the International Swimming Hall of Fame, which he began in 1976. As ISHOF CEO, Buck Dawson's assistant, he absorbed the history of swimming like a sponge, and not just from Dawson, but from the real greats, like Johnny Weissmuller, Eleanor Holm, Buster Crabbe, Esther Williams and many, many more.
Duenkel's knowledge of swimming history was encyclopedic. He studied and knew all the minutiae of swimming and swimmers, from the ancient Greek swimmer Leander to the most recent inductee, every Olympiad, every event, every time and every stroke.
Come and hear Duenkel's incredible life story and commitment to aquatics history at the ISHOF Induction dinner on Saturday, October 9, 2021. Become an ISHOF Legacy Member and attend the ISHOF Induction Dinner for FREE. Can't attend the event? Please consider donating to ISHOF, support Duenkel and our other inspirational Honorees.
More about Bob Duenkel:
Bob Duenkel was the ISHOF museum curator and presided over 40 years of ISHOF Induction ceremonies. From 2004-2005 he served as interim CEO and Executive Director until his retirement in 2016. For any visitor to ISHOF, Duenkel was an invaluable resource, always there to tell a story, clarify any facts or just to toss off a quip or two. He made a wonderful ambassador of ISHOF to any and every event he attended, whether it was the NCAA's, Olympic Trials or the Association of Sports Museums and Hall of Fame, Duenkel was admired and respected by all who knew him.
He was given the Glenn Hummer Award in 1997 by USA Swimming. In 1997, he was named one of "Who's Who in Aquatics" by Aquatics International Magazine. He was inducted into the West Orange (NJ) Hall of Fame in 2018, and that same year, he was inducted into the International Marathon Swimming Hall of Fame.
About the International Swimming Hall of Fame Induction Weekend

:

The International Swimming Hall of Fame (ISHOF) Induction Ceremony is shaping up to be a star-studded weekend with ISHOF Honoree and Sullivan Award Winner, Debbie Meyer, and double Olympic gold-medalist and everyone's favorite Olympic swimming broadcaster, Rowdy Gaines acting as co-emcees and hosts of the induction with multiple events spread out over two days in beautiful Fort Lauderdale, Florida.

Make your plans now to attend the weekend of October 8-9, 2021! ISHOF Members can purchase the Complete Weekend Package (see below) and save! (Get info on membership here.) Can't attend the event? Donate to ISHOF to support our honorees.

This year's International Swimming Hall of Fame Honorees include:

*deceased

The Induction Weekend Schedule

Friday, October 8, 2021

Paragon & ISHOF Awards Night
5:30 pm Cocktails
6:30 pm ISHOF and Paragon Awards
Saturday, October 9, 2021
Honoree Induction Day Luncheon – Meet Rowdy Gaines and go on a behind the scenes tour of the Aquatic Complex construction
Official 56th Annual International Swimming Hall of Fame and Masters International Swimming Hall of Fame Ceremony and Dinner
5:30 pm VIP Reception
6:30 –10:00 pm Induction Ceremony & Dinner
Ticket Information
October 8-9th Complete Weekend Package

(Includes Paragon/ISHOF & Awards Night, Saturday Luncheon, and ISHOF & MISHOF Induction Ceremony)
ISHOF Non-Members $425 BEST PRICE!!
October 8th Paragon Awards and ISHOF Awards Night

(Hors D'oeuvres and Open Bar) 5:30 pm
October 9th Saturday Luncheon

12:00-1:30 pm
October 9th ISHOF & Masters Induction Ceremony and Dinner

5:30 pm
10 Person Table $3,500 and $5,000 (Prime location) options
HOTEL INFORMATION
Host Hotel: Fort Lauderdale Marriott Harbor Beach Resort & Spa
Upscale retreat with private beach access, two pools, four restaurants, full service spa and oceanside bar. Location of the Saturday evening induction ceremony. ¼ mile south of the International Swimming Hall of Fame.
3030 Holiday Drive, Ft. Lauderdale, FL 33316 (954) 525-4000
Special ISHOF Guest Rate of $259 per night
Book your group rate for International Swimming Hall of Fame
NOTE: RESORT FEE IS INCLUDED in the $259 rate
Courtyard by Marriott Fort Lauderdale Beach
440 Seabreeze Blvd., Ft. Lauderdale, FL 33316 (954) 524-8733
Special ISHOF Guest Rate of $169 per night
Honoree Ceremony October 9, 2021
Start Date: Wednesday, October 7, 2021
End Date: Tuesday, October 12, 2021
Last Day to Book: Friday, September 15, 2021
Book your group rate for Honoree Ceremony October 2021
Questions: contact Meg Keller-Marvin at meg@ishof.org or 570-594-4367