ISHOF Construction Updates – Moving Right Along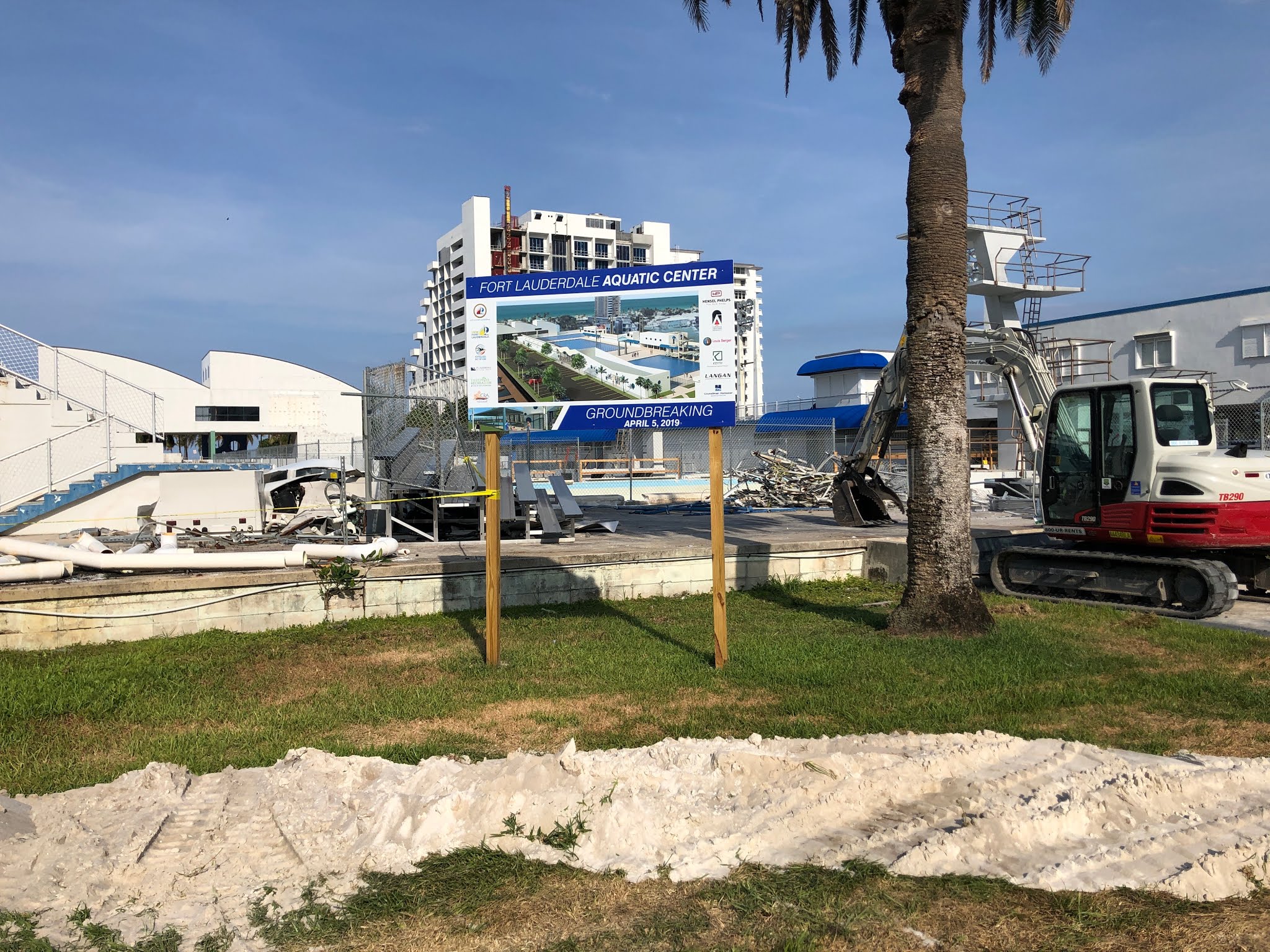 ---
Renovation update – The renovation at the ISHOF
Aquatic Complex is moving along!!!
Since the complex has closed, the (City of Fort Lauderdale) pool staff
and the Swim Fort Lauderdale (swim team staff) have moved into the ISHOF offices in the original
museum (back building) and we are all living together. Everyone is getting along great in our rather "close quarters". The worst part is having no parking!

SWIM SHOP OPEN
Fortunately, Summer is typically a slow time
around ISHOF so it makes things a bit easier to begin our closure now. The ISHOF gift shop, in the front building,
(on Seabreeze Blvd.) however, is OPEN DAILY.
Our online gift shop / swim store is also available 24/7 for you to
purchase all your favorite items, so pleaseremember us when you need to buy anything
from swim suits, to caps, goggles, fins, ISHOF apparel and gifts for that favorite swimmer! We carry most everything! Visit us at: https://shop.swimmingworld.com/
Renovation updates: the pools are empty, the bleachers have been
removed, fences are down, the filtration systems have been dismantled, and metal is getting
recycled…….
EXCITING
NEWS: We now have a dedicated website
with a time lapse video of the ISHOF renovation project for you to
follow along. The cameras were recently installed and the website is still a work in progress but feel free to visit it
and visit often so you can see in real time what is happening at YOUR Hall of
Fame!!!!
Go to: https://flac.henselphelps.com/

Laura Voet, Manager of the Aquatic Complex says that there is a time lapse photo – every ten minutes. There may be a palm
frond in the way of one of the cameras, if so, it will be moved very soon.
In
addition to the time lapse video website, there is a website with a power point
presentation that has been shown in neighborhoods around Fort Lauderdale to
explain the project and answer questions.
It too is a work in progress as
there are some things that need to be updated.
As soon as it is complete, we will share the website with you…….STAY
TUNED!
SWIM FORT LAUDERDALE
The
Pool staff and Swim Fort Lauderdale are working at keeping things as normal as
possible for their swimmers. Practices are held at many different pools around the City. You can visit their website for more information.
https://www.teamunify.com/team/fgflac/page/home

The weekend
of June 21-23. 2019, SFL hosted the annual Age Group Invitational, at Nova
Southeastern University. The
invitational was a bit smaller than normal due to the size of the pool, and due to the fact that it was at another location. The good news is the Invitational was held in true Summer swimming tradition. There were many teams that attended, ISHOF friend and long-time supporter, Mike Leonard, brought his team from the Powell Crosby YMCA (Ohio), and there were numerous international teams, some from Peru and Argentina.
NEW ROOF
The ISHOF front building is getting a new roof. The workers started several weeks ago and are busy up top every day hammering away. It has been a long time coming and we are very excited and grateful! Thank you City of Fort Lauderdale and to the brave workers who are high above Seabreeze!
SWIMMER STATUE
Last week workers spent a lot of time carefully digging around the famous swimmer statue that sits between the dive well and the museum building. The swimmer statue is probably the most famous artifact on the complex and has been the site of thousands and thousands of team photo shoots! We want to keep it and preserve it because it is the one thing everyone asks about. We are going to move it during the construction and have it refurbished. Just not sure where on the complex it will end up. It is so very large, it is just going to have to depend on where it fits and what makes the most sense, but rest assured, you'll see it in 2020 when the construction is completed!
COMING THIS NEXT WEEK:
Test Piles – mobilization begins
Relocation Swimmer Statue
Dismantle Canopy over Teaching Pool, place in Storage
Awaiting FPL, and final demolition permit approvals