"Having the Necessities:" The Extraordinary DuSable High School Swimming Team of Chicago, 1935-1952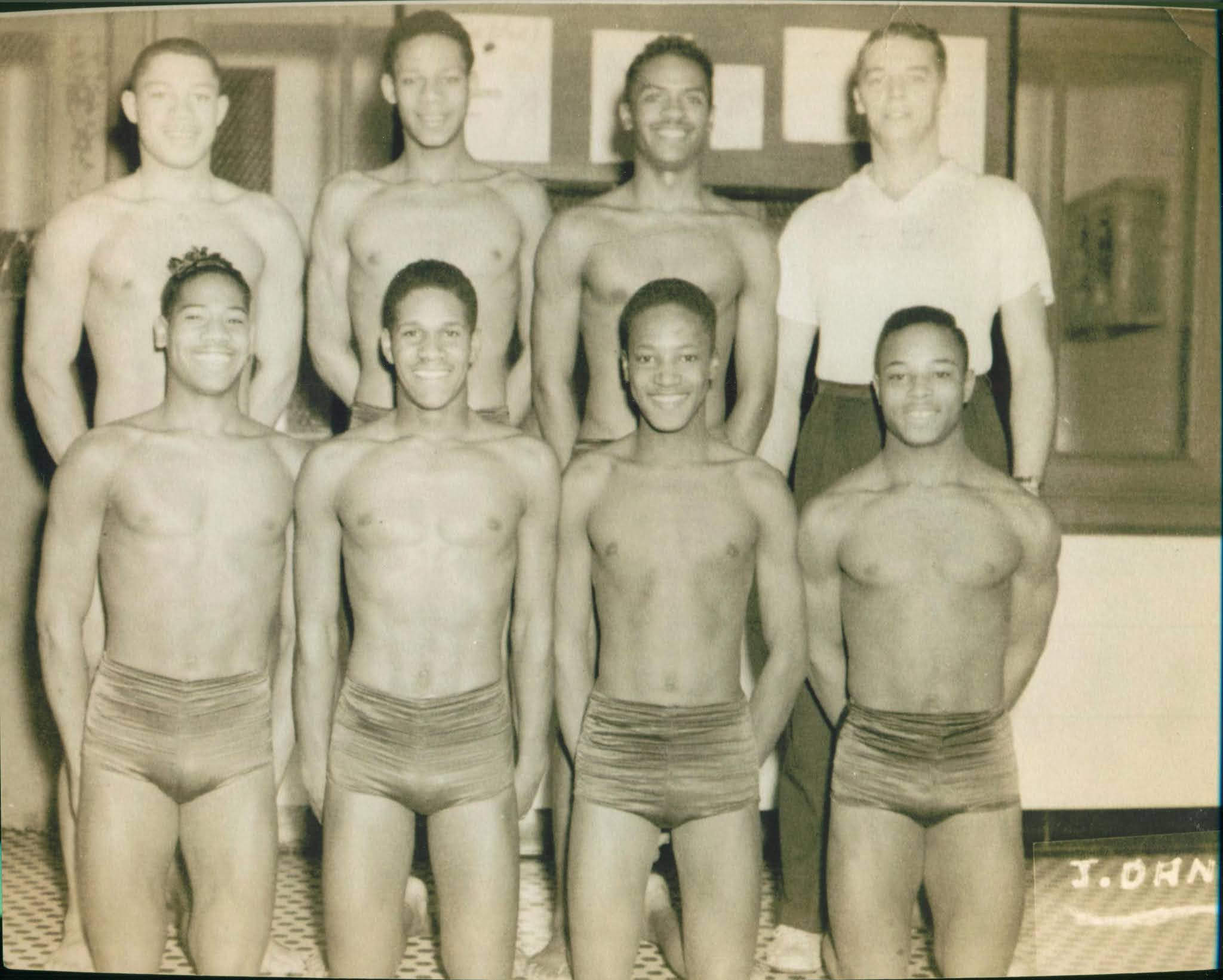 ---
This is a story of an all-black high school in Chicago, DuSable, which for some 15 years, from the late 1930s to the early 1950s, earned plaudits in the city's black community as a swimming power.
Background
Before we get to this story, however, it is important to review the context in which it is being told, and give a look at popular and academic perceptions—true and false—relating to the subject of African Americans and the sport of swimming. A year ago, the Journal of American History ran a fascinating article by Kevin Dawson, "Enslaved Swimmers and Divers in the Atlantic World." The author uncovered a wealth of information from explorers to plantation owners of the eighteenth and nineteenth centuries on the superb swimming and diving abilities of black people in both Africa and America. What more, many slave owners showed a preference for slaves who exhibited skill in swimming and diving, their abilities being valued for harvesting pearls, salvaging cargoes, and clearing sea beds for fisheries. Some were even use as lifeguards to safeguard less proficient white swimmers. Dawson wrote an epilogue to his paper, in which he raised the question that with all this previous evidence of black proficiency in swimming in slave owning days what explains the perception today by both blacks and whites that swimming is simply not a black sport. He also discussed some of what these perceptions are.1
Dawson started with Al Campanis' infamous interview on Ted Koppel's Nightline show in April of 1987, when the LA Dodgers' vice president made the comment that blacks "may not have some of the necessities to be…a field manager or, perhaps, a general manager." He shortly followed with the comment: "Why are black people not good swimmers? Because they don't have the buoyancy." 2
Campanis was not the only person to have this perception on this supposed biological impediment for blacks in swimming. Martin Kane in a Sports Illustrated article from 1971 suggested that the historically poor showing of blacks in swimming could well be a result of, "greater bone and muscle density, smaller lung capacity, and less advantageous fat distribution." He suggested that these presumed factors could decrease buoyancy, thus making swimming more difficult. He reported on the findings of Georgia Tech swimming coach Fred Lanoue, who found that 2 percent of the predominantly white freshmen at his institution were what are called "sinkers," while some 30 percent of the freshmen at predominantly black Morehouse were "sinkers." Kane, who gave no citations, obtained his information from a 1969 article by R. L. Allen and David L. Nickel that appeared in the Journal of Negro Education. Other articles in the late 1960s and early 1970s likewise discussed African-Americans, swimming, and the buoyancy issue. Of particular interest was that of Malachi Cunningham Jr., a swimming coach of an African American team in Philadelphia, who was agnostic on the subject. He concluded that whether or not buoyancy was a factor in the low interest and performance of blacks in swimming, "something had to be done to offer swimming to a larger segment of the Black community." 3
For his Sports Illustrated article, Kane interviewed legendary Indiana University swimming coach James "Doc" Councilman, who while did not dispute the validity of the lack of buoyancy issue, dismissed it as a factor, pointing out one of his champion swimmers, Chester Jastremski, had "very poor buoyancy." Instead he cited such social and cultural factors as lack of opportunity and lack of interest. This has been affirmed by various studies conducted by educators. Councilman was on to something. In building a strong swim team, race is an irrelevancy. Take this issue of the reputed lack of buoyancy in African Americans. This is a contention based on percentages, and if buoyancy is a factor in building a swim team a coach will tend to get swimmers who are so-called buoyant, white and black.4
Sport historian Patrick Miller has condemned Kane's article as an example of "racial essentialism," built on false science he called "scientific racism." I am going to avoid a long-winded debate here, other than to note that the concept of race is both a highly sensitive issue and a highly disputed issue. Most sociologists and anthropologists, as well as a few geneticists today assert that race is more of a social construction than a biological one. On the other hand an increasing number of geneticists using recent techniques in DNA sequencing have found in terms of genotype and phenotype that to some degree there is a biological component to race that corresponds roughly to the popular conception.5
We have to go back to Doc Councilman's point about lack of opportunity. Historically in black neighborhoods swimming facilities have been less abundant than in white communities. Famed physical educator and sport historian Edwin Bancroft Henderson would write occasional letters to D.C. newspapers faulting the District of Columbia for its lack of swimming facilities for African Americans. He noted a 1936 survey that showed that of the 41 public, private, and commercial swimming pools in the District, only six were available to black residents. In 1949, he noted that number had been reduced to five. In recent years, many blacks, who tend to be of more modest means, have been shut out from the top end of swimming competition with the rise of expensive private swim clubs, designed to give year-round training for the development of Olympic competitors.6
More importantly, historically, public swimming facilities have been often barred to blacks, particularly in the South, but certainly not unknown in the North. The Chicago Defender is replete with decades worth of stories from both the South and the North over racial conflict engendered by the breaking of barriers or the attempt to break barriers in the use of swimming facilities. The worst Chicago race riot in its history, in 1919, erupted over a black youth transgressing the segregated space that whites had created over the water on the Lake Michigan beach.7
Recently as last year, a Republican Congressional candidate in Florida showed a bit of racial insensitivity by saying, "I grew up in Alabama, and I understand, and I know from my own experience that blacks are not the greatest swimmers or may not even know [how] to swim." He apologized for his remarks, but there is a truth in the statement had it been presented in a more sensitive matter.8
Simply put, historically blacks have not done well in swimming, and this is considered a health issue by the U.S. government's National Center for Injury Prevention and Control. Drowning statistics for 2002-2003 showed that the drowning rate for African Americans was 1.25 times higher than for whites. For children ages 5 to 19 years, African Americans had a fatal drowning rate at 2.3 times the rate of white children. The National Center attributed this higher African American rate of drowning to a widespread lack of swimming ability in the black community.9
A look at blog comments on these statistics show two common assertions why black do not swim—the lack of interest and opportunity on the part of African Americans (which is the environmental explanation), and the lack of buoyancy on the part of blacks (which is the biological explanation). Some of the assertions are insensitive and blatantly racist—that reputed lack of intelligence lowered survival strategies in water, that black parents were less conscientious in supervising their children, and that black women avoided water because the chemicals in pools damaged their hair straightening treatments.Altogether, whether the assertions are true or false—racist or nonracist—the common perception today is and that blacks do not like to swim and have lesser swimming abilities.10
Likewise, the widespread view is that blacks are not engaged in competitive swimming, and that perception gets disseminated throughout our popular culture. In 1991, in an episode of the situation comedy, Designing Women, we have this exchange on blacks and swimming between the characters called Bernice and Anthony:
Bernice: "You know there's something else you don't see much of these days—black swimmers."
"Why is that Anthony?"
Anthony: "Well since it seems I am speaking for all my people today, I will venture to answer that question."
"Black people are too smart to get involved in swimming because there is no future in it. No one has ever swum their way out of the ghetto. Believe me, if it was possible to make five million dollars a year as a professional swimmer, it wouldn't be Air Jordan it would be River Jordan!"11
As you can see the subject of black competitive swimming has become punch line material for situation comedy laughs.
DuSable Begins to Compete
With this context in mind, let us look at the DuSable story, beginning in the 1930s. In context, black achievement in swimming was certainly not unique at this time. Elsewhere on the interscholastic level, the segregated schools of Baltimore and Washington, D.C., had been competing in an annual meet for the South Atlantic High School Athletic Conference since 1929. Many of the Negro colleges had strong swimming programs, and beginning in 1948, the Colored Intercollegiate Athletic Association began conducting an annual tournament that drew Negro colleges in the East and in the border states. These colleges drew their swimmers both from the DuSable swim program and from the black high schools in D.C. and Maryland.12
In context of interscholastic sports history, the DuSable story was a part of a dramatic shift during the late 1920s and early 1930s. The private clubs and universities that had sponsored such sports as basketball, track and field, and swimming were being forced out by state high school associations. One way that this affected swimming was that prior to the early 1930s most of the high school swimming talent had been developed in private clubs, such as the Illinois Athletic Club and the Lake Shore Athletic Club, but now the high schools were developing the swim talent through coaches on their athletic department staffs. The two schools most involved in our story, perennial champion Lane Tech and frequent challenger DuSable High, both emerged with strong swim programs through the hiring of top-notch coaches.13
DuSable High opened its doors in the fall of 1935, at 4934 S. Wabash, in the heart of the black South Side. The school was named after the first settler of Chicago, Jean Baptiste Point du Sable, a French fur trader whose mother was a Haitian slave. Nearby Phillips High, from which most of the students of DuSable were drawn, did not have a swimming pool, which was also true of many other Chicago high schools. DuSable High was built with a swimming pool, and its athletic department immediately instituted an ambitious swimming program under Coach William Mackie. He had swum competitively for Hyde Park High during the 1920s. He introduced in his initial year at the school a 10-mile swimming marathon for its male students. Competitors were required to swim 880 lengths of the 60-foot pool. The boys raced the last quarter-mile to determine the order of finish. A medal was awarded to each boy that finished. The Chicago Defender explained the purpose of the marathon thusly: "Coach Mackie uses this marathon to get his swimmers and life guards in condition and to encourage boys to swim more distance." By 1941, the marathon competition was attracting 70 competitors. The Defender reported that more than half would finish the marathon requirement.14
The 10-mile marathon program helped immensely to build a competitive swim team at the school, no doubt what Mackie intended. The school fielded a swimming team for the school's inaugural 1935-36 school year. Today all athletic teams at DuSable are called the Panthers, but the swim team in the 1930s adopted the appropriately named Sea Horses. The school's competition in its first year was with non-school teams, namely the Wabash YMCA and the Boys Club, both local black institutions. No doubt a racial issue was involved, as many white high school swim teams shunned competition with a black school.15
Meanwhile, Lane Tech emerged as a swimming power around the same time, when in the fall of 1934 it moved from its old location at Sedgwick and Division to a large new facility at Addison and Belmont. The old building had no swimming pool, but the new one featured the finest 75-foot pool in the Chicago high schools. With the new swim facilities, there was also a change in the coaching. The old swim coach was replaced by his assistant, John Newman. Prior to joining Lane Tech, Newman began his career in 1918 at St. Viator College, and from 1921 to 1929 coached at the Jewish Peoples Institute (JPI). There he developed the great swimmer Al Schwartz, who won many titles for Marshall High, but his training took place at the JPI. Newman's move from the Jewish Peoples Institute to Lane Tech in 1929 epitomized the migration of swim coaching from the private clubs to the high schools.16
Lane was the technical school for the entire North Side, and that was the school's boundaries, and in the mid-1930s the school was attracting around 8,500 students, all male. By the early 1940s, about 7,000 to 7,500 male students attended the school. Newman had a lot of numbers to work with. Each year Newman had the pick of from 2,000-2,500 freshman boys enrolled in the swimming classes. DuSable, in contrast had traditional enrollment boundaries for both boys and girls, with total enrollment of around 3,500 to 4,000 students, so there were hardly 2,000 boys in the entire school.17
DuSable's success in swimming began with an undefeated dual meet season, beginning a streak of 53 dual-meet victories that lasted until 1943. The Chicago Defender started giving DuSable High headlines in March of 1940 when the school's dual-meet string reached 26 straight. The string then became a recurring story in the paper. While obviously a laudable achievement, the string was less than the readers of the Defender were led to believe. During the streak, DuSable never had dual meet competition with any of the top teams in Chicago or suburbs, namely Lane Tech and Crane Tech in Chicago, and Maine and New Trier in the suburbs. The lack of this top-notch competition could have been due to both this racism and to other factors, such as the isolation of DuSable High from the suburban competition.18
Racism was no doubt the strongest factor. DuSable was generally the only black school in Chicago with a swimming team. Phillips did not always field a team, and the only two black schools DuSable faced were Phillips and Roosevelt High in Gary. All the other schools that competed against DuSable were essentially white high schools in the city that to their credit overcame prevailing racist views of the day. These included Amundsen, Farragut, Harrison, and Wells. On the other hand, there were schools that shunned competition with DuSable, notoriously Englewood.19
Lane Tech during these years emerged as the top team in the state under Coach Newman, winning the state championship nine out of ten years from 1938 through 1947. The school by the late 1930s utterly dominated the Chicago Public League twice-yearly league meets, held respectively in December and April of each school year. The 20-yard pool competition was held in December and the 25-yard pool competition was held in April. Coach Newman failed to win the first three Public League meets he entered. Englewood High and Roosevelt High (with the great Adolph Kiefer) kept Lane Tech from taking its first title until the spring of 1936. Thereafter, Lane Tech won each Public League meet. Rarely was the school challenged for the title. But one school did, DuSable, but it would take a while. Keep in mind, DuSable had a 20-yard pool and Lane Tech had a 25-yard pool, and thus DuSable tended to do better in the fall meet, while Lane Tech did better in the spring meet.20
During the late 1930s, DuSable was garnering only a few points in any of these meets. However, in the December 1939 meet, the school managed to take second-place next to Lane Tech. The disparity between Lane Tech and the other schools in the league was immense at this time, as shown by Lane Tech's winning score of 55 points and DuSable's second place mark of 10 points. But the Chicago Defender could brag that DuSable's team was "second only to Lane Tech…and national prep champions." Illinois schools ranked among the best in the country in swimming at this time, and Lane Tech was named the titular national champs based on comparative times across the country. This was before the California age group program of the 1950s would produce the talent to overtake Illinois schools.21
By 1941, the DuSable swim program was making an impact, with its graduates going to colleges. The Wilson Junior College swim team in April of 1941 took the state's junior college championship, beating out Wright Junior College. The team included three DuSable grads, and one Phillips High grad, described as Phillips one-man swim team.22
Racism in the Chicago Public League schools brought the issue of DuSable's swim team competing with other schools to a boil in November 1941. The league's program was based on just the December and April all-schools meets, by which no school was barred. Dual meets among the schools were not conducted in any league schedule—but on an invitational home and away basis. The dual meet competition could be somewhat intermittent. Many of the swimming coaches in the Central Section of the league thus felt the need for more regular competition and decided to form a dual-meet league. These schools included Hyde Park, Englewood, Lindblom, South Shore, Hirsch, and Tilden Tech, as well as the virtually all-black Phillips and DuSable schools.
While some of the coaches of these schools had earlier conducted dual meet competition with DuSable and Phillips, others had not, and were not willing to let Phillips and DuSable into the newly formed league. The Chicago Defender reported, "There have been rumors that although Phillips and DuSable will invite teams to their tanks, few invitations to go to other schools in Chicago will be extended to them…the crux of the whole thing is that these coaches—not the boys—don't want competition against Negro swimmers." One of the most virulent coaches against competition with DuSable and Phillips was ironically the Englewood coach, who apparently was leading an all-white team in a high school that was nearly 60 percent black. A few weeks later, the Chicago Board of Education put an end to the "lily-white swim league," as the Chicago Defender headlined it. This flare-up opened up a window to what DuSable faced each year in fielding its swimming team.23
Regarding Lane Tech, the school served all ethnic and racial groups. In the thirty years of yearbooks I examined, however, only in 1937 did I see a black member on a Lane Tech team. Hal Gold, who swam for Lane Tech from 1940 to 1943, said, "I do not remember ever swimming competitively with a black athlete…either on our team or against other teams."24
DuSable was highly competitive with the high school teams it did face, however. In February 1942, the Sea Horses bested the Farragut team 45 to 22 in its 42nd straight dual-meet victory. In February 1943, the team beat the Harrison team 42 to 24 for its 53rd straight dual-meet win. A few days after the meet, Coach Mackie was inducted into the Army. There were no more reports of a dual-meet string.25
Postwar Resurgence for DuSable
With Mackie's absence, DuSable continued to field a team, but without the same rigorous training. The 10-mile marathon program, for instance, was abandoned. In the 1945-46 season, Coach Mackie returned to DuSable. He reinstituted the 10-mile marathon and soon brought the school to even greater prominence in the Chicago swim world. The first two years he lost a few contests, but in the in the 1947-48 season, the school went undefeated in dual meets and won the championship of the Central Section. By this time, the Board of Education had instituted dual-meet leagues to supplement the fall and spring meets. DuSable repeated as Central Section champs the next year. In the city-wide meets, however, Lane Tech was still dominant. In the April 1949 meet, for example, the north side school took first with 51 points, followed by Crane in second place with 18 points, Taft third with 15 points, and DuSable tied with Tilden Tech for fourth place with 14 points.26
In the 20-yard Public League meet in December 1949, DuSable had its best ever opportunity to overtake the Lane Tech team. The North Side school was down that year, and DuSable was loaded. The Chicago Defender, whose sports writer Chuck Davis was following the team, understood that DuSable had a genuine chance of ending Lane Tech's 14-year string of 20-yard titles. DuSable, which did not have the numbers that Lane Tech did, decided not to compete for the junior title and concentrated all its horses on the senior half of the meet. The day before the finals of the meet the Chicago Defender ballyhooed DuSable's chances with a sizable story and a large headline, "DuSable Girds To Upset Lane In Tank Meet." Lane Tech qualified seven individuals and one relay team for the finals, compared to DuSable's five individuals and two relay teams.27
The two teams were evenly matched for the finals—and clearly DuSable was posed for an incredible upset—but the mainstream papers did not take notice. One should say the unnamed City News Bureau reporter did not take notice, because during this era just about all the small prep stories were written by the City News Bureau and the four dailies merely ran modified versions. The primary narrative of the preliminaries by the News Bureau was the national interscholastic record set by Lane Tech's Ronald Gora in the 220-yard freestyle, and that Lane Tech was favored to continue its string of titles. Neither the Chicago Daily News nor the Chicago Herald-American bothered to mention the number of DuSable qualifiers, giving the readers the idea that Lane Tech had the title wrapped up. The Herald-American even said that Lane Tech was a "heavy favorite." The Chicago Sun-Times and the Chicago Tribune both listed the number of qualifiers of each team, yet the write-ups automatically assumed Lane Tech as the favorite. Nothing was mentioned how DuSable just might have the horses this time to beat Lane Tech. That was not the story.28
Lane won the meet, but it was the closest outcome in a couple decades, with Lane Tech edging DuSable by just five points, 46 to 41. The City News Bureau's theme of the story, which was repeated in the mainstream dailies, was that DuSable had been a genuine threat to take the title from Lane. Said the Herald-American, "DuSable put a scare in the Lane seniors." The Chicago Daily News said that the "[Lane Tech] squad was hard pressed by DuSable to win their title." The Chicago Tribune said that the "seniors were pressed by DuSable to win."29
There were no other write-ups by the dailies over this near upset. The Chicago Defender followed the next week with a story lamenting the loss, and the bad breaks in the meet, such as DuSable's defending diving champ, Leon Guice, failing to repeat as champ. The paper also noted that Lane Tech had more than 6,000 male students, compared to DuSable's roughly 1,500 to 2,000 male students.30
DuSable's results in the 25-yard meet in the spring of 1950 were not too shabby either, with the school taking second with 33 points to Lane Tech's 45 points. DuSable's star swimmer, Eddie Kirk, that year took home the only medal the school ever won in the state meet, winning the individual medley in the annual March meet. The 1949-50 school year, thus, represented the high watermark of DuSable's achievement in swimming, so to speak.31
Now we're going to get into the question of race. There was no commentary in the mainstream dailies on the fact that DuSable's all-black team nearly beat the mighty Lane Tech team, and took second in two league meets. The Chicago Defender only briefly touched on it, when Chuck Davis offered some commentary in his column, "Chuck-a-Luck." He said:
One of the sports most neglected by Negro high school boys—and collegians too, for that matter, is swimming. Tennessee State, W. Virginia State, and Howard to mention a few, have facilities for a top flight aquatic program, but for some reason the sport has not clicked.
In the event Negro colleges ever go in for swimming full scale they will find a reservoir of talent in Chicago's DuSable High School. For at least ten years, the school has produced some of the best tank performers in the city…"
Davis continued his commentary by attributing the success of the team to the 10-mile marathon that Coach Mackie had been conducting during his tenure. Davis did not even touch on the topic that deemed black swimmers physiologically handicapped to compete in swimming—the old buoyancy factor. Instead, he attributed the lack of swimming success by black schools to lack of interest and lack of tough training.32
Despite all the success it enjoyed, DuSable faced much resistance by many of its students to swimming. I talked to a former student of Mackie, James Brown, who while not on the swim team took swim class under Mackie in the early 1950s. Brown characterized the coach as very stern, saying "When he said something you had better listen. He was one of those kind. The guys would respect those coaches back in those days, whether they were on the swim team or not." Brown already knew how to swim, which he had learned at park district pools, but he noted that many of his fellow classmates did not, and thus resisted the swim instruction. Said he:
"Coach Mackie would make them get into the water, but they really didn't want to. You could tell the ones who didn't want to swim. They stayed in the shallow water all the time. The ones who didn't want to swim had to go to ROTC!"
My informant laughed on the ROTC comment. Students at Chicago high schools at the time could participate in ROTC in lieu of their physical education classes.33
DuSable's success in the city's high school swimming program should not be attributed solely to the 10-mile marathon. The school was producing top divers at this time as well. Leon Guice was the city's diving championship in the spring 1949 meet and took second in the fall 1949 meet. In the spring and fall meets of 1950, Lloyd Outten copped second place both times.34
DuSable on the Downward Arc
With 1950-51 school year, DuSable again had a successful season, but it did not reach the heights of the previous year. The school took the Central Section for the fourth consecutive year, and managed to take second in the annual 20-yard meet, but its 14 points hardly challenged Lane Tech's 42 points. A bit more glory was rendered to DuSable with the publication of the amateur swimming guide in early 1951. A DuSable swimmer, Eddie Kirk, was named to the 1950 All-American interscholastic team, and Bill Mackie was given an award for more than 20 years of service to swimming. At that time, the Chicago Defender noted that the school's dual meet record was 108 victories to only 11 defeats. The spring 25-yard meet saw DuSable drop behind Lane Tech, Harrison, and Roosevelt. The program was clearly in decline.35
The 1951-52 season marks that last time that DuSable garnered any kind of league-wide achievement in swimming, when it took second to Lane Tech in the annual 20-yard meet, earning 17 points to Lane Tech's 34 points. The largest chunk of points was earned by DuSable's diver, Leon Wade, who took first place. By the spring of 1952, DuSable was no longer contending, getting only six points in the league meet, five of them from Wade's second-place diving finish.36
Thereafter, DuSable High was no longer a factor in the city's swim meets. In 1954, the school basketball team, the Panthers, took second in the state under Coach Jim Brown. Mackie, by the way, was the assistant basketball coach. This began a tradition where not only outsiders saw DuSable as purely a basketball power, but so did the school.37
DuSable continued with a swimming team, but after the 1956 season Mackie gave up coaching the swim team to move up as the chairman of the boy's physical education department. Under subsequent coaches, the school continued to field teams in the next decade, and even captured a couple of Central Division titles, but the glory years were clearly gone.38
Mackie left the school after the 1965 season, and unfortunately by this time the school was not managing to field a team every year. The yearbooks kept heralding the return of the Sea Horses. The last team fielded by DuSable was the 1972 Sea Horses. Today, DuSable does not field a swim team, sadly reflecting the stereotype that African Americans are not only not interested in swimming but are not good at it either.39
Side Story
My first awareness of issues surrounding African Americans and swimming first surfaced in 1962, my senior year at high school, Proviso East. It a large comprehensive high school with a vast diversity in ethnic and socio-economic groups. When I was attending the school about six percent of the school's population was black. My youngest brother came home with a school friend, a black guy who was trying out for the swimming team. He complained to us about the varsity swim coach, and said the guy was a real racist, who did not like blacks. I never had this coach as my gym instructor, but my twin brother did. I said is there anything to this supposed racism of the swim coach? My brother replied, "Oh yeah, it was obvious to everyone in the gym class that this particular instructor just the way he addressed blacks in the class everyone could hear the extra edge in his voice. It appeared to the class that he just didn't like blacks."
Well this swim coach, who was highly successful at Proviso East, the very next year went on to another school where he went on to win twelve state championships and become a legend in Illinois. Meanwhile, my brother's friend a few years later became the first black varsity swimmer at Proviso East.40
One would love to say, that his success led other African-American students to take up swimming. Instead, as the school became less and less white and more minority the swim team went into decline. The last year Proviso East had a swim team was 1987, when the school was probably 95 percent minority in a population of 2,000 students. The program attracted so few numbers that the school formed a combined girls and boys team to compete. By the following year, there were not enough numbers and Proviso East joined the ranks of DuSable and many other "black" schools that no longer fielded swim teams.41
Ironies in the Story
This narrative is filled with ironies. During the years of DuSable's tremendous success in the Chicago Public School League program, it was only a story in the Chicago Defender. The Defender recognition was typical of the day, in which African American publications were dedicated to telling their readers the achievements and exploits of the race. The Chicago mainstream papers did not seem to notice the story, and presumably took it for granted that DuSable could achieve in swimming as much as any other school. The DuSable close second-place finish in 1949 did not make much an impression on the Lane swimmers either. When I asked Ron Gora about the meet he did not recall a close score, and in fact could not recall which team took second. He said, "As competitors we were really geared in on our events, we were not looking at the score." In summary, there was not the unstated attitude then that it was remarkable for blacks to swim.42
In part the DuSable swim team story did not emerge in the 1940s because of the nature of sport journalism then, where the writing on high school sports was considerably less reflective. In addition, the City News Bureau supplied many of the stories on high school sports, and the Bureau was strictly fact-oriented—what, when, and where. Today, both the Chicago Tribune and Chicago Sun-Times each have columnists that discuss issues, problems, and controversies in high school sports. Then the mainstream newspaper prep columns merely recited factoids.
Imagine today, if there was a black school like DuSable, which was beating all the white teams it met, except for a handful of powers in the state, and was so competitive in the big meets that it often took second. The papers would trumpet and marvel at the school's success, and one wonders if the unstated assumption would be "can you believe that these blacks are that good in swimming?"
Thus, by making the DuSable High achievement a story, am I harboring some sort of racist assumptions by doing the story? By the wording of my title, "Having the Necessities," and in this talk I appear to be saying isn't it remarkable that these African-Americans can swim competitively.
This DuSable story appears to falls into a certain narrative in writing about black achievement in swimming. What writers have been doing to counter the widespread notion that African Americans do not want to swim and can't swim is to show a black swim program that belies those suppositions. In 1972, John W. McClure in his "Two Views of Black and White Swimmers," devoted a good part of his essay on a California high school, 95 percent black, that developed a swim program that turned a student body from being predominantly non-swimmers to predominantly swimmers. In his 1989 book Necessities, author Phillip M. Hoose firmly stated that the reputed greater difficulty of blacks in water than whites is scientifically unsupported, and then illustrates the arguments in his chapter entitled "Buoyancy," with the story of the successful all-black Barracudas Swim Club from Cleveland.43
These narratives exist today precisely because of what has happened in the last few decades in the black community, where African Americans show far less interest in competing in swimming than in the past. DuSable and most of the predominantly black schools in the Chicago area no longer field swimming teams. Kevin Dawson took notice of this in his article on early black achievement in swimming and tried to reach for an explanation. He suggested that current attitudes in the black community deem swimming as a "white sport." There is something to this, and this points to cultural and social factors, and obviously not biological factors.44
This leads to the final irony in this talk. That is, whereas as in earlier decades that lack of African-American involvement in competitive swimming was often due to white exclusion of African Americans from competition and from access to swimming pools, now in current decades the lack of African-American involvement in such competition appears to a considerable degree to be culturally self-imposed. The history of swimming competition at DuSable is just one story of many narratives that show not only black achievement in swimming but also the decline of swimming in the American black community.
Notes
1. Kevin Dawson, "Enslaved Swimmers and Divers in the Atlantic World," The Journal of American History 92/4 (March 2006): 1327-55.
2. Steve Springer, "The 'Nightline' that Rocked Baseball," Bob Baker's Newsthinking, 6 April 2006 [http://www.newsthinking.com/print_story.cfm?SID=146], accessed 30 August 2006.
3. Martin Kane, "An Assessment of 'Black Is Best'," Sports Illustrated, 18 January 1971, 79-80; R. l. Allen and David L. Nickel, "The Negro and Learning to Swim: The Buoyancy Problem Related to Reported Biological Differences," The Journal of Negro Education 38/4 (Autumn 1969): 404-411; Michael Cunningham Jr., "Blacks in Competitive Swimming," Swimming Technique 9 (1973): 107-08.
4. Kane, p. 80; Phillip M. Hoose, "Buoyancy: Why Few Blacks Swim in the Olympics," Necessities (New York: Random House, 1989): 70-89; John W. McClure, "Two Views of Black and White Swimmers," Integrated Education: A Report on Race and Schools 57 (May-June 1972): 40-43.
5. Patrick B. Miller, "The Anatomy of Scientific Racism: Racialist Responses to Black Athletic Achievement," Journal of Sport History 25/1 (Spring 1998): 119-51; Ethan Bronner, "Inventing the Notion of Race," New York Times, 10 January 1998; Nicholas Wade, Before the Dawn: Recovering the Lost History of Our Ancestors (New York: Penguin Press, 2006): 181-201.
6. E. B. Henderson, "Negro Swimmers" [letter to the editor], Washington Post, 5 July 1949. Hoose, pp. 76-79.
7. "NAACP Fights D.C. Bias in Recreation," Chicago Defender (national edition), 25 May 1946; "Blast St. Louis Mayor for Rescinding Pool Order to Quiet White Rioters," Chicago Defender (national edition), 2 July 1949; "Police to Enforce Jim Crow Ban at D.C. Pools," Chicago Defender (national edition), 18 March 1950; "Integration Marches On" [editorial], Chicago Defender (national edition), 8 December 1956; "Report Two Killed, Fifty Hurt, in Race Riots," Chicago Tribune, 28 July 1919; Allan H. Spear, Black Chicago: The Making of a Negro Ghetto 1890-1920 (Chicago: University of Chicago Press, 1967): 214-19.
8. Greg Sargeant, "GOPer: 'Blacks…May Not Even Know How to Swim," Election Central:TPMCafe, 17 August 2006 [http://electioncentral.tpmcafe.com/blog/electioncentral/2006/agu/17/fl_sen_blacks_may_not_even_know_how_to_swim.htm], accessed 17 August 2006.
9. "Water-Related Injuries: Fact Sheet," National Center for Injury Prevention and Control [http:www.cdc.gov/ncipc/factsheets/drown.htm], accessed 17 August 2006.
10. "More on Black Drownings," Steve Sailer: iSteve.com Blog Archives, 22 April 2006 [http://isteve.blogspot.com/2006/04/more-on-black-drownings.html], accessed 17 August 2006; "More on Blacks and Swimming," Steve Sailer: iSteve.com Blog Archives, 23 April 2006 [http://isteve.blogspot.com/2006/04/more-on-blacks-and-swimming.html], accessed 17 August 2006.
11. "Fore!" [Season 5, Episode 23], Designing Women, aired 6 May 1991, on CBS. VHS in author's collection.
12. "Armstrong High Swimmers Win Conference Meet," The Afro-American, 11 May 1935; "Hampton to Have Its First Swim Team," Chicago Defender [national edition], 26 February 1944; "Howard Places Third in Swimming Meet," Washington Post, 29 February 1948; "Tiger Sharks Gain Swimming Title by Beating Three Top Contenders," Chicago Defender [national edition], 24 March 1951.
13. Charles W. Whitten, "The National Federation," Interscholastics: A Discussion of Interscholastic Contests (Chicago: Illinois High School Association, 1950): 140-153; "Abandon Prep Meets," Chicago Tribune, 11 January 1931; "N.U. Gives Up 18 Year Old Prep Meet," Chicago Tribune, 21 January 1931.
14. Linda Klein, "DuSable School Honors Pioneer, Chicago's Founder," Chicago Tribune, 16 December 1963; "Lydia Cops 10-Mile DuSable Swim Race," Chicago Defender [national edition], 6 December 1941.
15. "Swimming," Red & Black 1936 (Chicago: DuSable High, 1936): 60.
16. Edward Jensen, "Lane Tech's Bad Habit is Winning at Swimming," Chicago Tribune, 5 May 1949; Ralph Leo, "Former Lane Tech Swimmers Plan Coach Newman Memorial, Chicago Tribune, 2 April 1964.
17. Directory of Public Schools of Chicago 1935-1936 (Chicago: Board of Education City of Chicago, 1935): 51 and 57; Directory of Public Schools of Chicago 1937-1938 (Chicago: Board of Education City of Chicago, 1938): 45 and 53; Directory of Public Schools of Chicago 1940-41 (Chicago: Board of Education City of Chicago, 1941): 34 and 43.
18. "26th Straight Victory for DuSable's Tankmen," Defender [national edition], 23 March 1940; "DuSable Swimmers in Easy Win Over Phillips," Chicago Defender [national edition], 4 April 1942; "Sea Horses," Red & Black (Chicago: DuSable High, 1940), p. 72.
19. "Splash!" Red & Black (Chicago: DuSable High, 1939), p. 64.
20. "Englewood, Roosevelt Win Swim Titles," Chicago Tribune, 23 December 1934; "Englewood Swimmers Win Senior Title," Chicago Tribune, 21 April 1935; "Kiefer Leads Roosevelt to Swim Honors," Chicago Tribune, 22 December 1935; "Lane Captures Junior, Senior Swim Titles," Chicago Tribune, 12 April 1936.
21. "Lane Swims to Third City Title in Row," Chicago Tribune, 16 December 1939; "Undefeated in Four Years in Dual Swim Meets," Chicago Defender [national edition], 24 February 1940.
22. "Wilson Junior College Swimmers Cop State Title," Chicago Defender [national edition], 5 April 1941.
23. "Bar Du Sable and Phillips Swim Teams," Chicago Defender [national edition], 15 November 1941; "Board of Education Bans Lily-White Swim League," Chicago Defender [national edition], 22 November 1941.
24. The Lane Tech Prep January 1937 (Chicago: Lane Tech, 1937): 75; Hal Gold, e-mail message to author, 29 December 2006.
25. "Du Sable Sea Horses Beat Out Farragut," Chicago Defender [national edition], 21 February 1942; "DuSable Tankmen Victors; Coach Joins Army Tuesday," Chicago Defender, 27 February 1943.
26. "Swimming: DuSable Sea Horses," Red & Black 1946 (Chicago: DuSable High, 1946): np; "DuSable Sea Horses," Red & Black 1947 (Chicago: DuSable High, 1947): np; "Lane Retains Junior, Senior Swim Crowns," Chicago Tribune, 22 April 1949.
27. Chuck Davis, "DuSable Girds to Upset Lane in Tank Meet," Chicago Defender, 17 December 1949.
28. "Lane Ace Betters U.S. Mark," Chicago Daily News, 14 December 1949; "Lane Swimmers Seek Two More Crowns Today," Chicago Herald-American, 15 December 1949; "Lane Seniors Set Pace in Swim Trials," Chicago Sun-Times, 14 December 1949; "Gora Sets New 220 Freestyle Swim Record," Chicago Tribune, 14 December 1949.
29. "Lane Wins Splash Title," Chicago Herald-American, 17 December 1949; "Gora Cracks Mark as Lane Wins Twice," Chicago Daily News, 17 December 1949; "Lane Swimmers Retain Crowns; Gora Sets Mark," Chicago Tribune, 17 December 1949.
30. "Lane Numbers Beat DuSable in Swim Meet," Chicago Defender, 24 December 1949.
31. "Lane Keeps City League Swim Crowns," Chicago Tribune, 21 April 1950; Robert Cromie, "New Trier Wins 3d Consecutive Prep Swim Title," Chicago Tribune, 26 February 1950.
32. Chuck Davis, "Chuck-a-luck," Chicago Defender [national edition], 4 November 1950.
33. James Brown interview with author, 17 September 2006, Chicago, Illinois, notes in possession of author.
34. Chuck Davis, "Prep Sports," Chicago Defender, 30 April 1949; "Lane Swimmers Win City League Championships," Chicago Tribune, 9 December 1950; "Lane Keeps City League Swim Crowns," Chicago Tribune, 21 April 1950.
35. "Swimming Team," Red & Black 1951 (Chicago: DuSable High, 1951): np; "DuSable Swimmer Named to All-American Squad," Chicago Defender [national edition], 22 February 1951; "Lane Wins Both Prep Swim Titles," Chicago Tribune, 7 April 1951.
36. "Lane Retains City League Swim Titles," Chicago Tribune, 8 December 1951; "Lane Juniors, Seniors Keep Swim Titles," Chicago Tribune, 11 April 1952.
37. Roi Ottley, "Good Example of Coach Helps DuSable Team," Chicago Tribune, 4 April 1954.
38. "Aquatic Artistry on Display," Red & Black 1956 (Chicago: DuSable High, 1956): 117: "Champions of the Central Section," Red & Black 1957 (Chicago: DuSable High, 1957): 103. "Sea Horses Sparkle, Romp, and Race!," Red & Black 1962 (Chicago: DuSable High, 1962): 132.
39. "Our Sea Horses Splash Again!," Red & Black 1966 (Chicago: DuSable High, 1966): np; "Sea Horses Return," Red & Black 1972 (Chicago: DuSable High, 1972): np.
40. "Merman Break Four Varsity Pool Records," Provi (Maywood, IL: Proviso East High, 1965): np.
41. "Joined Forces: Inside Story," Provi (Maywood, IL: Proviso East High, 1987): 119.
42. Ron Gora telephone interview with author, 16 December 2006, Elmhurst, Illinois; notes in possession of the author.
43. Hoose; McClure.
44. Dawson, p. 1355.