Happy Birthday Peter Biros !!!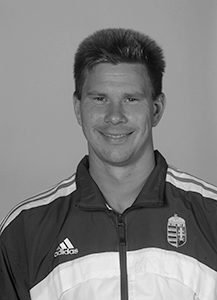 ---
Péter Biros (HUN) 2016 Honor Water Polo Player
FOR THE RECORD: 1998 WORLD CHAMPIONSHIPS: silver; 2000 OLYMPIC GAMES: gold; 2003 WORLD CHAMPIONSHIPS: gold; 2004 OLYMPIC GAMES: gold; 2005 WORLD CHAMPIONSHIPS: silver; 2007 WORLD CHAMPIONSHIPS: silver; 2008 OLYMPIC GAMES: gold
Hungary is a land of thermal springs and although landlocked, swimming and water sports are ingrained in their culture. This love of water led to an early domination of international swimming and diving competitions in the late 19th and early 20th century. In the 1920s, it was water polo that came to symbolize Hungary's unique strengths and individuality. From 1928 to 1980, the Hungarian National Water Polo Team dominated the sport like no other nation, reaching the podium at twelve consecutive Olympic Games. During this streak the Hungarians won six gold medals, three silver medals, three bronze medals, and back to back titles twice: 1932 and 1936 and, 1952 and 1956. It came to be that anything less than the gold medal was considered a failure.
So it became something of a national catastrophe and source of embarrassment when the pride of Hungary failed to medal in four consecutive Olympic contests. After finishing fourth in 1996, the Federation reached out to a young coach, who had made a name for himself coaching in Italy and Australia, to rescue the program.
Denes Kemeny started by building his team around two young men who had helped Hungary finish fourth at the 1996 Games in Atlanta: Tibor Benedek and Tamas Kásás.
Benedek was one of the most talented youngsters to ever play the game. He had joined the National Team as a teenager prior to the 1992 Olympic Games. His speed, quickness, rifle left arm and goal-scoring in Barcelona earned him the Hungarian Player of the Year titles in 1992, 1993 and 1994.
Tamas Kásás took up water polo at the age of six, being taught by his father Zoltan, a famous coach and silver medalist in 1972. Because of his world-class swimming speed, defensive skills, accurate shooting and passing he would come to be regarded as one of the world's best defensive and all around players of his era.
Born in Szeged, Tamás Molnár was selected for the national team in 1997. He was a powerhouse at the all-important center position and could score or draw exclusions against the best defenders in the world.
The youngest to join the team in 1997, was 19-year old Gergely Kiss. He was not only a brilliant left-hander and center defender, but at 6'6", 245 pounds, he was one of the most physically intimidating players in the sport.
It was 1998 when Péter Biros joined the team. Born in Miskolc, Biros had combined water polo with handball until the age of 17. He could play any position and could score from anywhere in the pool.
The final piece of Kemeny's team was the goalkeeper, 21-year old Zoltán Szécsi. Standing 6'6" tall, he had learned to swim as an infant, but grew up playing a variety of other sports, like basketball and tennis, which was good training for his position.
Kemeny's new approach brought immediate results, as the Hungarians won gold at the 1997 European Championships, silver at the 1998 FINA World Championships and gold at the 1999 World Cup.
At the 2000 Sydney Games, Hungary regained its Olympic water polo success by winning their first Olympic medal in 24 years, and their record seventh water polo gold medal, by routing Russia, 13-6.
Four years later, at the 2004 Athens Olympic Games, Gergely Kiss scored four goals, including the game-winner in an 8-7 come-from-behind victory over Serbia-Montenegro to defend their title.
In Beijing, at the 2008 Olympic Games, the Hungarians faced off against the surprising team from the USA. In a wild shoot out, the Magyars took command in the fourth quarter for a 14-10 victory.
The win gave Hungary an unprecedented third consecutive Olympic title. While a total of 21 players won Olympic gold medals playing for Hungary over the period of 2000 to 2008, only six own three by themselves. It is to them, and their coach, that we honor the Hungarian Men's National Water Polo Team as the first team to be inducted into the Hall of Fame.