Happy Birthday Mary Freeman !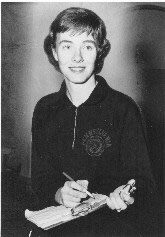 ---
MARY FREEMAN (USA) 1988 Honor Coach/Contributor
FOR THE RECORD: AAU NATIONAL CHAMPIONSHIPS: 5 (100m, 200m backstroke; 300yd individual medley; 2 relays); COACHING RECORD: AAU National Outdoor Team Champions 1961, 1966 (swimming only); Perennial Eastern U.S. Champions and Middle Atlantic Champions 1956-1968; University of Pennsylvania women's team coach; 1960, 1964 U.S. Olympic Women's Swimming Committee; AAU Women's Swim Committee 1956-1964; All American Women's Swimming Team Selection Committee 1959-1961; AAU Swimming Award Committee Chairman 1965-1968; AAU Joint Rules Committee for Swimming 1962-1964, 1967.
Mary Freeman began swimming as a beginner in the Walter Reed Army Hospital pool in Washington where her chemist father was on the staff. She went quickly from the worst to one of the best of Jim Campbell's champions who trained at the hospital pool. Campbell trained his swimmers at six in the morning so the pool could later be heated up for the hospital rehab swim program. Since Walter Reed quickly became national champions, U.S. swim coaches decided six a.m. workouts should be the law of the land.
By 1951, Mary Freeman was national champion in both backstrokes. The following year, she made the U.S. Olympic team going to Helsinki. Her best swimming year was 1953 when she won the nationals in the 300 yard individual medley, the 880 yard freestyle relay and the 330 yard medley relay.
Mary retired in 1953 but missed the sport. After her marriage to the late Jack Kelly, she started the swimming team at Philadelphia Vesper Boat Club in 1955. The club quickly became the best in the east and by 1961 they had won their first national team championship. Mary, generally considered the best American woman swimming coach, (if not the world) produced 15 national champions who went on to win 26 national championships between them, set 10 world records and made the Olympic finals nine times. Mary Freeman coached both Vesper and the University of Pennsylvania women's team with the philosophy of "Ladies first, swimmers second." She retired in 1968, at the top, to raise her six children and is now married to Professor Allan Spitzer and lives in Iowa City, Iowa.