Happy Birthday JUDY McGOWAN !!!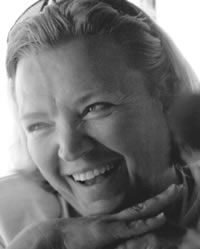 ---
Judy McGowan (USA)
2009 Honor Contributor/Synchronized Swimming
FOR THE RECORD: 55 YEARS A COMPETITOR, COACH, JUDGE, ADMINISTRATOR IN SYNCHRONIZED SWIMMING; MEMBER FINA TECHNICAL SYNCHRONIZED SWIMMING COMMITTEE: 1984 1996 (Chairman 1984 1992); MEMBER ASUA TECHNICAL SYNCHRONIZED SWIMMING COMMITTEE: 1979 – 1984; EDITOR AND PRIMARY AUTHOR OF FIRST INTERNATIONAL TRAINING MANUEL FOR SYNCHRO JUDGES: 1979; EDITED FIRST FINA JUDGING MANUEL (1988); CHAIRED FINA – TSSC AD HOC COMMITTEE ON DEGREES OF DIFFICULTY; DEVELOPED FIRST VIDEO TAPE SERIES FOR TRAINING INTERNATIONAL ROUTINE JUDGES; DRAFTED FIRST RULES AND GUIDELINES FOR TECHNICAL ROUTINES; INTERNATIONAL CLINICIAN CONDUCTING 37 INTERNATIONAL CLINICS; SYNCHRO COMPETITION MANAGER FOR 1996 OLYMPIC GAMES; U.S. CHEF DEMISSION FOR 1982 WORLD CHAMPIONSHIP; SYNCHRO JUDGE/OFFICIAL AT FIVE OLYMPIC GAMES, FIVE WORLD CHAMPIONSHIPS, FIVE PAN AMERICAN GAMES AND SEVEN WORLD CUPS.
Since 1953, Judy has been active as a synchronized swimming competitor, coach, judge and most importantly, administrator nationally and internationally.
In her younger days of competition in the City of Baltimore she was coached by 1912 British Olympic gold medalist and Hall of Famer Belle Moore Cameron and then Dot Muhly. It all helped to prepare her for the many years of commitment and service she gave to the sport.
In 1974, she was the U.S. delegate to the First International Conference on Synchronized Swimming in Ottawa and then elected to chair the International Judges Study Group from 1974 to 1984. In 1979, she was editor and primary author of the First International Training Manual for Synchronized Swimming Judges. She organized the Second International Conference on Synchronized Swimming in 1979 in Washington, DC.
Six years later in 1984, she became the first woman ever appointed to chair a FINA committee, the Technical Synchronized Swimming Committee (TSSC) on which she served for twelve years, eight as chairman. During her tenure, she innovated and improved judging and scoring procedures, initiated development clinics around the world and developed training materials. In 1988, she edited the first FINA Judging Manual, revising it in 1992. She chaired the FINA – TSSC Ad Hoc Committee on Degrees of Difficulty and authored its report, which established an asystematic approach to assigning degrees of difficulty to FINA figures. She developed the first video tape series for training international routine judges by writing the script, selecting video clips, designing the format, and doing the video voice-over. She also wrote a teaching manual to accompany the tapes. She drafted the first rules and guidelines for technical routines and organized the first FINA Coaching Symposium for elite synchro coaches in 1992 at Olympia,Greece.
As an international clinician, she conducted or served 37 international clinics around heworldincluding Argentina, Australia (3), Brazil, Canada (2), China, Columbia (3), Cuba, Dominican Republic (2), Finland, Great Britain, Greece, Italy, Japan, Korea (2) Mexico (2), Puerto Rico (2), Russia, Soviet Union, Spain, Switzerland, Thailand, USA (7), and Venezuela.
On the home front, she was the Founding President of U.S. Synchronized Swimming where she incorporated the organization, hired the first executive director and established the national office (1977 – 1984). During this time the USSS National Team Program, National Age Group Championships and Masters programs began; and the concept for the first USSS Coaches Certification Program was developed.
She became the chairman of the U.S.Olympic Committee Task Force to investigate the status of Coaches Education in the United States for Pan American and Olympic Sports. All recommendations were subsequently adopted including the establishment of a USOC Coaching Education Program. From 1984 to 1988, she chaired the Coaches Education Committee, organizing the first coaching education seminars for the USOC. She became a member of the USOC Executive Board from 1980 1984 and was appointed by USOC president Bill Simon as the liaison for the Athletes Advisory Council.
McGowan served as an international judge at the 1984, 2000 Olympic Games, serving as Chief Olympic Referee in 1988, 1992 and Competition Manager in 1996. She was a judge at the 1978, 1998, 2005 World Championships; 1979, 1997,1999 World Cups; 1993, 1997, 2002, 2004 Jr World Championships and 1979, 1983, 1987, 1999, 2003 Pan American Games. She served as Chief Referee at the 1986, 1991 World Championships; 1985, 1987, 1989,1991 World Cups and 1989, 1991 Jr Worlds. She was the competition manager at the 1995 World Cup and was the U.S. Chef de Mission at the 1982 World Championships.