Happy Birthday Jozef Szabo !!!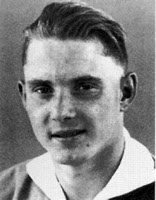 ---
Jozsef Szabo (HUN) 2012 Honor Swimmer
FOR THE RECORD: 1988 OLYMPIC GAMES: gold (200m breaststroke); 1986 WORLD CHAMPIONSHIPS: gold (200m breaststroke); 1987 EUROPEAN CHAMPIONSHIPS: gold (200m breaststroke), silver (4x100m medley); 1989 EUROPEAN CHAMPIONSHIPS: bronze (200m breaststroke).
In Jozsef Szabo's competitive swimming days, he became part of a family of swimmers and teammates. Like a family, each member had a role. He was known as the clown, to provide and keep everyone in good spirits and laughs.
Under Coach Tamas Szechy, most of the swimmers had one thing in common, they were great breaststroke swimmers. Szabo was no exception. Along with Norbert Rozsa, Tamas Darnyi and Karoly Guttler, he became one of the greatest breaststroke swimmers in the world.
Szabo swam at the Budeapesti Honved Sportegyesulet. He burst onto the international scene at the 1986 Madrid World Championships, winning the 200 meter breaststroke, and repeating it in the next year at the 1987 European Championships in Strasburg, Austria.
Tall for an elite breaststroke swimmer at 6'1", and weighing 180 pounds, Szabo surprised the world when he won the Olympic gold medal at the 1988 Olympic Games, defeating Nick Gillingham of Great Britain and Sergio Lopez of Spain in the 200 meter breaststroke, only .18 seconds off Canadian Victor Davis' world record.
All totaled, Szabo won one Olympic gold medal, one World Championship gold medal and three European Championship medals, one gold, one silver and one bronze.