Happy Birthday Jonty !!!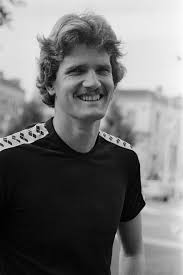 ---
JONTY SKINNER (RSA) 1985 Honor Swimmer
FOR THE RECORD: WORLD RECORD: 1976 (100m freestyle); AAU NATIONALS (4): 1976, 1977, 1978 (100yd, 100m freestyle; 1 relay); NCAA CHAMPIONSHIPS: 1975 (100yd freestyle); U.S. OPEN RECORDS: 3 (100yd freestyle); SOUTH AFRICAN CHAMPION: 1973, 1974 (100m freestyle); Awarded South African "National Colours" in Swimming and Life Saving.
John Alexander Skinner, better known as Jonty, was born in South Africa, educated at Alabama and now coaches the San Jose Aquatic Club in California. He weighed 185 pounds, stood 6'5″ and was the fastest sprinter in the world, but it was 1976, and South Africa was non-grata in the Olympic Games. Jonty watched his friends go one, two, three in the Montreal Olympics on television.
Jonty's big chance came on "The Day," August 14, 1976 at Philadelphia's John B. Kelly Pool. It was the U.S. Nationals, held as an anti-climax. It was hard to get oneself up for a race after the Olympics, as many Americans found four years later trying to beat the times they could have swum if not for the Moscow Olympic boycott. Jonty Skinner knew this was the only chance he'd have to prove he was the world's best sprinter, even if no one was watching.
In the preliminaries, Jonty barely qualified eight and entered the final in an outside lane. In the finals, Skinner swam home in a new World Record, the first man in history to break 44 seconds in the 100m freestyle. His time: 43.92. Olympic Champion, Jim Montgomery, came in second with 44:01. Joe Bottoms, a silver medalist in Montreal was third.
Skinner was strictly a hundred sprinter. In addition to his World Record, he won the U.S. Nationals three times, the N.C.A.A.'s once and set a U.S. Open Record and three American Records. He was voted Alabama's most valuable swimmer three straight years and was both Alabama and South Africa Athlete of the Year.