Felix Grossman, MISHOF Honoree is special. He is One in a Thousand!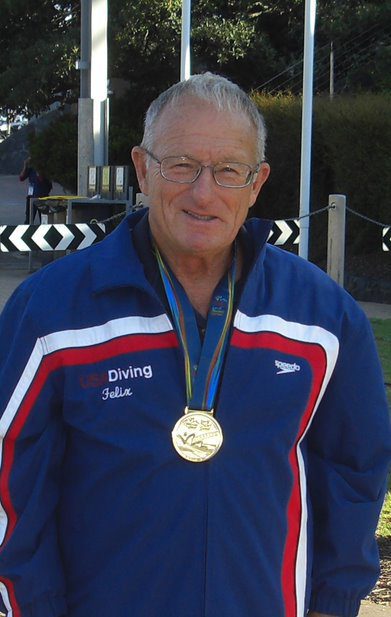 ---
When asked why he wanted to join the International Swimming Hall
of Fame's One in A Thousand Club, Grossman had a story he wanted to share: "My journey to
ISHOF began in 1987. Bob Muir was my diving coach at Williams College,
Williamstown, MA, from 1952 to 1956. He was also to be named as the head coach
of the USA Olympic Swim Team for the 1956 Melbourne Olympics, the only small
college coach ever to be so honored. In 1956 I placed 15th in the 1-meter and
17th in the 3-meter diving at the NCAA Swimming and Diving Championships (no
divisions back then; it was just after fire was invented) and took 29th out of
approximately 70 springboard divers at the Olympic Trials in Detroit that
Summer. Obviously, I was not an elite diver, except in the minds of my folks.
In about 1987 I began
working with Carl Samuelson, the Williams swim coach who succeeded Bob, to get
Bob inducted into the International Swimming Hall of Fame. He was the only US
Olympic swim coach who was not in the Hall. We worked with Buck Dawson and put
together material establishing that Bob deserved to be there. In 1989 Bob was
inducted and I attended that lovely event. It was my first visit to the Hall
and I was much impressed. The Hall represented the finest in the history of our
sport and those honored to be in it were incredibly deserving. One thing was
clear. Under no circumstances would there ever be a place for a ho-hum,
mediocre but enthusiastic diver such as I in that prestigious environment. I
had been active in Masters Diving for about 12 years at that time and my diving
dreams did not realistically include being in the Hall.
Masters Diving, in
fact Masters sports in general, offers athletes the opportunity to compete
meaningfully and at a high level from in their 20's into their 90's and beyond.
To keep at diving for 20, 30, 40 or more
years is a tribute to my love of the sport. It requires a dedication that can
legitimately be described as transcending even that of many Olympic athletes.
Olympic athletes are the best in their sport at the time they are training and
competing. Their ability, talent and training ethic are incredible and awe
inspiring. But in most cases when their Olympic years are over, so is their
active participation in their sport. For Masters athletes the only definable
end of the road is either physical inability or their last breath.
Competing in
Masters Diving has not only provided an outlet for our athletic desires it has
become a medium for athletic excellence, success and national and international
recognition and camaraderie that was, frankly, not available to us when we were
much younger. Many of us have become national champions and even world
champions in our sport; not realistically achievable goals when we were
younger. We love our sport and we are willing and desirous of pursuing it and working
at it for many, many years, well into our 50's, 60's, and for some into our
80's and 90's. It gives energy to our lives. Frankly, it amazes me that so many
of our great Olympic athletes can walk away from diving as a competitive
recreational sport. Do they love our sport any less than we do? Probably not,
but they sure seem content to leave it behind while we want to love and enjoy
it for year after year, decade after decade.
I am reminded of
what the beautiful Carol McAlister told me when her husband, the great Masters
Diver Bill McAlister was about 84 years old. She said, "You know, Felix, just
about the only thing Bill has to live for these days is our national
championships. His entire life revolves around getting ready for the next
Masters meet." Bill died in 2000 at 89 years of age – he was a consummate
Masters Diver. He was inducted into ISHOF in 2005.
Which brings me to
the question at hand – why I want to be part of the One-In-A-Thousand campaign
of ISHOF. It is a great honor for me to
be a MISHOF Inductee and I am proud to play whatever small role I can in
securing its future. Do I want to be One-In-A-Thousand? Actually, I hope I will
be One-in-Ten-Thousand.
Those of us who
love the sports of swimming and diving wish good luck to ISHOF and those who
are running it during this critical time in its history. We are delighted to be
able to be a part of the magnificent rebuilding work you are doing.
Join Felix and the One in a
Thousand Club by helping ISHOF on a monthly or one-time basis.
More about……FELIX GROSSMAN
Felix Grossman, pushing 80, has
been athletically inclined all his adult life. Mountaineering, mountain
biking, backpacking, windsurfing, cross-country and downhill skiing, water
skiing, competitive tennis, and of course, springboard diving.
Grossman, a former diver at
Williams (Mass.) College Class of 1956, has kept his body in peak shape to
compete in top championships all over the world. He was even able to increase
the degree of difficulty of his dives, attempting maneuvers he hadn't been
capable of in college.
Felix is now in his fifth decade and has competed in 52 U.S.
National Masters Championships. He has won 33 USA Masters Diving titles (gold)
in eight age groups: 40-44 to 75-79 through 2013. He set a world record when he
scored 213.8 points diving in the 70-74 age group, a record which he continues
to hold now in its eighth year.
Grossman has competed in seven FINA Masters World Championships,
winning two gold, six silver, one bronze medal and a 5th and a 7th place. He
has competed in five World Masters Games, winning three gold, three silver,
three bronze, and a fourth place.
In 1987, Felix had both of his severely arthritic hips replaced
and still beat the field of divers in his age group. This was the first time a
diver with two prosthetic hips had won a national championship. In 1992, he won
the FINA Masters World Championships with his two replacement hips. In 1998, he
had both of his arthritic knees replaced. In 2001, he again won the USA Diving
Masters Nationals followed by World Masters Championships in Melbourne winning
with four prosthetic joints, two hips and two knees. In 2002, he was featured
in Sports Illustrated for his prosthetic joint success. Over the years, his prosthetic
advice and recommendations has led to the successful extension of many divers'
careers. They learned success on the board does not have to end with bad
joints.
In 2004, Grossman was presented with the Bicentennial Medal, bestowed
by his alma mater Williams College. "You are an inspiration to the college
divers you train with and to the countless inner-city Los Angeles teenagers you
have encouraged to set high standards for themselves. Your non-profit
organization, Felix Ventures, now works with students at L.A.'s Workman High
School to stretch them physically and academically and to challenge them to
develop work habits that will help them reach their full potential. It has
developed into the school's largest co-curricular activity, involving each year
more than 150 students, almost all of whom will go on to college."
Beginning in 1975 and for over 30 years, Felix has conducted
Masters diving meets in his home state of California as well as serving as a
sort of Chaplain, spiritual and motivational spokesperson for the sport.
Felix Grossman was inducted into MISHOF in 2013. He IS "One in a Thousand.
The International Swimming Hall of Fame wants to
know if you are One in a Thousand? We think you are! Show how
special you are and become a member of the International Swimming Hall of
Fame's "One In A Thousand" Club.
Help keep the International Swimming Hall of Fame moving forward toward a new
vision and museum by joining now!
During these unprecedented times, the ISHOF Board is
calling on every member in the aquatic community to make a small monthly
commitment of support to show how special you are and how special the
International Swimming Hall of Fame is to everyone.
"Our goal is simple. If we get 1,000 people to
simply commit $10, $25 or $50 per month, we will generate enough revenue to go
beyond this Covid-19 Pandemic Crisis." – Bill Kent – Chairman
of the ISHOF Board
"Those that believe in our vision, mission, and
goals can join us in taking ISHOF into the future and be a part of aquatic
history." – Brent Rutemiller – CEO and President of ISHOF
Since 1965, ISHOF has been the global focal point
for recording and sharing the history of aquatics, promoting swimming as an
essential life-skill, and developing educational programs and events related to
water sports. ISHOF's vision for the future is to build a new museum and expand
its reach by offering its museum artifacts digitally through a redesigned
website.
The ISHOF Board of Directors is calling on all
members of the aquatics community to make a small monthly commitment to show
their dedication to aquatics and how special the International Swimming Hall of
Fame is to everyone.
About ISHOF Take a Virtual Tour
The International Swimming Hall of Fame (ISHOF)
museum opened its doors to the public in December of 1968 in Fort Lauderdale,
Florida. That same year, the Fédération Internationale de Natation (FINA) – the
governing body for Olympic aquatic sports – designated the ISHOF museum as the
"Official Repository for Aquatic History". In 2018, Sports
Publications Inc, publisher of Swimming World Magazine and its
multi-media platforms, merged with ISHOF to expand the museum's reach and
impact. Today, ISHOF's vision is to be the global focal point for
recording and sharing the history of aquatics, promoting swimming as an
essential life-skill, and developing educational programs and events related to
water sports. Show your support for the sport of swimming by becoming
a member of ISHOF.
ISHOF Vision Statement
To be the global focal point for recording and sharing the history of aquatics,
promoting swimming as an essential life-skill, and developing educational
programs and events related to water sports.
ISHOF Mission Statement
To collaborate with aquatic organizations worldwide to preserve, educate and
celebrate history, showcase events, share cultures, and increase participation
in aquatic sports.
The International Swimming Hall of Fame, Inc. is
registered as a 501(c)(3) nonprofit organization, incorporated in the State of
Florida. Contributions to ISHOF are tax deductible to the fullest extent of the
law. ISHOF's tax identification number is 59-1087179. A COPY OF THE OFFICIAL
REGISTRATION AND FINANCIAL INFORMATION MAY BE OBTAINED FROM THE DIVISION OF
CONSUMER SERVICES BY CALLING TOLL-FREE (800-435-7352) WITHIN THE STATE OR FROM
THE WEBSITE, www.800helpfla.com. REGISTRATION
DOES NOT IMPLY ENDORSEMENT, APPROVAL, OR RECOMMENDATION BY THE STATE. You can
find out more about us on guidestar.org under International
Swimming Hall of Fame, Inc.