Japanese Swimmer Daichi Suzuki To Be Inducted Into International Swimming Hall of Fame Class of 2022 – Updated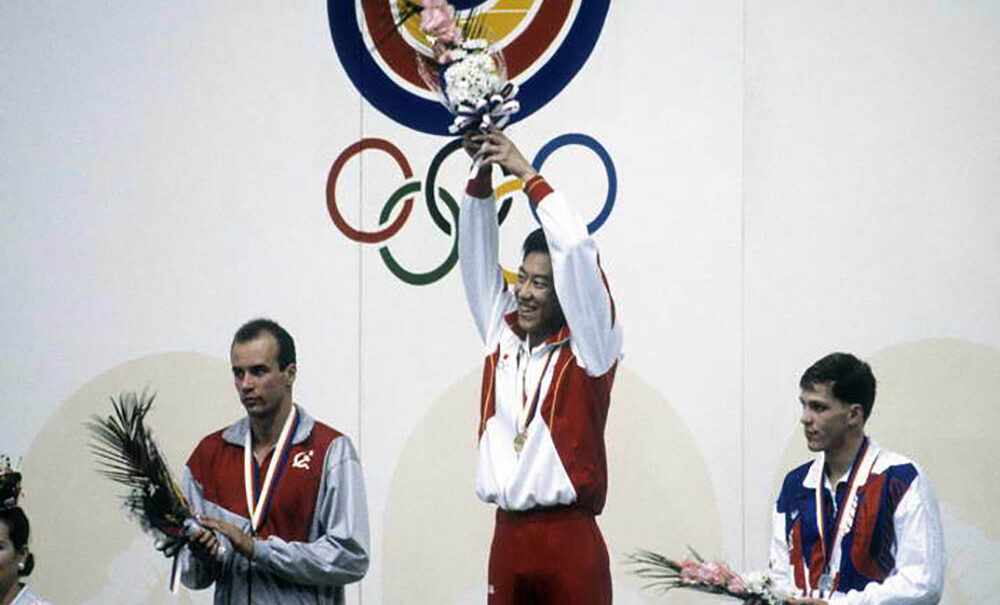 ---
Daichi Suzuki stunned the world when he beat the USA's David Berkoff at the 1988 Olympic Games in the 100-meter backstroke.
While Hall of Famer, David Berkoff is widely credited with "inventing" swimming backstroke underwater with a dolphin kick, the origin of the technique is far from clear. The first record of swimming in this manner in competition credits Hall of Famer Jesse Vassallo with being the first. Perhaps independently, Daichi Suzuki of Japan developed the skill and, as a 17-year-old, became the first to swim 25 meters underwater at the 1984 Los Angeles Olympic Games. At about the same time, David Berkoff started experimenting with what became known as "the Berkoff Blastoff" in the USA.
Fast forward to the preliminaries of the 1988 Olympic Games, Berkoff and Suzuki went head-to-head, with Berkoff staying five more meters underwater on the first lap than his opponent and winning by over a body length in world record time.
In the finals, it was a different story. Berkoff surfaced at 40 meters with a half-body lead over Suzuki. Suzuki caught up and out-touched Berkoff for the gold medal, in what was considered the major upset of the Games. Suzuki retired immediately after the Seoul Olympics and has continued to be active at nearly all levels of the sport.
More About Daichi Suzuki
Upon retirement, Suzuki became the varsity coach at Juntendo University. He also sat on the board of Japan's Anti-Doping Agency, as well as serving on the World Anti-Doping Agency's Athlete Committee. He eventually was selected as President of the Japan Swimming Federation, and more recently was named to head Japan's Ministry of Education, Culture, Sports, Science and Technology.
Come join Suzuki and this year's class of 2022 in Ft. Lauderdale. If you cannot join us, consider making a donation.
To make a donation, click here: https://www.ishof.org/donate/
This year's International Swimming Hall of Fame Honorees include:
International Swimming Hall of Fame 2022 Honorees
Craig Beardsley (USA) – Swimming
Natalie Coughlin (USA) – Swimming
Marilyn Bell (CAN) – Open Water Swimming
Michael Klim (AUS) – Swimming
Jon Sieben (AUS) – Swimming
Daichi Suzuki (JPN)– Swimming
Matthew Mitcham (AUS) – Diving
Ursula Carlile (AUS) – Coach
Peter Huerzeler (SUI) – ISHOF Contributor
Mirko Vicevic (YUG/MON) Water Polo
Masters International Swimming Hall of Fame Honorees
Doris Steadman (USA) Masters Swimmer
Dr. Jane Katz (USA) Masters Contributor
Edith Bohm (GER) Masters Swimmer
Olga Kokorina (RUS) Masters Swimmer
Shigehisha Sekikawa (JPN) Masters Swimmer
Birte Hohlstein (GER) Masters Artistic Swimming
Guenther Wolf (GER) Masters Water Polo
The Induction Weekend Schedule
Saturday, October 15, 2022
Official 57th Annual International Swimming Hall of Fame Induction Ceremony and Dinner
5:30 pm VIP Reception
6:30 –10:00 pm Induction Ceremony & Dinner
HOTEL INFORMATION
Host Hotel: Fort Lauderdale Marriott Harbor Beach Resort & Spa
Upscale retreat with private beach access, two pools, four restaurants, full service spa and oceanside bar. Location of the Saturday evening induction ceremony. ¼ mile south of the International Swimming Hall of Fame.
3030 Holiday Drive, Ft. Lauderdale, FL 33316 (954) 525-4000
Special ISHOF Guest Rate of $229 per night, BOOK YOUR ROOM HERE
($39 Resort fee – Guests can opt out if not interested in resort amenities)
Additional Hotel Option: Courtyard by Marriott Fort Lauderdale Beach
440 Seabreeze Blvd., Ft. Lauderdale, FL 33316 (954) 524-8733 Special ISHOF Guest Rate of $189 per night
Honoree Ceremony October 15, 2022 Last Day to Book: Friday, September 30, 2022