Masters International Swimming Hall of Fame To Induct Seven New Members With ISHOF in 2022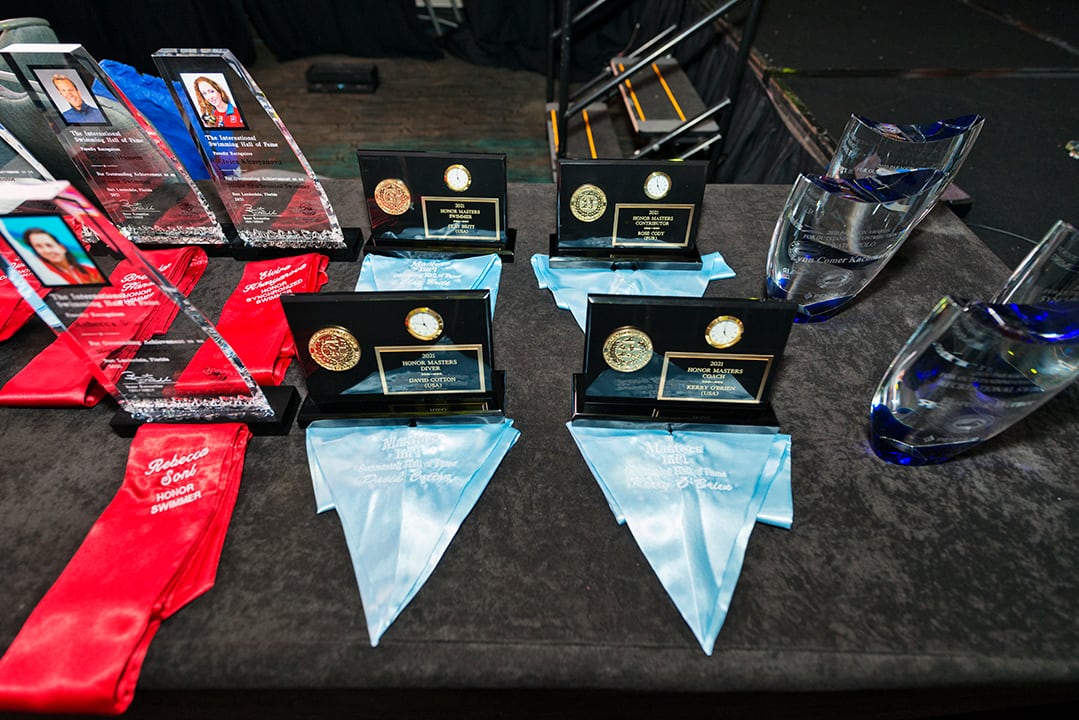 ---
Masters International Swimming Hall of Fame (MISHOF) is a division of the International Swimming Hall of Fame (ISHOF) with Inductions scheduled for Saturday, October 15, 2022
The International Swimming Hall of Fame is proud to announce that it will be including MISHOF's prestigious Class of 2022 to its Saturday evening Induction program. This year Masters Class will include seven honorees from four countries: Four swimmers, one water polo player, one synchronized swimmer, and one contributor.
This Year's Masters International Swimming Hall of Fame Class Includes:
MASTER CONTRIBUTOR:
DR. JANE KATZ (USA)
Photo Courtesy: Jane Katz
Dr. Jane Katz has served the world of swimming in so many capacities. In 2000, Katz was awarded the FINA Certificate of Merit to honor her "dedication and contributions to the development" of the sport of swimming.
As a member of the U.S. synchronized swimming team that performed at the 1964 Tokyo Olympic Games, Jane helped synchronized swimming become a sport at the Olympic level. She is an All-American and World Champion Masters Swimmer in competitive swimming, long distance swimming, and synchronized swimming. She has published numerous aquatic related books through the years, as well as DVDs, that range from water fitness to synchronized swimming.
MASTERS SWIMMERS:
DORIS STEADMAN (USA)
Doris Steadman hadn't swam since her college days at Temple, until she entered her first Masters meet at 58 years old, in Fort Lauderdale at the 1980 AAU Masters Nationals. At the same meet, her daughter Nance, also swam her first Masters Nationals at age 28.
Even in her first Masters meet, Steadman was more than just competitive. She placed in the top three, and shortly after that, she began winning the backstroke events and setting numerous records. Doris enjoyed traveling and swimming all over the country and went to four World Masters events, with Nancy. One of her favorite trips was when she competed at the FINA World Masters Swimming Championships in Munich, Germany in 2000. She won all three of her backstroke events, in the pool where the 1972 Olympics had taken place. She was also extremely competitive and loved to win! She loved to work out and continually looked to improve her times and set records.
Doris E. Steadman, 88, passed away on January 8, 2013.
EDITH BÖHM (GER)
Since 1986, Edith Bohm has been in the Top Ten 22 times until 2008 when she competed in her last swim meet in Bavaria. She set 15 long course and 13 short course FINA Masters World Records in the breaststroke, one of them lasting seven years. Bohm has competed in seven FINA Masters World Championships between 1986 and 2004 winning a total of 29 medals, 18 of them gold.
She is now 94 years old and lives in Munich where she still trains twice a week. She is also still actively involved in coaching handicapped children.
OLGA KOKORINA (RUS)*
Russia's Olga Kokorina, born November 1st, 1923, has been a swimmer her entire life but did not start swimming Masters until 1998, when she was already 75 years old. She broke world records in almost every competition she entered. She then decided to risk it all and flew to the USA using all her money to take part in the World Masters Games in Portland, Oregon where she won three gold medals and established a world record in the 100m breaststroke. The next year at the European Championship in Innsbruck she broke two world records and won two golds.
Her last recorded races were in 2015 where she swam in the 90-94 age group at the Russian Masters cup. In her 17 years in Masters swimming she broke 34 world records and won more than 50 gold medals.
Olga Kokorina passed away in January of this year at the age of 98.
SHIGEHISA SEKIKAWA (JPN)
Since 1991, Shigehisa Sekikawa has been in the Top Ten world rankings 24 times. He has set 14 long course and 17 short course FINA backstroke Masters World Records. His 1998 200m backstroke short course world record in the 65 to 70 age group stood for 7 years. In world rankings since 1991, he has 16- number 1, 26- number 2 and 7- number 3 long course and 18- number 1, 25- number 2 and 4- number 3 short course for a total of 34- number 1, 51- number 2 and 11- number 3 total world rankings in the backstroke. He has not competed in any FINA Masters World Championships he accumulated his points by swimming world records and world rankings. He last competed in 2015
MASTER SYNCHRONIZED SWIMMER
BIRTE HOHLSTEIN – JANSSEN (GER)
Birte Hohlstein-Janssen and her sister, Silke, were experienced national level synchronized swimmers who new nothing about the Masters level of the sport until Silke was in a terrible car accident in 1992. Her sister was in a coma for a week and was told she would never walk again. Silke fell into a deep depression and thought that she would have nothing to live for without synchronized (artistic) swimming. Birte did some research, came to the hospital and informed her about something called Masters Swimming. Birte told Silke about the upcoming Masters World Championships in 1994 in Montreal, Canada. She gave Silke a goal and a reason to get out of bed, a reason to fight and to get back in the pool. Birte and Silke travelled to Montreal in 1994 and became the gold medalists in the duet competition in the 25-29 age group! That was the start of their second synchronized swimming career.
Since then, they have been loyal Masters synchronized swimmers. Birte has attended 11 FINA Masters World Championships since 1994 and has won at least one gold or silver medal in 10 of the 11 meets. This success comes despite being hampered by the fact that there is no Masters team in her region. So she and Silke have been limited to only doing solo and duet, except when they briefly joined a team based in Berlin. This brought them the gold medal in team, as well as duet, at the 1998 FINA Worlds in Casablanca, Morocco.
Birte has seemed to be in the shadow of her older sister but has achieved much on her own because she is the more talkative and outgoing of the sisters. She is always willing to help anyone who needed coaching assistance, no matter what country they may be from, even if they are in direct competition with her and Silke. Her always positive attitude and ready smile have gained her many friends throughout the world.
MASTER WATER POLO PLAYER:
GUENTER WOLF (GER)
Günter Wolf (born September 27, 1949) was an active water polo player from 1962 to 1978, a five-time German National Champion with a team called SV 05 Würzburg. Wolf played 131 matches for the German National Team between 1969 and 1976 and took part in the 1972 (4th) and 1976 (6th) Olympic Games
From 1983 to 1998 he coached the Water Polo "Bundesligamannschaft" SV 05 Würzburg.
From 2000 until now he has been involved with Masters Water Polo. With his team SC Duesseldorf, he has participated in eight FINA Masters World Championships, winning five gold, two silver and one bronze.
In the LEN European Championships his team won three gold and two silver and more than 30 German National Championships.
The Masters International Swimming Hall of Fame Induction Weekend Schedule
Saturday, October 15, 2022
Official 57th Annual International Swimming Hall of Fame Induction Ceremony and Dinner
5:30 pm VIP Reception
6:30 –10:00 pm Induction Ceremony & Dinner
HOTEL INFORMATION
Host Hotel: Fort Lauderdale Marriott Harbor Beach Resort & Spa
Upscale retreat with private beach access, two pools, four restaurants, full service spa and oceanside bar. Location of the Saturday evening induction ceremony. ¼ mile south of the International Swimming Hall of Fame.
3030 Holiday Drive, Ft. Lauderdale, FL 33316 (954) 525-4000
Special ISHOF Guest Rate of $229 per night, BOOK YOUR ROOM HERE
($39 Resort fee – Guests can opt out if not interested in resort amenities)
Additional Hotel Option: Courtyard by Marriott Fort Lauderdale Beach
440 Seabreeze Blvd., Ft. Lauderdale, FL 33316 (954) 524-8733 Special ISHOF Guest Rate of $189 per night
Honoree Ceremony October 15, 2022 Last Day to Book: Friday, September 30, 2022
For additional information or if you have any questions, please call Meg Keller-Marvin, 570.594-4367