Brooke Bennett Collaborates with Stingray to Develop the Brooke Bennett Collection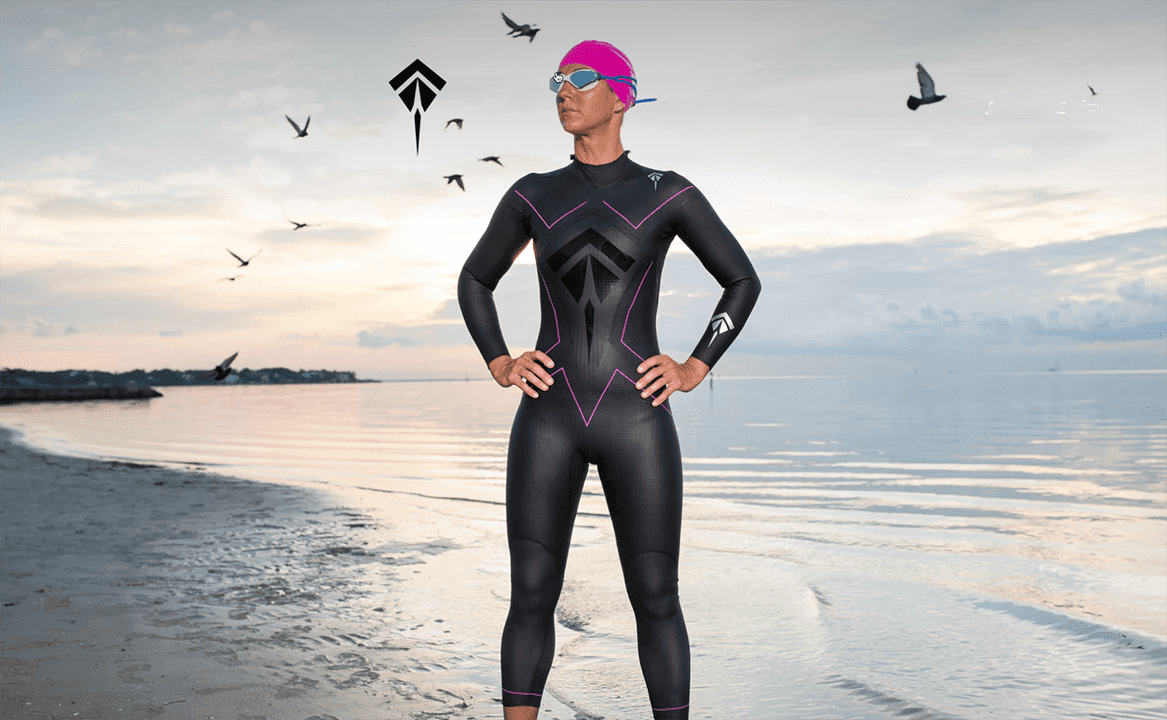 ---
by BRANDI WEST
07 October 2020
Following months of design and testing by both novice and professional swimmers, Stingray produced its first product, the Stinger 2.0 wetsuit for both men and women. The wetsuit, which features a unique Stingray chest panel, also features Yamamoto neoprene, titanium glide skin coating and Air Tech air pocket technology. Next came the inflatable paddle boards with exceptional double layer fusion technology.
For many entrepreneurs, a new business idea usually comes from sensing a need and finding a way to meet it. For retired professional triathlete and Olympian Rich Allen, it was something in the water — literally.
"Although I'm not originally from Florida, I have been coming here three or four times a year for 25 years," Allen said. "Florida means everything to me. St. Anthony's Triathlon was my first professional race. I met my wife Tonya here, we got married here and many of my closest friends live in St. Pete— we love the outdoor Florida lifestyle. It's a very unique and diverse place."
It was that very outdoor Florida lifestyle that inspired Allen to launch his own open-water swimming and inflatable paddle board brand, Stingray. The brand is named after the majestic sea creature that has become synonymous with Allen's adopted hometown of Tampa Bay.
An avid paddle boarder and open water swimmer, Allen noticed something unique about the hundreds of stingrays that migrate across Tampa Bay that set his mind ablaze. Could this beautiful creature's effortless balance and glide be translated to the human form through a wetsuit?
While Stingray produces professional grade products for both the open-water swimmer and paddle board enthusiast, the brand prides itself on its affordability. The Stinger 2.0 wetsuit is priced at $399 and their Fusion-Tech iSUPS just $649, a fraction of the price of other high-quality brands.
"Looking at the market as a consumer and distributor, I really wanted to disrupt the market and offer the best products and a more affordable price for the consumer," Allen said. "The timing was right with my experience as a professional athlete and experience in warehouse distribution and marketing all coming together at once."
Allen wasn't the only athlete involved in testing and developing products for Stingray. The brand has partnered with three-time Olympic gold medalist and Swimming World Magazine 2000 American Swimmer of the Year – Brooke Bennett to launch her own signature brand of goggles and other gear.
"We are extremely excited to partner with Brooke," Allen said of the Olympian. "She brings exceptional experience to the table and has a passion and positive attitude that encompasses the Stingray mission."
Bennett, a native of Florida, now a world class open water swimmer and mother of two, won the gold during the 1996 Summer Olympics in Atlanta in the 800-meter freestyle race. Bennett added to her gold tally during the 2000 Olympics in Sydney, taking home the top prize in the 400 and 800-meter freestyle races, with the latter coming in Olympic record time.
"With the Brooke Bennett goggles, we wanted to combine a fast pool racing goggle with the comfortable features and UV protection perfect for long open water swims," Allen explained. "The Brooke Bennett Collection goggles deliver this."
Stingray isn't just about enjoying the water, but also about giving back. In addition to staff efforts each year cleaning Tampa Bay beaches and waterways, it also gives back through an initiative called "The Ocean's Heartbeat," Stingray donates 10 percent of its profits to help support marine life conservation. To learn more about the initiative please visit https://www.project-stingray.com/pages/the-oceans-heartbeat.