AQUA MAGAZINE'S "The Honorable Dive Tower"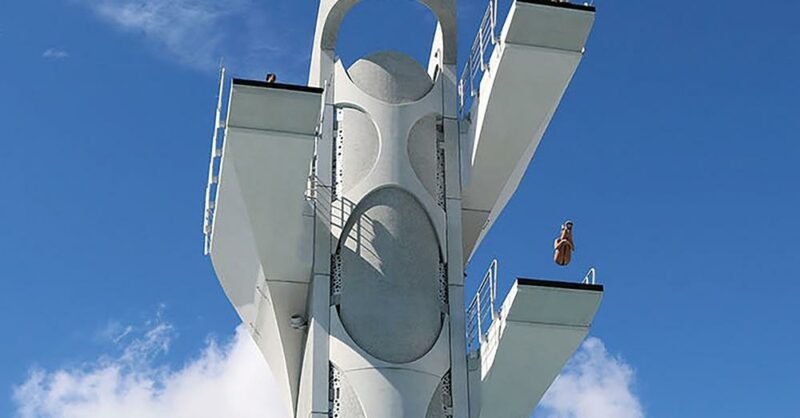 ---
The Fort Lauderdale Aquatic Center and it's beautiful new tower is becoming more famous everyday. We find more stories written about the tower daily. This article from Aqua Magazine appeared last week and just in time for the first ever event held on the tower: https://www.ishof.org/fort-lauderdale-aquatic-center-celebrates-official-grand-opening-in-style-with-ribbon-cutting-and-dive-challenge/
The Honorable Dive Tower
Written: By: Haley Grace Harris
Apr 6, 2023
An aquatic center Dive Tower in Fort Lauderdale, Fla., was recently renovated and won a 2023 Precast/ Prestressed Concrete Institute (PCI) award. Out of three different categories — Buildings, Transportation and Specials — there were a total of 25 winners and eight honorable mentions this year. This specific tower was a part of the Buildings category, and won under the Custom Solution subcategory.
2023 marks the 60th anniversary of the PCI Design Awards, a program that recognizes creative and innovative usages of precast concrete. The panel consists of engineers, architects and precast concrete producers. The Buildings and Transportation categories are judged based on 1) aesthetic, structural and use versatility, 2) site, energy and operational efficiency, 3) risk reduction and 4) resiliency. The Specials award is judged based on the same criteria above, as well as industry advancement, sustainable design, technology and designs using only precast concrete.
"We are once again thrilled to recognize the tremendous capabilities of the precast concrete industry, especially on this milestone 60th anniversary of the program," says Bob Risser, president and CEO of PCI. "Congratulations to all the winners, and thanks to the jurors and PCI staff who make the program a success. Throughout the last 60 years, the precast concrete industry continues to innovate and improve, and these exemplary projects are the latest examples of that."
The Fort Lauderdale Aquatic Center reopened to the public in June of 2022. The dive tower was the focus of this $27 million renovation project. The structure is 27 meters, making it the tallest dive tower in the Western Hemisphere, and the first in the world to incorporate both diving and high-diving competition in one precast concrete solution.
The tower can be seen from a distance, as it looms in the sky with fluid curves that imitate the Atlantic Ocean nearby. The structure includes nine platform levels, four of which are high-diving platforms at 15, 20, 24 and 27 meters, with the other five being regular diving platforms: 1, 3, 5, 7.5 and 10 meters. Lastly, the tower can accommodate up to five springboards.
All renovations made to the center had to meet the requirements for aquatic competition regulated by the International Swim Federation. Using precast concrete was thought to be the fastest and most cost effective way to meet these requirements.
"The design concept involved the creation of platforms extruding from the center core," says Teen Woon with Justin Architects. "Due to the unique design, the structural support of each platform was engineered specifically for each platform. The organic curvilinear form also posed challenges. The precise tolerance level was achieved through extensive coordination and craftsmanship." 
This article first appeared in the April 2023 issue of AQUA Magazine — the top resource for retailers, builders and service pros in the pool and spa industry. Subscriptions to the print magazine are free to all industry professionals. Click here to subscribe.