World Championships: Leon Marchand, Kaylee McKeown Named Swimmers of the Meet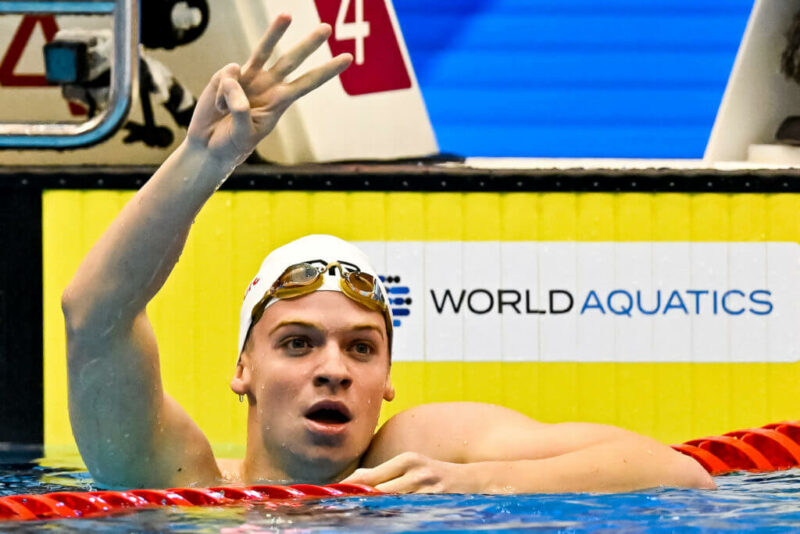 ---
by JOHN LOHN – EDITOR-IN-CHIEF
30 July 2023, 06:28am
World Championships: Leon Marchand, Kaylee McKeown Named Swimmers of the Meet
On the strength of three individual titles each, Australia's Kaylee McKeown and France's Leon Marchand were named World Aquatics' Swimmers of the Meet at the World Championships in Fukuoka. The recognition is based on power points accumulated in individual events throughout the eight-day competition.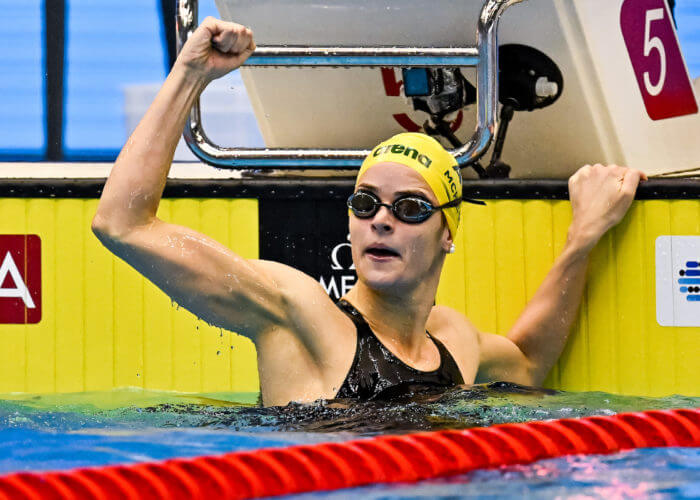 As Australia led the gold-medal count, McKeown swept the backstroke events – winning over 50, 100 and 200 meters. The meet got off to a rough start for the 22-year-old, as she was disqualified for an illegal turn in the semifinals of the 200 individual medley. McKeown obviously bounced back. The 50 backstroke was won in an Oceania record of 27.08 while she set a championship record of 57.53 in the 100 back.
Marchand flourished from the start, setting a world record of 4:02.50 in the 400 individual medley on the opening day of the meet. That performance broke the nearly 15-year-old standard of Michael Phelps from the 2008 Olympic Games in Beijing. Marchand followed by claiming gold in the 200 butterfly (1:52.43) and 200 individual medley (1:54.82), both events making him the No. 3 performer in history.
While McKeown and Marchand left Japan with Swimmer of the Meet recognition, there were other candidates for the honor. Australia's Mollie O'Callaghan (100 freestyle/200 freestyle), Sweden's Sarah Sjostrom (50 freestyle/50 butterfly) and Lithuania's Ruta Meilutyte (50 breaststroke/100 breaststroke) each won a pair of individual events and set a world record. O'Callaghan broke her global standard in the 200 freestyle while Sjostrom lowered the world record in the 50 free. Meilutyte first tied the world record in the 50 breaststroke, and then lowered it.
American Katie Ledecky (800 freestyle/1500 freestyle) and Canadian Summer McIntosh (200 butterfly/400 individual medley) each posted two victories while Ariarne Titmus of Australia set a world record in the 400 freestyle, was the silver medalist in the 200 free in the No. 3 time in history and earned bronze in the 800 free.
On the men's side, Marchand was joined as triple-event champion by China's Qin Haiyang, who swept the breaststroke events. Qin set a world record in the 200 breaststroke and became the No. 2 performer of all-time in the 50 breaststroke and 100 breaststroke.
Tunisia's Ahmed Hafnaoui also warrants recognition. Hafnaoui was the gold medalist in the 800 freestyle and 1500 freestyle and the silver medalist in the 400 free.