World Championships, Day Eight Finals: Team USA Delivers Golden Finale In Women's 400 Medley Relay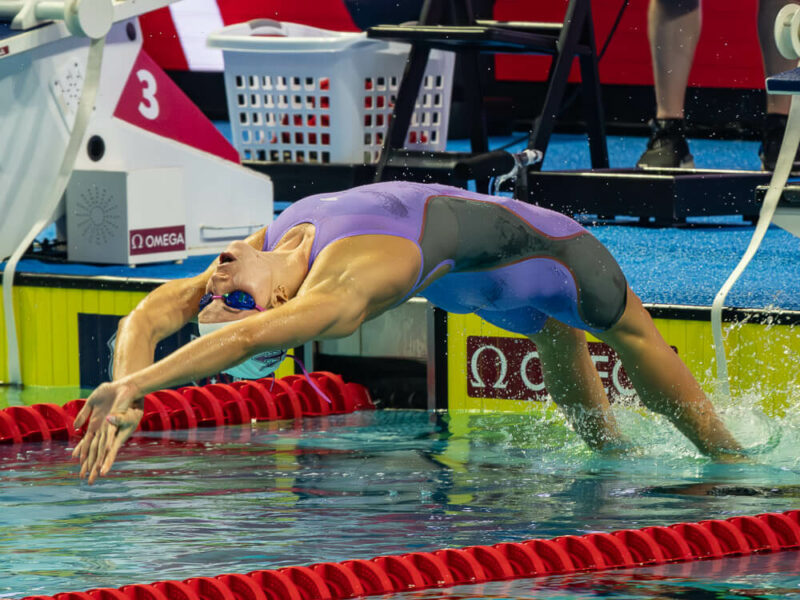 ---
GOLDEN START: Regan Smith gave the USA a gold medal start in the 4x100m medley relay. Photo Courtesy: Peter H. Bick.
Editorial content for the 2023 World Aquatics Championships is sponsored by FINIS, a longtime partner of Swimming World and leading innovator of suits, goggles and equipment.

by IAN HANSON – OCEANIA CORRESPONDENT
30 July 2023,
World Championships, Day Eight Finals: Team USA Delivers Golden Finale In Women's 400 Medley Relay
Team USA has finished the 20th World Championships on a golden high, winning the women's 4x100m medley relay for the ninth time since 1978 and its fourth straight crown in six years – as the Americans enjoyed its best night of the week winning three gold.
The US girls – Regan Smith (backstroke), Lilly King (breaststroke), Gretchen Walsh (butterfly) and Katie Douglas (freestyle) put on a show to lead from the opening leg to touch first in 3:52.08.
Australia with Kaylee McKeown, Abbey Harkin, Emma McKeon and Mollie O'Callaghan chased the US home to take the silver in 3:53.37 with the Canadian quartet Kylie Masse, Sophie Angus, Maggie McNeil and Summer McIntosh holding on for a brave bronze in 3:54.12.
Former 100m backstroke world record holder, Smith, gave the Americans the best possible start, beating Australian nemesis McKeown for the first time in a final this week with an opening split of 57.68 – just 0.23 off McKeown's world mark – and the US were never headed.
Smith gave Lilly King clear water and the breaststroke queen delivered like she has in every relay since 2017, touching in a stunning 1:04.93 and followed by Walsh who hung tough in 57.06 before the versatile Douglas delivered the gold on a platter, splitting 52.41.
King has been the one constant over the last four world championship wins and Smith, who set her first world record leading off in the team's 2019 victory has stood on the podium alongside King for the last three in Gwangju, Budapest and now Fukuoka.
They will now set themselves to wrest the Olympic title back from the Australians who surged to the gold in Tokyo in 2021 but who were no match for the Americans today.
For the Aussies, it was triple backstroke world champion here, McKeown touching in second in 57.91, followed by Harkin holding third with a breaststroke split of 1.07.07, with McKeon touching fourth in the fly in 56.44.
Two-time 100 and 200m world champion here, Mollie O'Callaghan taking the Dolphins into the silver medal position with the fastest freestyle split of the day, touching in 51.95.
The Canadians were in second place for the first three legs, led off by the Masse in 58.74, followed by Angus in 1:06.21, Olympic butterfly champion McNeill in the second fastest time of the day in 55.69 before McIntosh finished in 53.48 to put the Canucks on the podium.