What Black Swimmer Could Play Charles Jackson French in Heroic War Movie?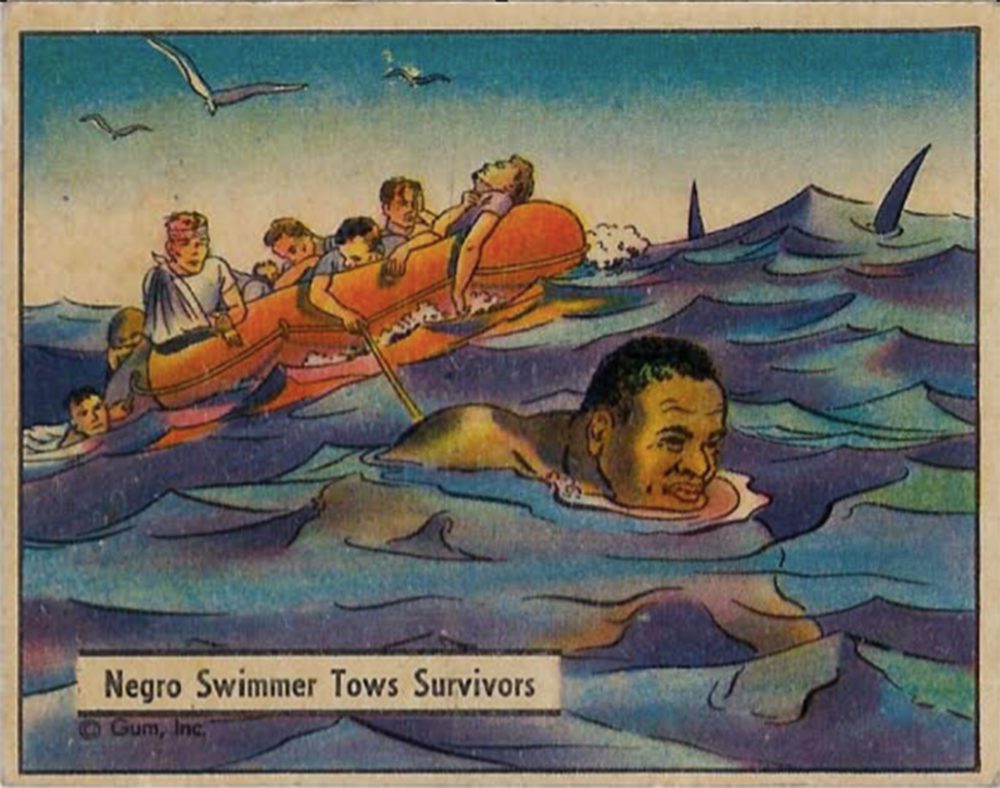 ---
Black Swimmer Commentary by Bruce Wigo,
Historian for the International Swimming Hall of Fame
Just last week, Swimmingworld.com ran an updated version of an heroic black swimmer war story of a 23 year-old black navy crew member who worked as a mess hand on the U.S.S. Gregory during a sea battle off the Solomon Islands. His name was Charles Jackson French. His ship was sunk by a Japanese gunboat and he single-handedly tied a rope around his waist and swam six hours pulling a life raft of wounded crew members through shark infested waters to safety. The story was featured in Swimming World's Black Swimming History month.
It was noticed by Malcom Nance – A retired U.S. Navy Chief Petty Officer and author who tweeted it out to the military community where it took on a life of its own. The next day it was a feature article on Newsweek.com.
"There's no time like the present to correct the errors of yesterday's thoughts," Nance told Newsweek. "French performed valiantly on September 5, 1942, disregarding his own personal safety to help save the lives of 15 wounded shipmates."
One person who heard Nance was Rear Admiral Charlie Brown, the Navy public affairs officer, and now it appears the Navy is looking into upgrading French's award, something I and others have been lobbying for several years. Among those quietly helping behind the scenes are Kim and Kevin Mickna, retired Navy, the family of Captain Adrian, the officer on the Gregory who initially told the story of Messman French on NBC Radio in 1943, and Olympic swimming gold medalist Anthony Ervin.
French's story as a black swimmer is bittersweet. Unassumingly, he was thrust into the limelight of fame. Nearly all who heard his story – including all the Black press – felt he deserved more than a commendation letter from Admiral Halsey, which greatly minimized his reported heroics.
Witnesses reported that French swam 6-8 hours with the sharks. But Halsey's letter reduced it to two hours.
In any event, French's story was memorialized at the time on trading cards, calendars, in comics, and in newspaper illustrations next to Congressional Medal of Honor recipient, Dorie Miller, the Messman of Pearl Harbor fame. In his hometown of Omaha, he was welcomed as a celebrity and paraded out in front of the crowd attending the Nebraska-Creighton football game.
There was even talk of Warner Brothers immortalizing him on the silver screen, as reported by the theater reviews in the Pittsburgh Courier:
"Cabin In the Sky," the Metro-Goldwyn-Mayer film musical with an all-black cast, opened in Pittsburgh back in the day with a bang after making plenty of sugah throughout the country. Dally paper reviewers gave it three stars and added an extra half for good measure and all around performance on the part of Ethel Waters, Eddie "Rochester" Anderson, Lena Horne and Louis Armstrong. We saw a preview of another Hollywood musical, "Stormy Weather," from 20th Century Fox, with another all-star, all-black cast of Bill "Bojangles" Robinson, Lena Horne, Cab Calloway, Katherine Dunham and Fats Waller.

Now Warner Brothers has it in mind to go all of the companies one better and screen-immortalize Messman French, the lad who swam through shark-infested waters, towing a raft of wounded sailors to safety after a Japanese sub had sunk their ship in the South Pacific.
Since the Swimmingworld.com article went viral, there is a change.org petition to posthumously award French the Congressional Medal of Honor and I have been contacted by several reporters, authors and screenwriters about a possible movie. So many of the comments on Twitter and Facebook are demanding a movie. What a great opportunity to showcase swimming.
As Annette Kellermann, Johnny Weissmuller, Buster Crabbe and Esther Williams were responsible for making swimming popular for White people in the first half of the 20th Century, this film could provide an opportunity for African-American swimmers to get the word out about Swimming not just as a sport – but as an essential life-skill.
Who Could Play Charles Jackson French in a Movie Today?
Here's my short list, but let's get Hollywood thinking about it now – and let's get these great swimmers to think about acting and developing French's Arkansas drawl.
Giles Smith
An American competitive swimmer who specializes in the butterfly and freestyle events.
University of Arizona '14, Journalism
He currently represents the DC Trident which is part of the International Swimming League.
Reece Whitley
6'9″ swimmer at Cal, from Philadelphia
In 2019, he was named 2019 Pac-12 Men's Swimming Freshman of the Year
Cullen Jones
Multiple Olympic medalist and member of iconic gold-medal relay from 2008 Olympic Games.
A little old for a project a few years away, but he could pull it off
Max Irving
USA men's national water polo team
Plays professionally in Greece
Let's get behind the petition to recognize Charles Jackson French!