USA Women's Water Polo Claims Fourth Straight World Cup Crown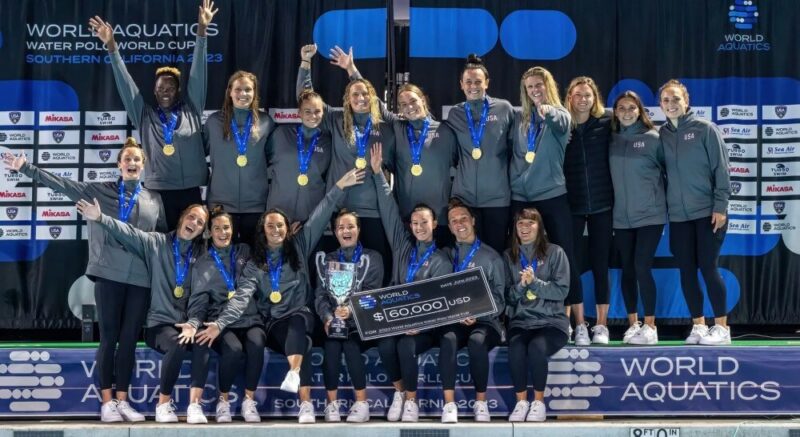 ---
Photo Courtesy: Catharyn Haynes/USA Water Polo/World Aquatics
The USA women's water polo team claimed its fourth consecutive World Cup title with a 12-11 win over the Netherlands.
The U.S. led 8-3 but the Netherlands stormed back and nearly had a game-tying goal in the final seconds.
"One thing we talk about as a team is maintaining a gold standard, regardless of how the match is going. That attitude and culture is what made us so successful today, especially in the younger women who played big roles and stepped up in our win today, despite having limited experience at this stage," U.S. captain Maggie Steffens said. "Today was the tale of two halves. We definitely lost some concentration going into that third quarter. In the first half, we were very focused on our team defense and as the second half began, we started to let up there. You can't do that against the Netherlands because they have some of the best players and shooters in the world who will capitalize on your mistakes as they did today. For us, it was about refocusing our mentality and effort back to our team defense during the fourth quarter and ultimately gave us the win today."
It was the fifth World Cup title overall for the USA women's water polo.
Spain defeated Hungary 18-15 for the bronze medal. Greece edged Italy with the 10-9 winner coming in the last two seconds, and Israel downed New Zealand 12-11 with a last-minute goal for its first victory at this level.
This was a match of two parts with both teams having 8-3 halves. USA was 8-3 ahead early in the second quarter, then the Dutch knuckled down and began their drive, going 8-3 for 11-11 at 1:54. USA started with the first two goals by Steffens, leading 3-1 and then 5-2 at the break. Steffens scored a third as the slower-scoring period reached 7-3 at the long break.
Maddie Musselman began the third on extra and the USA was apparently surfing the victory wave. However, a tip-in goal from Kitty Joustra began the Dutch resurgence and narrowed the margin to two before the USA closed the period at 10-7. Goals were traded at the top of the fourth before three Dutch goals — two from Maartje Keuning — levelled at 1:54. USA calmly went to a timeout and Rachel Fattal provided the conversion at 1:26.
The Netherlands had a timeout at 0:20, nearly lost the ball before regathering and passing around until captain Sabrina van der Sloot fired from wide right into the bottom corner, only for Amanda Longan to smother. It looked like it could have gone in, but the USA retained the ball and took out the gold medal.