US Olympic Team Trials Three-Day Tickets on Sale for 2024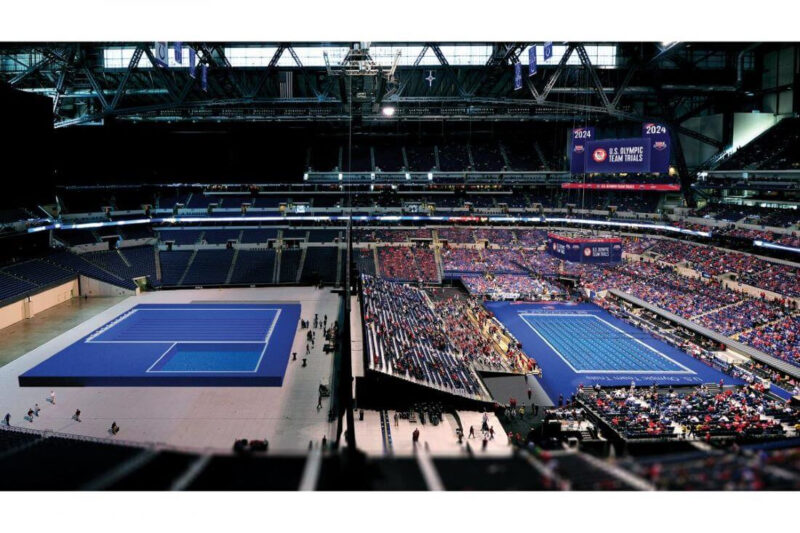 ---
by DAN D'ADDONA — SWIMMING WORLD MANAGING EDITOR
15 June 2023, 08:37am
One year from the start of competition, three-day ticket packages are now on sale for the 2024 U.S. Olympic Team Trials – Swimming here. The nine-day event will be held in Indianapolis from June 15-23, 2024 at Lucas Oil Stadium.
Three-day ticket packages will be available for the following windows – June 15-17, June 18-20 and June 21-23 – and will provide fans with the opportunity to catch all prelims and finals sessions during each three-day period.
This week, Indiana Sports Corp hosted festivities to celebrate one year out from the competition. On Wednesday, swimming was the theme at the quarterly Locker Room Lunch Series, and then Women in Sports & Events (WISE) Indianapolis hosted a panel discussion featuring female Olympians and the women working behind the scenes to produce the 2024 Trials.
On Thursday, a press conference featured the mayor of Indianapolis and the CEOs of USA Swimming, OneAmerica, Indiana Sports Corp and Boys and Girls Clubs of Indianapolis at Lucas Oil Stadium, followed by a youth swimming clinic and community event at Broad Ripple Park.
The influx of visitors for the 2024 U.S. Olympic Team Trials – Swimming is set to bring more than $100 million in economic impact to Indianapolis, while the unique configuration inside Lucas Oil Stadium will be broadcast to an estimated 25 million viewers on NBC.
New for 2024, and to align with the competition schedule in for the Olympic Games in Paris, the U.S. Olympic Team Trials – Swimming includes nine days of competition with 17 sessions (eight preliminaries, nine finals). The order of events can be found here
Three temporary pools – two 50-meter and one 25-meter – will be installed over the field in Lucas Oil Stadium. With this unique configuration, the stadium will seat up to 30,000 fans for each session.
The Toyota Aqua Zone, an interactive fan experience, will be held at the Indiana Convention Center. USA Swimming Live on Georgia Street and USA Swimming House presented by OneAmerica will offer fans additional hospitality and entertainment opportunities during the competition.
USA Swimming and the Local Organizing Committee have launched Swim IN Safety, serving as one of several legacy initiatives surrounding the Trials. In partnership with the Indy Aquatic Alliance longitudinal program, Swim IN Safety aims to teach 25,000 people over the age of five to be water safe in 2023 and an additional 25,000 in 2024. Indiana Sports Corp is currently collecting interest forms from organizations throughout Indiana here.
Information on single-day tickets for the Trials will be available at a later date. The USA Swimming Foundation is offering all-inclusive packages and VIP tickets for those seeking an elevated experience.
For more information on the 2024 U.S. Olympic Team Trials – Swimming, visit here.
Subscribe