Twelve-Time Olympic Medalist Dara Torres Joins International Swimming Hall of Fame (ISHOF) Board of Directors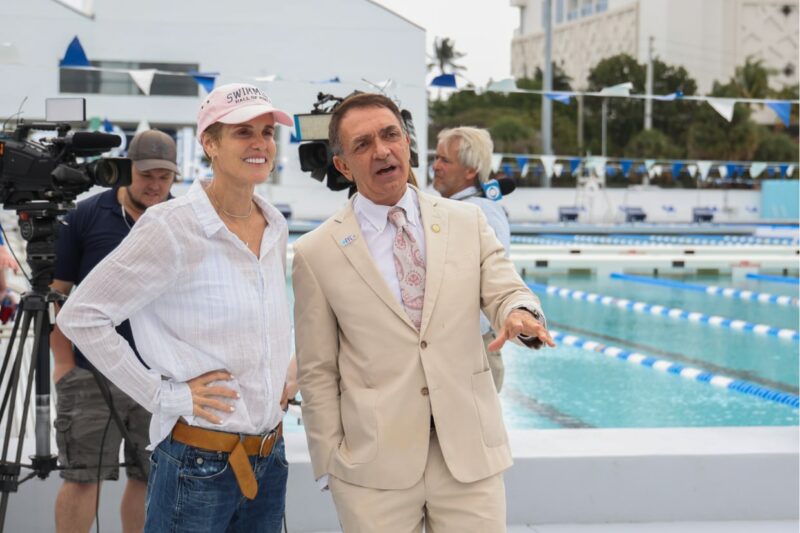 ---
Torres Among Six New Board Members Leading Hall of Fame Into New Era as
Multimillion-Dollar Renovation Plans Begin
ISHOF Redevelopment Follows $47 Million Update to Fort Lauderdale's
World-Renowned Aquatic Center
FORT LAUDERDALE, Fla., Feb. 1, 2023 – The International Swimming Hall of Fame (ISHOF), the official repository for aquatic history, today announced the addition of six new members to its board of directors, including twelve-time Olympic medalist Dara Torres.
Joining Torres, the additional new members joining ISHOF's board of directors include:
David Arluck: Founder and CEO of Fitter and Faster Swim Camps
Stathis Avramidis, Ph.D. (Based in Greece): Teacher of applied lifeguarding-lifesaving sport at Athens University; President of the Greek Lifesaving Sports Association; ISHOF award recipient (2009, 2012)
Bobby Brewer: Co-Founder of Beard Swim Company Swim Schools, Level 4 ASCA Coach
Ned Denison (Based in Ireland): International Marathon Swimming Hall of Fame Inductee (2012); Chairperson of the International Marathon Swimming Hall of Fame
John Ellsworth: Sales and Design, Splash Pools; FSPA Design Award Winner
Led by the Chairman of the Board, Bill Kent, the new members will help further ISHOF's vision for the future. With the redevelopment project underway, the $190 million state-of-the-art complex will include two iconic buildings, which will house a fully updated and modern display of aquatic sports history, two event spaces with 360-degree views of the intracoastal and Atlantic Ocean, a three-star Michelin chef restaurant, public gardens, meeting rooms, and shared office spaces.
"It's an honor to be among ISHOF's board of directors," said Torres. "As a life-long swimmer, I look forward to working closely with the rest of the board to celebrate the rich history of swimming with a transformative aquatic complex that will be for everyone."
Torres is the first swimmer to represent the United States in five Olympic Games (1984 – 2008), and at 41, was the oldest swimmer to earn a place on the U.S. Olympic team. She's also one of only a handful of Olympians to earn medals in five different games, with a total of 12 medals – four gold, four silver, four bronze – to her name.
"It's incredible to add Dara and the other new members to our board of directors, many who have been connected to swimming their entire lives," said Kent. "We began demolition on the original building in December and are ready to embark on a new era for ISHOF."
Opened in 1967, the original museum featured some of the most iconic artifacts in the history of aquatic sports, including the eight Olympic gold medals won by Michael Phelps at the 2008 Games in Beijing, and swimsuits worn by legends. It has also paid tribute to special moments in aquatic history, such as Gertrude Ederle's crossing of the English Channel.
"I'd like to thank Dara and all our new board members for joining us on this incredible journey," said ISHOF CEO Anne Schmidt. "We're excited to work alongside the City of Fort Lauderdale, Mayor Dean Trantalis, and Commissioner Steve Glassman to make our city the swimming and diving capital of the world."
The new board will join Chairman Bill Kent, Vice President Steve Hasty, Secretary Mike Dooley, Treasurer Matt McKean and Ft. Lauderdale City Commissioner Steve Glassman. Additional board members include Sandra Bucha, Mario Caprini, David Duda, Aaron Peirsol and Steve West.
Slated to open in 2025, ISHOF's iconic upgrade will complement Fort Lauderdale's $47 million renovation of its world-renowned aquatic center, which boasts one of the highest diving platforms in the world at 27 meters, and Olympic-caliber pools for both competitive and public use.
Contact Information
FINN Partners | Manuel Cedeno | manuel.cedeno@finnpartners.com | 305-484-3317