Today we honor the day Water Polo great, Mirko Sandic was born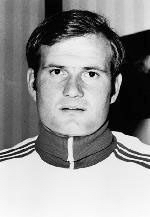 ---
Mirko Sandic (YUG)
Honor Water Polo (1999)
The information on this page was written the year of their induction.
FOR THE RECORD: 1968 OLYMPIC GAMES: gold; 1964 OLYMPIC GAMES: silver; 1960, 1972 OLYMPIC GAMES: 4th and 5th; 1966, 1970 EUROPEAN CHAMPIONSHIPS: bronze; MEDITERRANEAN GAMES: 1967, 1971: gold, 1963: silver; TROFEO JARDAN: gold (1963, 1967, 1971); TROFEO ITALIA/HUNGARIA: silver (1961, 1965, 1969); WORLD STUDENT GAMES: gold (1961); 11 YUGOSLAV NATIONAL CHAMPIONSHIPS; 7 YUGOSLAV CUPS; 5 EUROPEAN CLUB CHAMPIONSHIPS; Coach of National Teams in Singapore, Malaysia, Egypt, Yugoslavia; President of Yugoslav Water Polo Association.
Born in Belgrade, Yugoslavia on May 9, 1942, Mirko Sandic played water polo during the years when his country was a dominant international team. Wearing number 10 and being the tallest and biggest player, Sandic was considered to be the most prominent player contributing to his country's 1968 Olympic gold medal performance of Mexico City and the 1964 Olympic silver medal of Tokyo. He also played on the 1960 Rome Olympic Team (fourth) and the 1972 Munich Olympic Team (fifth). All total, he played in 235 games for the National Team of Yugoslavia during a career that lasted from 1958 to 1974.
From the land of Hall of Famer and FINA President Ante Lambasa, Sandic learned to swim at age 4 but it was not until age 16 that he began playing water polo for club Partizan, a member of the second division of the Yugoslav Water Polo League. As a member of this club until his retirement in 1974, Mirko played in over 1000 games and won 11 Yugoslav National Championships, 7 Yugoslav Cups, 5 European Club Championships and several Friendship Tournaments.
Besides his Olympic Games participation as a member of the National Team, Sandic won two European Championship bronze medals in Utrecht (1966) and Barcelona (1970), two Mediterranean Games gold medals in Tunisia (1967) and Izmir (1971) (silver in Naples, 1963), three Trofeo Jadran gold medals in Dubrovnik (1963), Split (1967) and Sibenik (1971) and three Trofeo Italia/Hungaria silver medals in Moscow (1961) and Budapest (1965, 1969). As the World Championships and FINA Cups were not in existence during Sandic's playing days, Trofeo Jardan and Trofeo Italia/Hungaria were considered comparable.
Sandic is a graduate of The University of Foreign Affairs and became a commercial manager for JAT Yugoslav Airlines serving in Singapore, Malaysia and Indonesia. It was during this time that he became coach and trainer of the Singapore National Water Polo Team (1975-1980 winning the bronze medal at the Bangkok Asian Games), The V.K. "GOC" (1980-1982), V.K. "Partizan" (1980-1983) and the Egyptian National Team (1983-1987). He was coach of the Malaysian National Team (1976), New South Wales State Team (1977) and the Queensland State Team (1978).
In 1972, he received the Presidential Medal of Honor from J.B. Tito, the Best Sportsman of Belgrade from the Lord Mayor, the 1971 Sportsman of the Year, and the 1997 Statue of the International Olympic Committee for achievement in the Olympic movement. He is the President of the Yugoslav Water Polo Association (1996 – present), a member of the Presidency of the Yugoslavian Olympic Committee (1987 – present) and member of the LEN Technical Water Polo Committee (1998 – present).
Mirko Sandic was a tough, hard-playing player and striker, who was the best player and scorer on the Yugoslav National Team for many tournaments. Nothing stopped him, including playing with a broken eardrum. He was a team player who served as flag bearer for his country in the 1972 Olympics. He was both feared and respected by every player with whom he came into contact.
Mirko passed away on Christmas Eve, 2006 in Belgrade, Yugoslavia.