Today we celebrate the birthdate of Florence Chadwick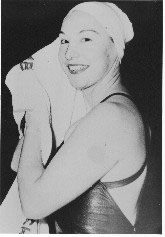 ---
FLORENCE CHADWICK (USA) 1970 Honor Swimmer
FOR THE RECORD: First woman to swim the English Channel both ways, 1950 (France to England); 1951, 1953, 1955 (England to France); First woman to swim the Catalina Channel (1952); Straits of Gibraltar (1953); Bosporus (one way) 1953; Dardanelles (round trip) 1953.
For a period of 10 years going on immortality, Florence Chadwick owned the English Channel, a piece of flooded real estate that has changed hands about every quarter century. First it was Captain Webb in 1875, then Burgess in 1906, followed by the remarkable women Channel swimmers Ederle 1926 and Chadwick 1950.
After 18 years as an amateur swimming shorter ocean races off hometown San Diego, then training in the Persian Gulf while saving her money for a Channel try, Florence Chadwick left the Arabian American Oil Company and was off to England and preparation for her lifetime ambition, a try at the English Channel. Swimming from France to England, she made it in 13:23 finally breaking the women's record (14:34) set by Gertrude Ederle, the first woman to swim it. Eleven others had made the Channel between Ederle and Chadwick, but all in slower times. Chadwick's #13 women's crossing lowered the record by an hour and 11 minutes. Counting males as well as females, Florence was the 32nd person to complete the crossing, called impossible until Capt. Webb accomplished it in 1875. No other man made it until 1906 and Miss Ederle was the first woman in 1926.
Florence Chadwick, age 32, was denied entry (no previous record or reputation) in the 1950 half-century contest sponsored by the London Daily Mail so she went about conquering the Channel at her own expense (boat, trainer, navigator). She tried and missed in July, staying in the water 14 hours. On August 8, she left Cape Gris Nez, France and crawled ashore at Dover, a record 13 hours 23 minutes later, with the comment that "I feel fine. I am quite prepared to swim back." This she did the following summer, the first woman to swim it from England to France (16:22) and the first woman to swim it both ways.
From there it was around the world swimming straits and channels that had defied man and woman. In 1952, it was the Catalina Channel, the first woman to swim it and in an over-all men's and women's record from island to mainland. She had been preparing for this since childhood swimming San Diego Bay at age 10 and later winning ten 2 1/2 mile rough water ocean swims at La Jolla.
Barnstorming during the summer of 1953, Florence Chadwick swam again from England to France (14:42, a new women's record); the Straits of Gibraltar (5:06–men's and women's record); then off to Turkey for the Bosporus (one way) and the Dardanelles (round trip). In 1955 she again squashed the England-France Channel record (13:55)
Less it all sound too easy, there were the agonizing near misses fighting icy water and tides at Juan de Fuca, across Lake Ontario and twice the Irish Sea which she tried on her last great swim in 1960.
After that it was sportsman's shows, swim schools, radio and TV, public appearances to teach children to swim and to encourage people of all ages to extend themselves physically. At 51, Florence Chadwick began a successful new career as a stockbroker. Her first full market year (1969-70) would be a challenge to anyone, but what is rough water after you've made it a habit to swim the English Channel?