Today, we celebrate Asian American & Pacific Islander Heritage Month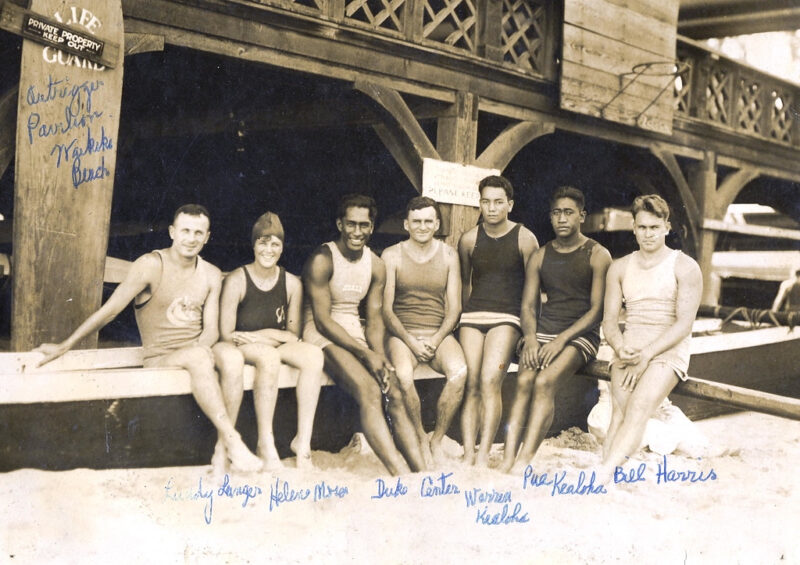 ---
The were many early Honorees from the Hawaiian Islands, as well as other Pacific Islands, the most famous was probably Duke Kahanamokou, Olympian and the Father of Surfing and his brothers, but there were many others that paved the way for the athletes of today. Let's take a look at some of those athletes that we have inducted over the years:
Duke Kahanamoku (USA)
Honor Swimmer (1965)
The information on this page was written the year of their induction.
FOR THE RECORD: OLYMPIC GAMES: 1912 gold (100m freestyle), silver (4x200m freestyle relay); 1920 gold (100m freestyle; 4x200m freestyle relay), 4th (water polo); 1924 silver (100m freestyle); 1932 team member (water polo); WORLD RECORDS: freestyle.
The history of modern swimming started with the English in 1838. It was the breaststroke, and still the breaststroke, when Matthew Webb swam the Channel in 1875; yet, bas-reliefs dating to 880 B.C. taken from the palace of Nimroud (now in the British Nimroud Gallery) show a fugitive escaping from soldiers by swimming a river using a head high overarm crawl. This stroke was evolving painfully in the western world until a bronzed Duke Kahanamoku swam out of the Hawaiian Islands with it in 1911. His world record times no one would believe.
Jam Handy describes The Duke as a superbly conditioned athlete planing and crawling over the top of the water as no one his size and only one smaller man, Perry McGillivry, seemed able to do. Only after ten years in Hollywood did a 42 year old Duke Kahanamoku in 1932 finally fail to make an Olympic team in swimming. He made it in water polo. He made his first Olympic team in 1912. "He still swam well," says Handy, "but in the water like other mortals, he was no longer in that superb condition needed to get his body planing up on top of the water." Kahanamoku, the perennial Sheriff of Honolulu, and island king in so many movies, was and is a real Duke by christened surname, as well as in deference to his royal Hawaiian blood. His father, Captain Kahanamoku, born in Princess Ruth's palace during a visit of the Duke of Edinborough, named him Duke in honor of that occasion.
In swimming, he rates his dukedom by Olympic titles as well as his ambassadorship in first introducing surfing around the world, including Australia where it has become a national sport. Duke's royal position in swimming took time to be recognized. He first startled the swimming world by shattering both the 50 and 100 yard world records on the anniversary of Hawaiian annexation day, August 2, 1911, just 12 days before his 21st birthday–doing 24 1/5 in the 40 or 1 3/5 seconds better than the record, and 55 2/5 in the 100, 4 3/5 seconds better than the record. Unfortunately the cast was all Hawaiian and the times were so unbelievable that the Amateur Athletic Union, headquartered in New York, refused to recognize them in spite of the careful reports that were compiled showing that the course in Honolulu Harbor had been measured before the race and 3 times after; had been surveyed by a registered surveyor, that the swimmers were swimming against the tide; and that his nearest competitor, Lawrence Cunha, was 30 feet behind.
After considerable correspondence back and forth, President Wahle of the AAU wrote:
"According to my mind, this matter should be treated very carefully and with extreme caution before the 100 yard record is to be accepted as an AAU record. If his 55 2/5 seconds were accepted and he should afterwards compete in the U.S. or Europe and be beaten by swimmers, the correctness of his 55 2/5 seconds would be seriously questioned as well as the good faith of the AAU.
For this reason, I would like to see Kahanamoku beat the fast men first and have the record accepted afterward."
In the 1912 Stockholm Olympics, Longworth of Australia was the favorite but Duke won the Olympic championship in 63 2/5 seconds. Eight years later at the 1920 Antwerp Olympics, on his 30th birthday, the Duke had to win his gold medal twice. The Australians protested his first win saying their man had been boxed, so the Duke had to win it again. Australia was fourth with Hawaiians first, second and third.
From the time the King of Sweden presented him with his Olympic gold medal and wreath of olive branches in 1912, the Duke has been an international idol, the first and foremost in a long line of Hawaiian world record holders, national and Olympic champions. These tiny islands dominated world swimming from 1912 until 1956 when the six Hawaiians on the U.S. Olympic team were no match for the Australians. Swimming had gone full cycle for it was the Australians who had been dominant in swimming when Duke swam past them in 1912.
Mariechen Wehselau (USA)
Honor Pioneer Swimmer (1989)
The information on this page was written the year of their induction.
FOR THE RECORD: OLYMPIC GAMES: OLYMPIC GAMES: 1924 gold (400m freestyle relay), silver (100m freestyle); WORLD RECORDS: (100yd, 100m freestyle; 400m freestyle relay); Hawaii's first woman Olympic gold medalist.
Mariechen Wehselau became Hawaii's first woman Olympic gold medalist by swimming anchor on the USA winning 400 meter freestyle relay team at the 1924 Paris Olympics. She was 18 years old and never had been out of the territory of Hawaii before she traveled to the tryouts in New York. It was the year that nine Hawaiian swimmers made the team…eight men and Mariechen.
On board the SS America, during the voyage from New York to Paris, Mariechen remembers training in the little canvas pool below deck. She wore a harness suspended from a cable so the swimmers would swim in place, a not very elegant way to stay in peak condition. But it was enough to enable her to set the world record in the Olympic 100 meter freestyle semi-final, take the silver medal the following day in the finals, and anchor the gold-medal winning freestyle relay team for the USA (she had already set the world record for the 100 yard freestyle the year before). Teammates Euphrasia Donnelly and Hall of Famers Ethel Lackie and Gertrude Ederle joined Mariechen in setting a new Olympic and world record in this event.
After Paris, Mariechen was invited by the Australian Swimming Association to compete in their championships and perform in various exhibitions. She and Mrs. E. Fullard Leo traveled to Sydney, Brisbane, Melbourne, and many small towns where Mariechen won every head-to-head race, except one which was an impossible handicap.
From 1928 to 1937, Mariechen helped her coach, Dad Center, train the younger swimmers. She had retired from active competition leaving her mark in US and International swimming.
Ellen Fullard-Leo (USA)
Honor Contributor (1974)
The information on this page was written the year of their induction.
FOR THE RECORD: Organized first women's swim clubs in Capetown, South Africa; Victoria, British Columbia; and Honolulu, Hawaii; started the Royal Life Saving Course; Representative to 1921 AAU Executive Committee (first women delegate); In 1921 helped launch the U.S. Olympic Association; Manager-Chaperone for swimming trips to Australia, Olympics and Nationals, raising money for the athletes to attend.
"Ma Leo" was the grand dame of Hawaiian swimming for more than half of her 90 years. She was not a "women's libber" but it could have come naturally. Born in Capetown, South Africa, she was the youngest of 19 children (17 were brothers). "I had to fight for women's rights," she said, "just to hold my own at the breakfast table." There were also 11 step-children so "Ma Leo" also came naturally by her success in handling large fractious groups of energetic children, something she did so well and for so long in amateur athletics as the primary organizing authority in Hawaiian AAU.
Still in Capetown, she married Leslie Fullard-Leo in 1908. They moved to New York, "Mother City" of the AAU in 1909, then on to Victoria, British Columbia in 1912. In 1915, on her way to Australia she visited Honolulu and decided to stay. In all three places, Capetown, Victoria and Honolulu, she organized their first women's swim clubs and started the Royal Life Saving Course. The Fullard-Leos bought a home site on Waikiki from Prince Kuhio. "Ma Leo" introduced Royal Life Saving Classes to the Islands in 1917. With their great Nui Lani, it was natural for the Hawaiians to take to leadership from females, so Ellen Fullard-Leo was elected their representative to the 1921 AAU Executive Committee meetings in Chicago. She sent in her credentials and they were accepted. The only problem was that on arrival the delegate bearing the name E. B. Fullard-Leo turned out to be a woman, the first woman delegate in AAU Convention history. "One man grumbled that he was afraid he wouldn't be able to smoke during the meetings. I put him at rest by explaining I was used to my husband's pipe and tobacco."
In that same year (1921) she helped launch the U.S. Olympic Association. In 1922, the Fullard-Leo's had their Mid-Pacific Palmyra Island annexed to her adopted country the United States. The island was an important Naval Station in World War II.
Whether marching in Olympic parades, organizing the first women's swim clubs in South Africa, Canada and Hawaii, or organizing the Pan Pacific Games and the Hawaiian AAU, "Ma Leo" has been a prime force in Amateur Athletics for 65 years. Her oldest of three sons, under the stage name Leslie Vincent, played featured and supporting roles in more than 100 Hollywood movies before returning to Honolulu to manage and develop the Fullard-Leo holdings.
Mrs. E. Fullard-Leo got involved in amateur athletics "because her husband was a great athlete and not because she was a tomboy," says Hal Wood, sports Editor of the Honolulu Advertiser. "I grew up in the Victorian age when it was considered vulgar for young ladies to compete in athletics," she once told him. "So of course I didn't compete, although I knew how to swim." "Ma Leo" never limited her interests to swimming. It followed that she was the manager-chaperone for swimming trips to Australia, various Olympics and Nationals on the mainland. It cost money to send Hawaiian athletes to Nationals in New York and Chicago, so she raised the money. She also raised the money for the Hawaiian lava waterfall in the entrance-way at the International Hall of Fame where she was one of the first individual Charter members. After she died in October, 1974 her ashes were spread from a surfboard off Waikiki in an ancient Hawaiian burial. No mermaid Haole ever deserved the honor more.
Warren Kealoha (USA)
Honor Swimmer (1968)
The information on this page was written the year of their induction.
FOR THE RECORD: OLYMPIC GAMES: 1920 gold (100m backstroke); 1924 gold (100m backstroke); NATIONAL AAU CHAMPIONSHIPS: 2 gold (50 freestyle); Backstroke world record holder and national champion for 6 years.
Hawaiian Olympic swimming is a study in brotherhood — the Kahanamoku brothers, the Kealoha brothers and the Kalili brothers. The Kahanamoku brothers, Duke and Sam, were second and third to Johnny Weissmuller in the 1924 Olympic 100 meter freestyle after Duke had won in 1912 and 1920. The Kalili brothers, Mailola and Manuella, were on the silver medal 800 meter freestyle relay team in 1932. The Kealoha brothers, Pua and Warren, won gold medals in the 800 freestyle relay (Pua) with The Duke; and the 100 meter backstroke (Warren) in the 1920 Olympics.
Warren Kealoha, the baby of the 1920 team, was 16 when he won his first Olympic backstroke crown. He came back to win again in 1924 as the Olympics first double winner in any stroke other than freestyle.
Warren Kealoha, like his brother, was a USA champion freestyler, twice winning the National AAU 50 freestyle gold medal, but he was supreme for 6 years as backstroke world record holder and national champion.
"It wasn't easy for Hawaiians to get to the Olympics back in those days," Warren says, "or I might have had a chance at my third Olympics in 1928." Warren Kealoha had more trouble getting to his races than winning them. "We had to break a world record before they could afford to send us to the Mainland," he says, "then when we arrived by boat and out of shape, we had to beat all comers on the West coast, again in Chicago, and again in New York before we finally made the Olympic team." Warren joins the late Duke Kahanamoku, Bill Smith, Buster Crabbe and coach Soichi Sakamoto as Hawaiian swimmers in the Hall of Fame. Now a successful rancher, Kealoha represents an amazing heritage of Island swimming which dominated the world for 50 years. The list, beginning with coach "Dad" Center and ending with diver Keala O'Sullivan, including Sargent Kahanamoku, Keo and Bunny Nakama, Douglas and Jerry Miki, Bill Woolsey, Allan Stack, Dick Cleveland, George Onekea, Sonny Tanabe, Halo Hiroshi, Ford Konno, Oshi Oyakawa, Charlie Oda, Evelyn Kawamoto, Thelma Kalama, Ivalena Hoe, Clarence Lane, Dudley Pratt, Jose Balmores, Kenny and Sammy Nakasone, Walt Richardson, the Honda boys and many others.
There may have been years when the Hawaiian Islands would have won the Olympics without help from the Mainland. It should be an inspiration to island peoples everywhere that swimming championships can become part of the way of life in island recreation.
Soichi Sakamoto (USA)
Honor Coach (1966)
The information on this page was written the year of their induction.
FOR THE RECORD: Great Hawaiian coach who developed many of the world champions between 1948-1956. All of his swimmers became National Champions during this period.
Soichi Sakamoto is the great coach responsible for modern Hawaiian swimming success. Hawaiian swimmers dominated the sport from 1912, but Buster Crabbe, in the 1932 Olympics, was their last champion of that long illustrious era.
Then came a drought and Japanese-Hawaiian Sakamoto, starting with children in an irrigation ditch, was developing new ideas of pace and rhythm with a metronome. His young swimmers were not the greats of Punaho School, then and still going on to Yale, but a new breed of public school swimmers going on to Ohio State and Indiana–Hirose, Nakama, Smith, Konno, Oyakawa, Onekea, Cleveland, Woolsey, Tanabe, Miki and the girls Kalama Kleinschmidt, Kawamoto and Hoe. All became national champions, most made the Olympic teams of 1948, 1952 and 1956.
During this period, Sakamoto was sought out by swimmers all over the world, journeying to Hawaii in search of the magic touch. They found technique, method dedication and conditioning, which produced champions at all strokes and distances, but as the coach told all in his somewhat difficult-to-understand English, "Magic, No!"
"The swimming stroke is a 'working tool'," says this master coach, "and therefore it must be one which must be sound in its practical use–to get the most out of a given effort. It must be simple and efficient, and one which can be controlled at will by the individual. . . Swimming with and not against the water."
"Patience, above all, is tantamount and a rule," Sakamoto continues, "as improvement, growth, speed and success come only at a snail's pace. First, it is learning to swim, training and conditioning, competing and going through the bitter experiences of defeat and chagrin. The light of success comes only when everything seems hopeless and wasted."
Takashi "Halo" Hirose (USA)
Honor Pioneer Swimmer (2017)
The information on this page was written the year of their induction.
FOR THE RECORD: 1938 NATIONAL AAU MEET: 2ND (200m freestyle); 4TH (100m freestyle); 1939 NATIONAL AAU: 4TH (100m freestyle); 1940 NATIONAL AAU: 2ND (100m freestyle); 1941 NATIONAL AAU: 1ST (100m freestyle, 800m freestyle relay); 1940-44 MEMBER OF THE MYTHICAL OLYMPIC TEAM, WHICH WAS NOT ABLE TO COMPETE DUE TO THE WAR; 1946 BIG TEN: 1ST (100yd freestyle), NCAA: 1ST (100yd freestyle), OHIO STATE UNIVERSITY: WON BIG TEN, NCAA AND AAU TEAM CHAMPIONSHIPS, 3 TIME ALL-AMERICAN; 1987: INDUCTED INTO OHIO STATE'S SPORTS HALL OF FAME
He learned to swim in the irrigation ditches of Maui's Pu'unene's sugar plantation, where his parents worked as laborers. Watching over him and the other kids was Soichi Sakamoto, one of their elementary school teachers.
Sakamoto knew nothing about swimming, but in time, he would come to be regarded as a coaching genius. In 1937, he dared to dream that some of his "ditch kids" could represent the USA, in the home of their ancestors, at the 1940 Olympic Games in Tokyo.
Just one year after "coach" started his "Three Year Swim Club", 15 year-old Takeshi "Halo" Hirose placed second in the 200m freestyle at the US Nationals, finishing just inches behind the great Adolph Kiefer. This earned him a spot on the US team that toured Europe and the distinction of being the first AJA (American Japanese Asian) to represent the USA in international competition.
During the tour, Halo became the first AJA to set a world record, as a member of the USA's 4x100m freestyle relay team, at a meet in Germany.
At the 1939 Nationals, Halo was selected along with Maui teammate Keo Nakama for the US team that participated in the Torneo Panamericano de Nation in Guayaquil, Equador – a forerunner of the Pan American Games. Shortly before that meet, in the face of an international boycott, the Japanese Olympic Committee announced it was giving up the Games for financial reasons, owing to its costly war with China. While Finland was an eager replacement, the outbreak of WWII dashed Halo's Olympic dreams. It was little consolation that he, along with his Maui teammates, Keo Nakama and Fujiko Katsutani were selected for the USA's "mythical" 1940 Olympic Team.
After he won the US National 100m title in 1941, came Pearl Harbor, and once Japanese Americans were permitted, he volunteered to fight in Europe as a member of the 442nd "Nisei" Regimental Combat Team. On the battlefield he gained almost as many honors as he had in swimming events in Hawaii, the USA, South America, Germany, Austria and Hungary. A member of a machine gun platoon through some of the heaviest fighting in France and Italy, Hirose received five battle stars, the combat infantry badge and a Presidential Unit Citation. In November of 1944, he contracted "trench foot" during deployment in France and was paralyzed from the hips down. It was feared that he might lose his feet. Although he recovered the use of his legs after six months in rehabilitation, he would feel the effects of "trench foot" for the remainder of his life.
After the war, Hirose followed his Maui teammate, Keo Nakama to the Ohio State University where he became a three-time All-American for the Buckeyes. Although he was an NCAA champion in the 100m freestyle and helped Ohio State win the Big Ten, NCAA and AAU team titles, Hirose had been denied his opportunity to swim in the Olympic Games in 1940 and 1944, and his war injuries no doubt affected his chances to make the US team in 1948. The story of Halo resurfaced when author Julie Checkoway published the remarkable story of The Three-Year Swim Club and the men and women who brought national and international acclaim to the island of Hawai'i and the USA.