Today in History: ISHOF 2023 Honor Swimmer Kosuke Kitajima (of Japan) wraps up the 100/200m breaststroke double at the Athens Olympics when he wins the 200m in 2:09.44, an Olympic record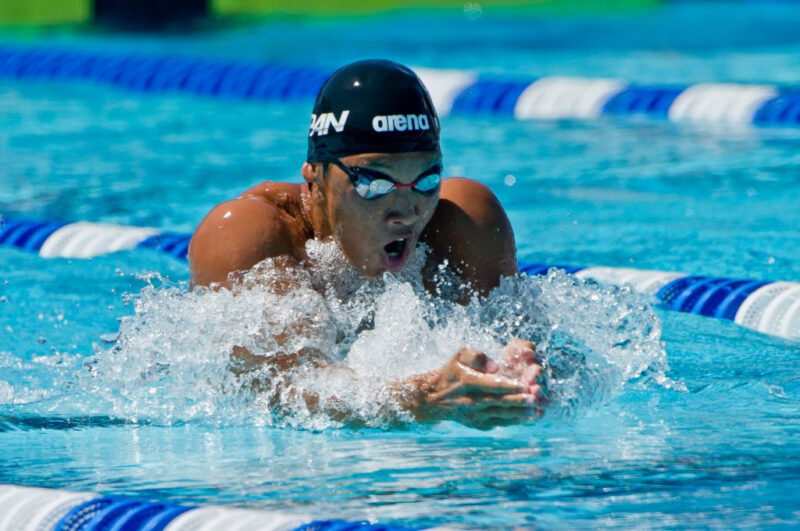 ---
Come see KOSUKE KITAJIMA LIVE and IN PERSON as he is officially inducted with other great Aquatic Athletes, like MICHAEL PHELPS, MISSY FRANKLIN, CESAR CIELO and KIRSTY COVENTRY into the INTERNATIONAL SWIMMING HALL OF FAME in Fort Lauderdale on September 30, 2023. Seats are Limited, buy your tickets NOW!
58th Annual ISHOF Honoree Induction Ceremony
Hosted By Dara Torres
Saturday, September 30, 2023
The Parker Playhouse
707 NE 8th Street, Fort Lauderdale, 33304
954.462.0222
Purchase Saturday Night Tickets Here
Class of 2023 Honorees
Bob Bowman (USA) / Honor Coach
Chris Carver (USA) / Honor Coach
Cesar Cielo (BRA) / Honor Swimmer
Kirsty Coventry (ZIM) / Honor Swimmer
Missy Franklin (USA) / Honor Swimmer
Natalia Ischenko (RUS) / Honor Synchronized Swimmer
Kosuke Kitajima (JPN) / Honor Swimmer
Heather Petri (USA) / Honor Water Polo Player
Michael Phelps (USA) / Honor Swimmer
Wu Minxia (CHN) / Honor Diver
Sam Ramsamy (RSA) / Honor Contributor
Stephane Lecat (FRA) / Honor Open Water Swimmer
Trischa Zorn (USA) / Honor Paralympic Swimmer
2023 ISHOF Aquatic Awards &
ISHOF Specialty Awards
Presented by AquaCal
Friday, September 29, 2023
Purchase Friday Night Tickets Here
ISHOF Aquatic Awards
Competitive Swimming: Mike Unger (USA)
Competitive Diving: Ellie Smart (USA)
Water Polo: Mark Koganov (AZB)
Artistic Swimming: Maria Jose Bilbao (ESP)
Aquatic Safety: Cullen Jones (USA)
Recreational Swimming: Sofia Forte (USA)
ISHOF Specialty Awards
John K. Williams Jr. Award: Gail M. Dummer (USA)
Judge Martin Award: Norm Taplin (USA)
ISHOF Service Award: Laura Voet (USA)
Buck Dawson Author's Award: Elaine K. Howley (USA)
Buck Dawson Author's Award: Tom Gompf (USA)
Al Schoenfield Media Award: John Lohn
Virginia Hunt Newman Award: Amanda Gawthrope
Sammy Lee Award: USA Diving/Duraflex
5:00 – Cocktails and hors d'oeuvres
Oceanview Veranda
Fort Lauderdale Marriott Harbor Beach, 3030 Holiday Drive, Ft. Lauderdale, FL 954.525.4000

6:00 – Awards Ceremony
Grand Ballroom – Salon E
Fort Lauderdale Marriott Harbor Beach

8:30 – Dinner on own
HOTEL INFORMATION
Host Hotel: Fort Lauderdale Marriott Harbor Beach Resort & Spa
The Fort Lauderdale Marriott Harbor Beach Resort & Spa, (3030, Harbor Drive, Fort Lauderdale, 33316, 954. 525.4000) site of the Friday night awards ceremony is our host hotel. The hotel has given us a special rate of $229 per room night. Please make your reservations through the link below prior to August 29.
(Be sure to say you do not want the resort fee or you will be charged $259)
To make reservations click here: https://book.passkey.com/e/50527236
Upscale retreat with private beach access, two pools, four restaurants, full-service spa and oceanside bar. Location of the Friday evening awards ceremony.
¼ mile south of the International Swimming Hall of Fame.
($30 Resort fee – Guests can opt out if not interested in resort amenities)
Additional Hotel Option:
Courtyard Marriott Fort Lauderdale Beach, 440 Seabreeze Blvd., Ft. Lauderdale, FL 33316
(954) 524-8733.
Click Here: Book your group rate for Honoree Ceremony
Special ISHOF Guest Rate of $169 – $189 per night
Honoree Ceremony September 29-30, 2023: Last Day to Book: Friday, August 31, 2023.