Throwback Thursday: Can you name the four Honorees in the Photo?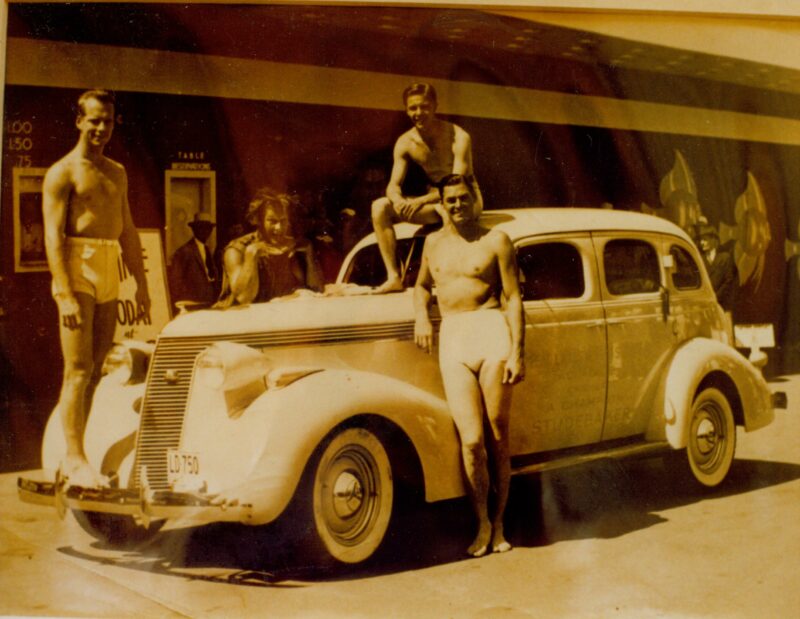 ---
Marshall Wayne (USA)
Honor Diver (1981)
The information on this page was written the year of their induction.
FOR THE RECORD: OLYMPIC GAMES: 1936 gold (platform), silver (springboard); NATIONAL AAU Titles: 2; Starred in Billy Rose's Aquacades in 1937, 1939, 1940.
Marshall Wayne was taller than most divers.  Many said he was the first tall man to look good in his somersaults, spins and twists.  He looked good enough to the judges to get the silver medal in the 1936 Olympic springboard diving and he stood still taller on the victory stand as he won the gold off the 10 meter platform.  He went on to star as a pro in all 3 of Billy Rose's Aquacades (1937 Cleveland, 1939 New York and 1940 San Francisco) with Hall of Famers Johnny Weissmuller, Eleanor Hol
m, Buster Crabbe, and Esther Williams.  His high diving was followed after World War II with 27 years as a Pan Am pilot.  His induction as an honor diver in the International Swimming Hall of Fame brings him to roost where he began diving — in South Florida with Hall of Famers Peter Desjardins and Katherine Rawls, trading off national championships with Elbert Root.  His coach was the late great Don Grubbs.
Dick Degener (USA)
Honor Diver (1971)
The information on this page was written the year of their induction.
FOR THE RECORD: OLYMPIC GAMES: 1932 bronze (springboard); 1936 gold (springboard); AAU NATIONAL (Outdoor): 4 (high board); AAU NATIONALS (Indoor): 5 (3m springboard), 2 (1m springboard); NCAA Titles: 3; BIG TEN Titles: 3; NATIONAL INTERSCHOLASTIC CHAMPIONSHIPS: 3.
Springboard diving, American style, seems to go by eras, at least as represented by the male divers selected for induction into the International Swimming Hall of Fame.
1936 Olympic champion Dick Degener is no exception to this rule, as he is the most exceptional springboard diver of the five-year period that coincides with his college years and the period between the 1932 and 1936 Olympics. Degener was the bronze medal winner in Los Angeles (1932) and the gold medal winner in Berlin (1936). In between, he won 4 outdoor AAU Nationals in the high board representing the Detroit Athletic Club, and 3 NCAA titles for the University of Michigan. At the Indoor AAUs he won 5 straight 3-meter springboard titles and 2 one-meter titles.
This total of 15 Nationals in four years while remaining undefeated in high board is unprecedented in modern diving. Add three Big Ten titles and three National Interscholastic Championships, and you begin to see how Dick dominated the high board until he turned pro with the Billy Rose Aquacade when it opened in Cleveland.
Famous for his tight spins and grace, Dick Degener was rated by the late Olympic diving coach, Dick Papenguth, as the greatest of all divers.  His own coaches, Hall of Famers Clarence Pinkston and Matt Mann, said merely "he was the very best of his era." … which is the criteria by which the divers of different eras ( and on different diving boards) must be measured.

Stubby Kruger (USA)
Honor Pioneer Swimmer (1986)
The information on this page was written the year of their induction.
FOR THE RECORD: As "King of Comedy Diving" barnstormed with Johnny Weissmuller, making swimming a spectator sport. Their exhibition at the 1924 Olympic Games had so many encores that show exhibitions were banned from future Olympic swimming.  Stubby was also king of the all-around swimming/diving pentathlon, a U.S. National Championship event in which he tied with Weissmuller in 1924 and won outright in 1925.  Originally out of Hawaii, Stubby won eight AAU National Championships with the Illinois Athletic Club, briefly held a world backstroke record, made two Olympic teams and starred as a comic in the Billy Rose Aquacades before becoming a full time stuntman in the movies.  His last role was stand-in for Spencer Tracy in Hemingway's "Old Man and the Sea".
Johnny Weissmuller (USA)
Honor Swimmer (1965)
The information on this page was written the year of their induction.
FOR THE RECORD: OLYMPIC GAMES: 1924 gold (100m, 400m freestyle; 4x200m freestyle relay), bronze (water polo); 1928 gold (100m freestyle; 4x200m freestyle relay); WORLD RECORDS: 51; U.S. NATIONAL CHAMPIONSHIPS: 52; Played Tarzan in 16 movies.
Johnny Weissmuller holds no current world swimming records and by today's Olympic standards, you might say he never swam very fast, but you can't get anyone who ever saw him swim say that there ever was a greater swimmer. This was the verdict of 250 sportswriters at A.P.'s mid-century poll and it is still the verdict 15 years later.
He was the swim great of the 1920's Golden Age of Sports, yet because of the movies and TV, he is as much a part of the scene in the 1960s as he was in the 1920s when his name was coupled with sports immortals such as Babe Ruth, Bill Tilden, Bobby Jones, Jack Dempsey and Red Grange. He is the only one of this group more famous today than in the "Golden Age."
Weissmuller set many world records and won 5 gold medals in two Olympics (1924 and 1928). He never lost a race in 10 years of amateur swimming in distances from 50 yards to 1/2 mile. Johnny's 51 seconds 100 yard freestyle record set June 5, 1927, in the University of Michigan Union Pool stood for 17 years until it was broken by Alan Ford at Yale in 1944. The 100 yd. distance is swum more often than any other, yet in 17 years, only one man ever swam it faster. That man was Johnny Weissmuller, who later, as a professional in the Billy Rose World's Fair Aquacade swam 48.5 at the New York Athletic Club while training Walter Spence to win the nationals. For those who think swimmers must be teenage bobby-soxers, it might be of interest to note that Spence was 35 at the time and Weissmuller was 36.
His record of 52 national championship gold medals should stand forever. He is famous for his chest high crawl stroke seen by millions in Olympic swim stadiums, on movie screens and on TV, but he also held world records in the backstroke and never lost a race in that stroke. "I got bored," says Johnny, "so I swam on my back where I could spend more time looking around." Weissmuller set 51 world records in his ten years as an amateur but many more times he broke world records and never turned in the record applications. Every time he swam, the crowd expected a new record, so Johnny learned pace. He learned how to shave his records a tenth of a second at a time. If he missed, his 350 lb. coach Bill Bachrach would say "rest a few minutes, Johnny, and we'll swim again." Bachrach would promise his protégé a dinner if he broke the record and Johnny always seemed to be hungry. Many a world mark was set with only a couple of visiting coaches or a few guests of the Illinois Athletic Club to watch.
Every old-timer in swimming has a favorite Johnny Weissmuller story. To them all, he was the world's greatest swimmer, yet ironically the producer who signed him to play Tarzan didn't know Johnny could swim. "Many think I turned pro to go into the movies," Johnny says, "but this is not true. I was working for a bathing suit company for $500 a week for five years, which was not bad money then (or now). I was in Los Angeles and they asked me if I would like to screen test for Tarzan. I told them 'no thanks' but they said I could go to the MGM lot and meet Greta Garbo and have lunch with Clark Gable. Any kid would want to do that so I said 'okay'. I had to climb a tree and then run past the camera carrying a girl. There were 150 actors trying for the part, so after lunch, I took off for Oregon on my next stop for the swim suit outfit. Somebody called me on the phone and said 'Johnny, you got it.' 'Got what?' 'You're Tarzan.' 'What happened to those other 150 guys?' 'They picked you.'"
"So the producer asked me my name and he said it would never go. 'We'll have to shorten it,' he said. 'Weissmuller is to long. It will never go on a marquee.' The director butted in. 'Don't you ever read the papers?' he asked the producer. 'This guy is the world's greatest swimmer.' The producer said he only read the trade papers, but okay, I could keep my name and he told the writers, 'put a lot of swimming in the movie, because this guy can swim.'"
"So you see why I owe everything to swimming," Weissmuller says. "It not only made my name, it saved my name. Without swimming, I'd be a nobody. Who ever heard of Jon Weis, marquee or no marquee."
Besides swimming, Johnny Weissmuller played on two U.S. Olympic water polo teams. "Water polo's a rough game," Johnny says. "We never could beat those Yugoslavians. They never blow a whistle over there. Anyhow, that's where I learned to duck. It came in handy when Cheetah started throwing coconuts."