Three WORLD RECORDS fall at ISHOF Aquatic Complex on this day in history…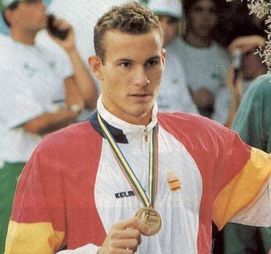 ---

In 1991, the International Swimming Hall of Fame Aquatic Complex played host to the Phillips 66 U.S. Summer Nationals in Fort Lauderdale.  
On this day, August 13, 1991, two World Records were broken at ISHOF.  The first was broken by ISHOF Honoree Martin Zubero in the 200m backstroke in a new world record time of 1:57.30, breaking, the record of ISHOF Honor Swimmer, Igor Polyansky, of the Soviet Union in a time of 1:58.14. 
The second World Record to fall that day was the 200 breaststroke, and another ISHOF Honor Swimmer would be the lucky guy!  Mike Barrowman broke the 200m breaststroke in a time of 2:10.60, breaking his own record of 2:11.23, he has set earlier that year in Perth, Australia.

At the same event, only years later, in 2002, at the Phillips 66 U.S. Summer Nationals, Natalie Coughlin broke the World Record in the 100m backstroke in a time of 59.58.  Coughlin broke the record held by China's He Cihong that was set at the 1994 Roma World Championships, with her time of 100.16