Thea de Wit, of the Netherlands, a pioneer in women's water polo, passes away on February 1, 2023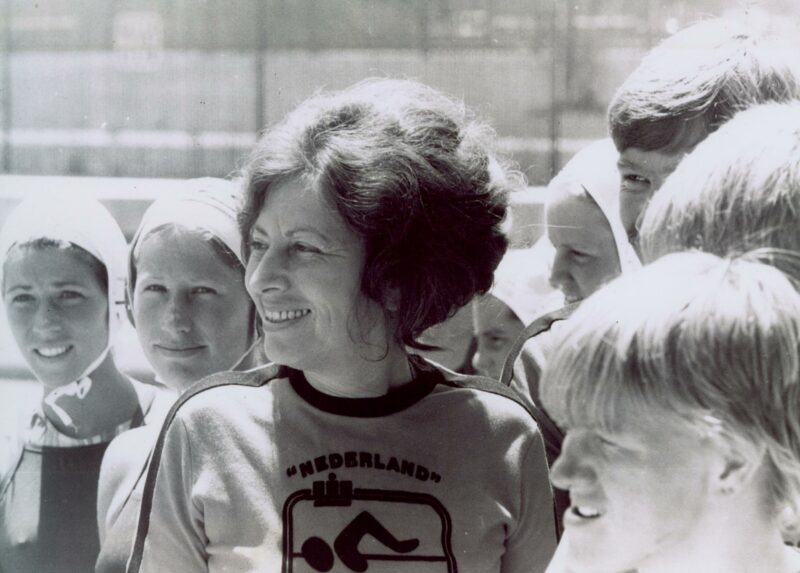 ---
Thea de Wit was inducted into ISHOF as a Contributor as part of the Class of 2005. She was from the Netherlands (Holland) and was a pioneer in women's water polo. It was a sad day for all of water polo, as Thea died yesterday, January 31, 2023.
Thea de Wit has been the single most important individual responsible for the international acceptance of women's water polo as an Olympic sport. Her tenacity and persistence in promoting water polo for women on an international level, lead to the formation of FINA and other committees which brought world-wide attention to the sport.
She learned to swim at age eight when World War II began and the German Army occupied the Netherlands. It was another five years until the end of the war when Thea became a member of Hall of Fame Coach Jan Stender's team, Club ZV De Robben, in Hilversum, playing water polo and swimming. She swam breaststroke and freestyle, but specialized in long distance, swimming the three hour fifteen minute race in the sea at a temperature of 16 degrees celsius (62 degrees fahrenheit). Additionally a club water polo match was played each Saturday somewhere in the Netherlands and for many years her club was the best in the country.
Following high school, she trained as a children's nanny, took courses in short hand and typing and qualified as a swimming teacher. In 1951, at age 18 she became a water polo referee officiating in tournaments throughout the country.
For the next two years, while living in Geneva to improve her language skills, she became the Swiss National Champion in the 100m and 400m freestyle. For another two years living in Ashford, England, she qualified as a nurse. Then it was back to Holland for marriage and the birth of her two daughters.
In 1961, she went back to ZV De Robben to teach children swimming and play water polo, becoming a member of the club Board. The European Cup for men's water polo had just begun, so she organized her club's participation. She and her husband had a big radio/TV business which helped raise money for the club, but she wanted to promote women's water polo. So, in 1975, she became a member of the Royal Dutch Swimming Federation (K.N.Z.B). She heard that the University of Quebec was looking for club teams to play in women's water polo matches, so in February, 1977, she helped organize two teams from the Netherlands, one from the USA, Australia, Puerto Rico and Canada, create a tournament in Quebec. The tournament was played again, later in the year, in Commerce, CA (USA) with an added team from New Zealand.
Thea then formed a committee that made a proposal to FINA asking if they be allowed to perform a demonstration at the Berlin World Championships in 1978, with national teams from the USA, Australia, Canada, the Netherlands and Germany. Not only was it accepted, but the tournament attracted considerable attention. During the tournament, FINA Honorary Secretary Bob Helmick nominated Thea as Chairman, Secretary and Treasurer of the Women's Promoting Committee of FINA. Because women's water polo was almost non-existent in Europe, it became the region of the biggest challenge. The K.N.Z.B. provided Thea with practical and financial support.
In 1979, FINA President Javier Ostos agreed to the first FINA Water Polo World Cup to be held in the United States, at Merced, California. For lack of participants, this took the form of a double competition. Thea fought to increase the awareness of women's water polo in European countries by giving press conferences and TV interviews. She always put FINA to the forefront in all activities to convince them that this was a new and developing sport for women. In 1980, the World Cup was in the Netherlands, and in 1981 in Brisbane, Australia. At the 1981 European Championships in Split, FINA President Ante Lambassa, also President of LEN, was persuaded to hold a tournament during the World Championships in Guayaquil, Ecuador, which became known as the Lambassa Cup.
Thea spoke to the European Congress in Malta in 1982 and at every meeting of FINA as well, to promote women's water polo and the Promoting Committee. She attended every FINA Technical Water Polo Committee meeting; Thea being the only woman in a room of men talking about the same sport with the only difference being physical strength of the players. Even international referees had difficulty adapting to the difference of men and women. Despite resistance, the World Cup for women was held every two years and in 1985 the first European Championships took place in Oslo as well as the qualifying tournament for the 1986 Madrid World Championships. FINA Treasurer and LEN President Klaas Van der Pol (NED), Jane Hale (USA) and Leanne Barnes (AUS) all gave great support.
All the while, Thea was Manager of the Dutch National Team (until 1986) and a member (from 1986) of the Technical European Water Polo Committee. She traveled to all meetings and served as a delegate to evaluate tournament referees and organizers. In 1988, she was elected to the FINA Sub-Committee for Women's Water Polo. FINA elected her to supervise all aquatic disciplines and organize competition press conferences at the 1988 Seoul Olympics. It was another opportunity to promote women's water polo.
Thea was instrumental in Russia's and Greece's emergence on the international scene. At the 1991 Perth World Championships women's water polo made great strides, encouraging Thea and others to push the IOC for Olympic water polo competition. Thea was a deck official at the 1992 Olympics in Barcelona. She started the Junior World Championships in 1996. After a long campaign her dream came to fruition and the 2000 Sydney Olympics held the first Women's Water Polo Olympic Competition.
Thea remained a member of the FINA Sub-Committee until 1992 receiving the FINA silver pin and the LEN Technical Water Polo Committee until 1995 receiving the gold medal. She has received the K.N.Z.B. highest distinction and is an Honorary Member of Club "De Robben" after having served as vice president for 20 years.
At present there are over 50 countries in the world which have a national women's water polo championship and some countries, have semi-professional or professional players and leagues. Without Thea, this would not be the case. Thea De Wit, a pioneer in the sport of women's water polo, will be missed but never forgotten.