The International Swimming Hall of Fame Is Accepting Nominations For 2019 Inductees
---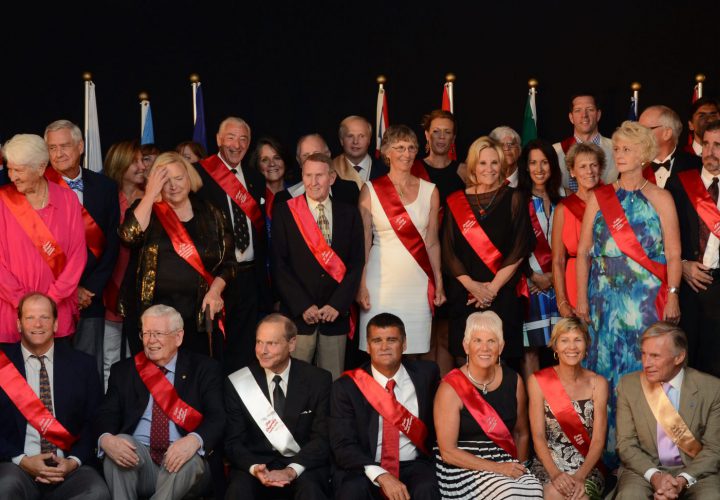 Fort Lauderdale, Florida: — The International Swimming Hall of Fame (ISHOF) is accepting nominations for the 2019 class of inductees, which honors individuals who have achieved tremendous success in the aquatic disciplines and/or made a significant impact on the sport of aquatics through their lifelong efforts.
The 2019 Inductees will be honored at ISHOF's annual Induction Ceremony in Fort Lauderdale, Florida, USA on Saturday May 18, 2019.
Nominations can be made by anyone in any of the following ten categories:
Swimming
Open Water Swimming (FINA Events)
Marathon Swimming (Non-FINA Events)
Diving
Synchronized Swimming
Water Polo
Coach
Pioneer
Contributor
Masters (Swimming, Diving, Water Polo, Synchronized Swimming, Coach, Contributor)
Nominations must be submitted along with supporting materials by October 19, 2018. Nomination forms can be found at: https://ishof.org/assets/ishof—honoree-nomination-form.pdf. Nominations may be emailed to ischmid@ishof.org or faxed to 954.525.4031.
Each nominee must meet the following minimum criteria to appear on the ballot:
Athletes in Olympic Sports shall not be chosen unless retired from elite competition for at least one Olympic quadrennial. "Athletes in Olympic Sports" refers to swimmers, open water swimmers, divers, water polo players and artistic (synchronized) swimmers. Marathon swimmers and Masters athletes do not need to be retired from competition.
To achieve selection to the ISHOF, nominees are judged on their extraordinary success at the international levels, not just within his or her own country.
A coach must have a significant international record and have been coaching at least 25 years.
A contributor must have been involved in swimming for at least 20 years and have had a significant international impact. Athletic achievement should NOT be considered. Contributors are those who have advanced the sport internationally through leadership, journalism, invention, events and overall promotion of great, outstanding impact.
The Pioneer category was created to honor great achievements that have been overlooked over time due to special circumstances, such as interruptions caused by, for example, war or politics.
Nominees must also meet the ISHOF ethics guidelines. With any ethical violations of the spirit and principles of Olympism, the ISHOF relies upon the legal system (civil and criminal), National and
International governing bodies along with organizations responsible for registering, certifying and disciplining coaches and athletes to make determinations regarding allegations of criminal and unethical behavior in a way that ensures constitutionally guaranteed due process protection for all parties involved.
If and when ISHOF is presented with substantial or compelling evidence, a determination, a criminal charge, conviction or admission of guilt, the ISHOF board of Directors will consider all options within our means and resources that will enable us to ensure the integrity of our Hall of Fame.
For more information please email Ivonne Schmid at ischmid@ishof.org or call 954.462.6536 ext. 210
About ISHOF
The International Swimming Hall of Fame, Inc. (ISHOF), established in 1965, is a not-for-profit educational organization located in Fort Lauderdale, Florida, USA. Recognized by FINA, its goal is to preserve the history of swimming, celebrate the heroes, promote the benefits and importance of swimming as a key to fitness, good health, quality of life, and the water safety of all children and adults, and connect older generations of swimmers to youth.
The above press release was posted by Swimming World in conjunction with the International Swimming Hall of Fame (ISHOF). For press releases and advertising inquiries please contact Advertising@SwimmingWorld.com.