TERRY BASSETT NAMED CHIEF EXECUTIVE OFFICER OF USA DIVING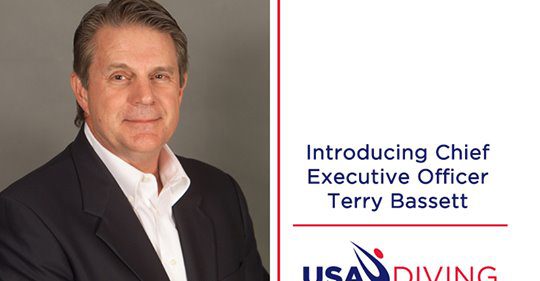 ---
BY USA DIVING | SEPT. 26, 2019, 2:33 P.M. (ET)
INDIANAPOLIS – USA Diving announced Thursday that Terry Bassett has been named the organization's Chief Executive Officer. Bassett, who will begin his new role on October 1, will bring more than 20 years of management experience encompassing finance, marketing, operations and revenue generation.
"I am honored to have this opportunity with USA Diving. This is an exciting time for the organization, and I am committed to supporting our athletes in every way possible as we look forward to Tokyo and beyond," Bassett said. "I am excited to work with the diving community to grow the sport and promote a safe environment for our members."
His career experience also includes stops at several other privately owned, non-profit and publicly traded entertainment/sports properties, including the NFL Miami Dolphins, NASCAR/International Speedway Corp., Roger Penske's Motorsports Division, Professional Bull Riders, and most recently with Nitro Circus.
He has a solid record of success in client relationship cultivation, membership growth/retention, interpersonal communication at all levels, and coordination of teams, with a proven record in staff management, development and leadership of up to 90-plus people.
"We are delighted to have selected Terry from the list of dozens of qualified candidates. He has a proven track record of success in several positions which require similar skills, knowledge, and abilities," said Dave Gascon, Chair of USA Diving's Board of Directors. "We have been very impressed by his diligence in working with our outgoing acting CEO Jack Perkins and staff as he gets up to speed. We look forward to Terry hitting the ground running on October 1."
Bassett is originally from Bowling Green, Ohio, and now lives in Colorado Springs, Colo., with his wife, Michelle, and their three children, 18-year-old Nicholas, a college basketball student-athlete, and 15-year-old twins Isabella and Logan. He enjoys sports, fishing, sports cars, coaching youth sports and most importantly spending time with his family.
A nationwide search to fill the CEO position was conducted and led by Chip Novick of Boyden Executive Search.