Steve Voellmecke to be presented 2022 Duraflex Award during ISHOF Honoree weekend Oct. 14-15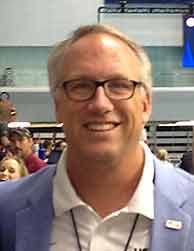 ---
Steve Voellmecke has been involved with the sport of diving for  the past 35 years.  He began as a diver, he is now as a coach, a judge and a volunteer.  He dove for Xavier University, in Cincinnati and was captain of the team, his senior year.
He is a Life Member of USA Diving,  a Trustee of the United States Diving Foundation, and a member of the International Swimming Hall of Fame (ISHOF), where he generously donates each year.    He holds the position of Treasurer of The United States Professional Diving Coaches Association and is on the Executive Board for the ambitious Aquatic Training Center project. He was Team Leader for the USA for the 2000 FINA World Cup in Sydney and the 1996 Can-Am-Mex Junior Olympic International Meet in Winnipeg, Canada.  At the 1996 U.S. National Diving Championships, he helped produce the memorable and highly successful event held at Miami University in Oxford, Ohio, as Co-Meet Director.
In 1998, Steve was presented with the prestigious "WHOSAM" Award given annually to the Diving Coach who "demonstrates commitment to excellence and dedication to the highest physical, mental and spiritual ideals." This award is presented by ISHOF Honor Diver, Dr. Sammy Lee M.D. – 1948 and 1952 Olympic Gold Medalist — and the person responsible for introducing "The Sammy" Sport Towel to the diving world!
A highly respected diving judge, Steve is FINA certified and was the only judge selected to judge both the 2008 AND 2012 United States Olympic Diving Trials. He has judged the NCAA Championships from 2007 – 2014, as well as multiple international diving competitions and Collegiate Conference Championships, including the Big 10, SEC and PAC-12 championships. For the past 30 years, Steve has been a constant in the Greater Cincinnati / Northern Kentucky area serving as referee and judge at countless Summer League Diving Meets.
Voellmecke's first love is teaching diving at the Grassroots Level, although he is proud to have coached divers at all levels. He has coached the summer diving team at The Indian Hill Club since 1985 and was instrumental in designing their spectacular new diving well, built in 2008.
He is the President and owner of Springboards and More, which is the largest Dealer of Duraflex Diving Equipment in the United States and the Preferred Equipment Supplier to USA Diving.
He currently lives in Loveland, Ohio with twins Aidan and Simone.