SOLD OUT ISHOF's 56th Annual Honoree Induction Ceremony Huge Success
---
The International Swimming Hall of Fame hosted it's 56th annual Honoree Induction ceremony, dinner and silent auction on October 9th. It was a bit different than most other inductions, in that none of our international Honorees were able to travel to the US to attend because of Covid restrictions. We took the safe road and hosted a "USA only" induction, except for Elvira Khasynova, Synchronized Swimmer from Russia, who now lives in Northern California and coaches at Stanford.
The biggest change was that we combined the Masters International Swimming Hall of Fame Honorees and the Paragon Award Winners into the Saturday evening Induction program.
In the past, the Paragon and the ISHOF Awards had its own evening the night before, and the Masters induction was during the annual United States Aquatic Sports Convention, which did not take place this year.
The weekend began with a luncheon at the ISHOF front building, followed by a tour of the facility given by Rowdy Gaines, and ISHOF Aquatic Center Manager, Laura Voet. As all could see, that the renovation of the aquatic center is really moving along. All were mesmerized with the 27-meter high diving tower.
Saturday evening's festivities began with a cocktail reception and silent auction.
The evening was a sell out with Honorees, Board Members, aquatic greats, South Floridians, and local VIPs mingling to make new friends and reestablish existing ones.
The night opened with a video from our CEO, Brent Rutemiller, who was unable to attend the induction because he is fighting a rare form of cancer. He planned on attending up until the day before when his doctors at Mayo Clinic advised against it. A real disappointment, but we will hopefully see him next year.
The evening saw 1964 Olympic gold medalist – Debbie Meyers and 1984 Olympic gold medalist and NBC Olympic Commentator – Rowdy Gaines emceeing the event.
This year, ISHOF inducted two Honor Swimmers: Rebecca Soni and Brendan Hansen.
Rebecca Soni is a three-time Olympic gold medalist specializing in the breaststroke. Soni won back-to-back gold medals at the 2008 and 2012 Olympic Games in the 200m Breaststroke. She was also a member of the 4 x 100 medley gold medal relay team that took gold in London. Rebecca was inducted by fellow breaststroker, 1964 Olympic gold medalist, Catie Ball.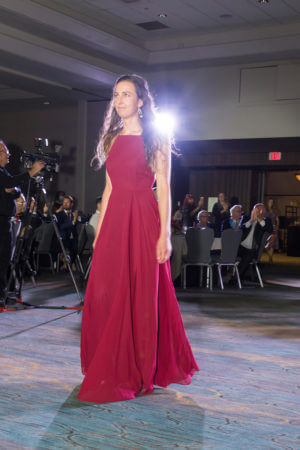 Brendan Hansen is also a breaststroke specialist and a three-time Olympic gold medalist. His Olympic career spans from 2004 Athens through 2012 London. Brendan was on the gold medal winning medley relay for three consecutive Games, 2004, 2008 and 2012, making him the top breaststrokers for eight solid years. Brendan was inducted by his University of Texas Coach, 2002 ISHOF Honor Coach, Eddie Reese.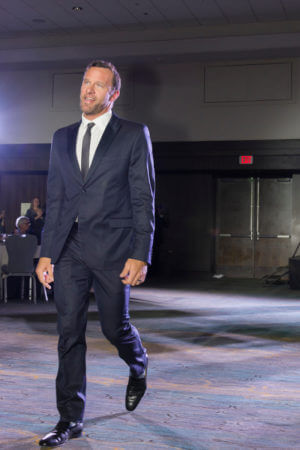 ISHOF inducted David Marsh as an Honor Coach. Marsh was the 2016 Team USA Head Olympic Women's Swimming Coach, the winningest coach in NCAA history in the state of Alabama, winning more titles than the famed Bear Bryant, with seven men's and five women's titles. Rowdy Gaines, one of Marsh's closest friends, inducted his former Auburn teammate.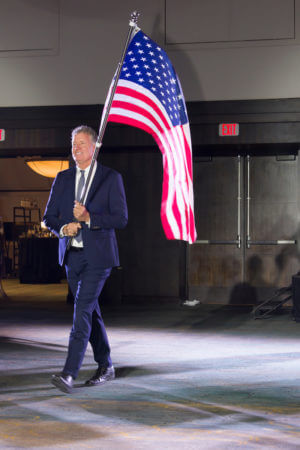 Elvira Khasyanova, three-time Olympic gold medalist (2004, 2008, 2012) and nine-time World Champion for Russia in synchronized swimming was able to be present for her induction. She is an assistant coach at Stanford University, living in California. Elvira was a member of Russia's National Team beginning in 1999 until she announced her retirement in 2012. She was inducted by ISHOF Open Water Swimmer and Board of Director, Sandra Bucha.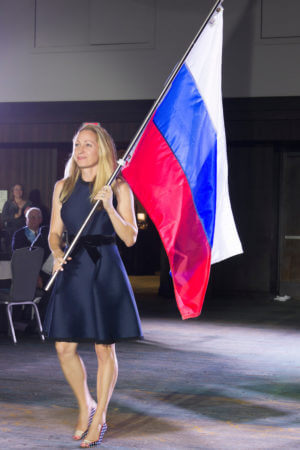 Last but certainly not least, was our longtime colleague and friend, Robert T. "Bob" Duenkel. Bob Duenkel was inducted this year as an Honor Contributor. Bob had been with ISHOF since the 1970's. There was no one like Bob. He was a walking encyclopedia on swimming and aquatic sports. Everyone knew and loved him. He was the face of ISHOF along with Buck Dawson for so many years. We lost Bob a couple of years ago, so his wife Colette, and daughter Teagan accepted the award on his behalf. What made the induction really special, was that Bob was inducted posthumously by his sister, Honor Swimmer and 1964 Olympic gold medalist (400 freestyle), Ginny Duenkel.
The culmination of the evening was the ISHOF Lifetime Achievement Award. The Award has only been given out four other times in ISHOF's history. Previous recipients include: Bob and Norma Maxwell, Greta Anderson, John McLaughlin, and most recently Jim Wood.
The award was created to recognize the lifetime dedication and achievements in the swimming community. Eddie Reese was a natural selection for ISHOF's Lifetime Achievement Award this year. Beginning his 57th year in the sport and his 44th year at Texas, Reese has had one of the most successful coaching careers in our sport, maybe in any sport. He recently won his 15th National Championship at the University of Texas. Eddie thought briefly about retiring over the Summer, bur he was back on the pool deck for the start of the new year looking for that 16th championship! Reese was inducted into ISHOF in 2002 as an Honor Coach. We now congratulate him as ISHOF's newest Lifetime Achievement Award winner.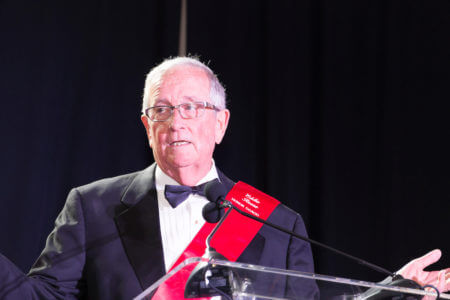 Masters International Swimming Hall of Fame
This year's 2021 Class of Master International Swimming Hall of Fame Honorees included one swimmer, one diver, one coach, and one contributor.
Clay Britt, Honor Swimmer, of the Ancient Mariners Masters was always at the top of his age group. He even swam for Eddie Reese back in the 1980's at the University of Texas. Britt has set 23 FINA Masters World Records in seven different age groups beginning in the 25-29. He is a backstroke, fly and IM Specialist, recording 281 Top Ten times, 49 individual USMS records and has been a 28-time individual pool All-American. Britt also coaches at his club, the Ancient Mariners, located outside the Washington D.C. area.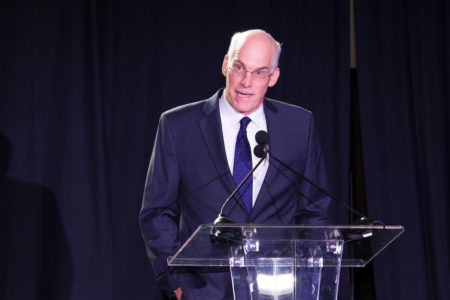 Kerry O'Brien, Honor Coach, led a 40-year coaching career, leading Walnut Creek Masters to become one of the USMS's largest teams. Under his leadership, Walnut Creek became a USMS Gold Club, growing from just 70 members to more than 450. The club has been ranked among the best at USMS National Championships and is considered a model Club in the U.S. Its philosophy is that participation in aquatics should be a life-enhancing experience.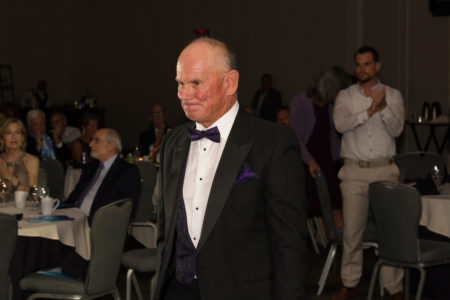 Rose Cody, Honor Contributor for the sport of Synchronized Swimming is considered to be the Mother of Masters synchronized swimming in Puerto Rico. Synchronized Swimming would not be where it is today without Rose. She has been involved in the sport on all levels. She has run Masters World Championships for the sport, named Director of the event. Cody has been the FINA Masters Synchro Chair from 1994-2017; been a member of the FINA Masters Technical Committee for Synchro from 1994-2017 and has been a member of the FINA Technical Committee for Synchro for many years; She has been a UANA Committee Member for over 20 years, a FINA certified judge from 1994-2004 and a CCCAN Committee Member from 1976-2004.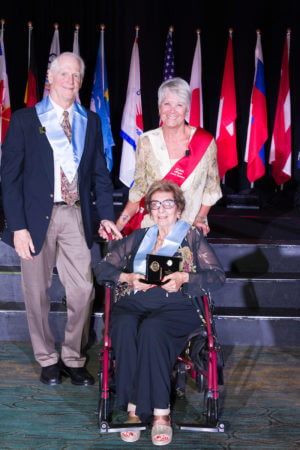 David Cotton, Honor Diver has attended eight FINA World Championships, between the years 2000 and 2017, winning 11 gold, 12 silver and three bronze medals, competing in four age groups, 45-49 through 60-64. David began diving early on, competed in high school, attended Pepperdine University on a full athletic scholarship and placed 12th in the US Nationals in 1980 on the 10-meter platform. He represented the USA in the 1985 Maccabiah Games in Tel Aviv, where he took gold on the 10-meter and silver on the 3-meter.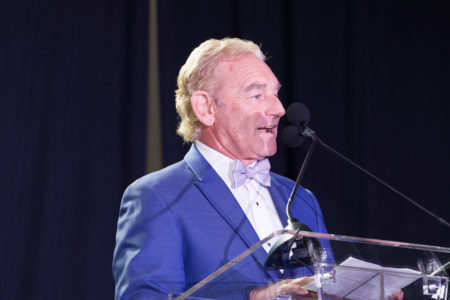 This year's Paragon Award winners that were present were a fabulous group. Ft. Lauderdale's very own, Dave Burgering, Head Diving Coach of the Ft. Lauderdale Dive Team was honored with the Paragon Award in the sport of Diving. Dave began his career as a diver, making the 1980 Olympic Team, only to have it taken away when the U.S. boycotted the Games. He attended Michigan State, went on to dive for the great Honor Coach, Dr. Ron O'Brien, out at Mission Viejo, CA, where he eventually became a coach. He later travelled to Florida and Mission Bay in Boca Raton, where he continued his success from Mission Viejo, winning more Junior National titles. During all the years of coaching, Dave found time to give back to the sport and serve as the President of US Diving in 2002.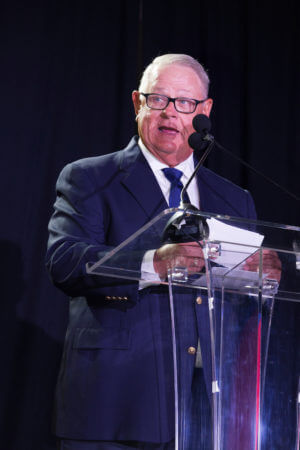 In the sport of synchronized swimming in the U.S.A., Betty Hazle has done it all. Athlete, coach, judge and sport administrator. She was a member of the USA National Team Coaching staff from 1989-1991 and 1994-1995; She has chaired the rules, governance and international relations committees; been a Board Member for USA Synchronized Swimming, served as Technical Vice Chair, Administrative Vice Chair and eventually the organization's President. Hazle has served as the editor for the USA Synchro rule book for the past 20 years and has served as Chef de Mission for the FINA World Championships for 14 years (2003-2017). Most recently, Betty has just returned from Tokyo serving as an artistic swimming judge for the 2020/21 Olympic Games.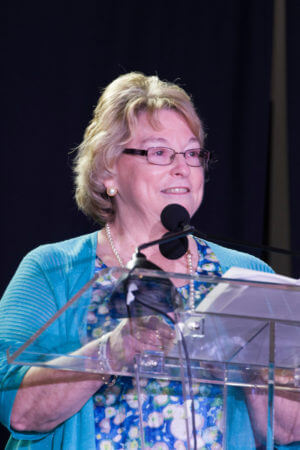 All-American water polo player and swimmer, Lynn Comer Kachmarik was presented this year's Paragon award for water polo. She was a 10-year member and captain of the United States National Water Polo team as a player, coach, and member of the USA Water Polo's Executive Committee. She has served as the Head Swimming and Water Polo coach at Bucknell University, served as Athletic Director at St. Mary's College and moved on to become the V.P./General Manager of the South Bend Silver Hawks Baseball Team. Lynn has also worked at the University of Notre Dame and served as the National Outreach Director for Play Like A Champion Today!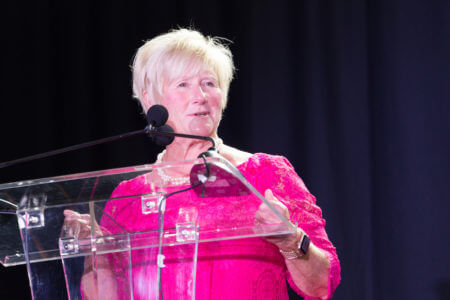 Florence "Flo" Werner taught swimming for the American Red Cross (ARC) for over 50 years, and the ARC celebrated that achievement in 2011. Today she is 91 years young, and she still wants to help people learn to swim. As she will tell you, "It was her whole life!" She began giving lessons for the ARC in the City of Miami in 1961 at the Curtis Pool, a few blocks from downtown Miami. Her life took many turns, but the constant for Flo was teaching swimming and making people safe around the water. Even when adults were afraid of the water, Flo helped make them comfortable enough to teach them how to swim. Therefore, Florence Werner was awarded this year's Paragon Award for Recreational Swimming.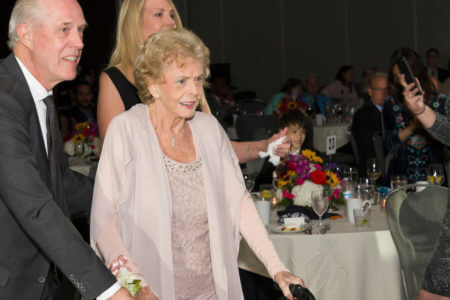 There were a lot of wonderful speeches, a lot of sharing of stories and remembering of all those who made these wonderful aquatic people become who they are today.
Another special part of the evening is seeing Honorees that were able to make it back to Fort Lauderdale to help celebrate the new class of inductees. This year, our returning Honorees were: Ginny Duenkel Fuldner, Aaron Peirsol, Tom Gompf, Eddie Reese, Catie Ball Condon, Rowdy Gaines, Debby Meyer, Sandra Bucha, and Randy Reese.
Masters Honorees attending were: Tom Boak, Carolyn Boak, Tim Shead, and John Denninger
Most importantly, we have to thank all our sponsors, who without their support, none of this would be possible. Autopilot, the Bill Kent Family Foundation, the City of Fort Lauderdale, Duraflex, Every Child A Swimmer, FINA, Florida Gold Coast, Florida Pool Pro, Hensel Phelps, Horner Express, Keiser University, Paragon/Pentair, Pool & Hot Tub Alliance, The Raymond C. Rude Foundation, SR Smith, Swiss Timing, USA Artistic Swimming, USAS, USA Diving, USA Swimming, US Masters Swimming, Visit Lauderdale; And a special thank you to all our new sponsors, thanks to the hard work of our new Development Director, Alyssa Lovitt; Florida Craft, Hotwire, Memorial Healthcare System, Stefano Ricci,
Dr. Bill Kent is the first person to receive the International Swimming Hall of Fame Legacy Award for his many years serving on ISHOF's board in various capacities including Treasurer and currently Chairman. He has donated countless hours of his time and significant financial support.
Most recently, Dr. Kent has been the leading force in ISHOF acquiring the Every Child A Swimmer trademark and getting legislation passed at the Florida State legislature requiring all parents to be informed on the importance of swimming lessons in children before entering kindergarten.
The award is an exact replica of the Olympic Tiles that currently sit outside the main ISHOF Museum which was installed in 1968. The current tiles will be removed prior to the demolition of our current museum and relocated to another visible spot in 2025.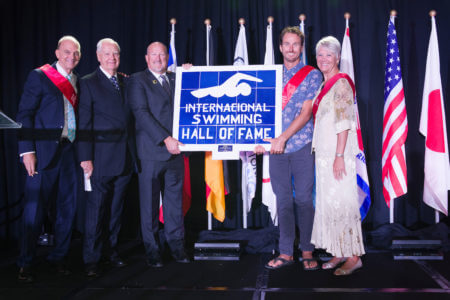 Our date for 2022 has been set – It is Saturday, October 15, 2022. Please mark your calendars. We will be honoring all those international honorees and possibly a few others who were not able to be inducted this year.
As of now, the class of 2022 includes:
Honor Swimmers
Michael Klim, Australia
Jon Sieben, Australia
Daichi Suzuki, Japan
Honor Open Water Swimmer
Marilyn Bell, Canada
Honor Diver
Matthew Micham, Australia
Honor Water Polo Player
Mirko Vicevic, Yugoslavia/Montenegro
Honor Coach
Ursula Carlile, Australia
Honor Contributor
Peter Hurezeler, Switzerland