Shelley Taylor-Smith to receive the 2022 Poseidon Award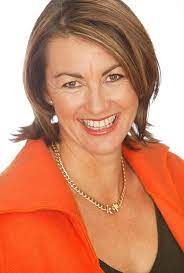 ---
FORT LAUDERDALE –
The International Swimming Hall of Fame (ISHOF) will recognize
Shelley Taylor-Smith
for her high-level achievement in marathon swimming with the 2022 Poseidon Award. The Award will be presented to Shelly during the International Marathon Swimming Hall of Fame Induction and Award Ceremony on Saturday May 7th 2022 in Naples Italy. The Poseidon Award is presented annually by the International Swimming Hall of Fame to the organization or individual for high level achievement from personal effort or initiative in a field of endeavor that contributes to the performance of marathon swimmers or to the development and status of Marathon Swimming to the world.
This year's award honors Shelley Taylor-Smith. Shelley Taylor-Smith was one of the top elite swimmers of her generation. She won 7 majors (marathon world championships), set world speed records, beat all the men in 9 races and scored 51 victories in National, Regional and International races.
Shelley was the Honorary Secretary of the FINA Technical Open Water Swimming Committee and had oversight of the FINA 10km Marathon Swimming World Cup circuit, the FINA Open Water Swimming Grand Prix series, the FINA World Open Water Swimming Championships, the 10km Marathon Swim at the 2008 Beijing Olympic Games and the 2012 London Olympic Games.
She has been an active coach since 2009, and her swimmers have been successful in 9 solos and 2 relays across the 33 km English Channel and more than 700 solos and relays across the 19.75 km Rottnest Channel.
Finally, Shelley was on the International Marathon Swimming Hall of Fame (IMSHOF) Board of Directors from 2011 to 2014 and was one of the most dedicated Honorees in attending the Induction and Awards Ceremonies in 2011 (New York, USA), 2012 (Los Angeles, USA) and 2014 (Bute, Scotland). Her involvement helped IMSHOF establish a successful ceremony tradition.
She was inducted as an Honor Swimmer in IMSHOF in 1990. In 2008 she was inducted into the International Swimming Hall of Fame and also received The Irving Davids/Captain Roger W. Wheeler Memorial Award.
For additional information, please call Ned Denison for IMSHOF in Ireland at (+353) 87-987-1573 or ISHOF at +1 (954) 462-6536, or visit
https://www.ishof.org