Serbia Out in 2019 FINA Worlds Water Polo Quarterfinals; Croatia, Hungary and Italy Advance to Semifinals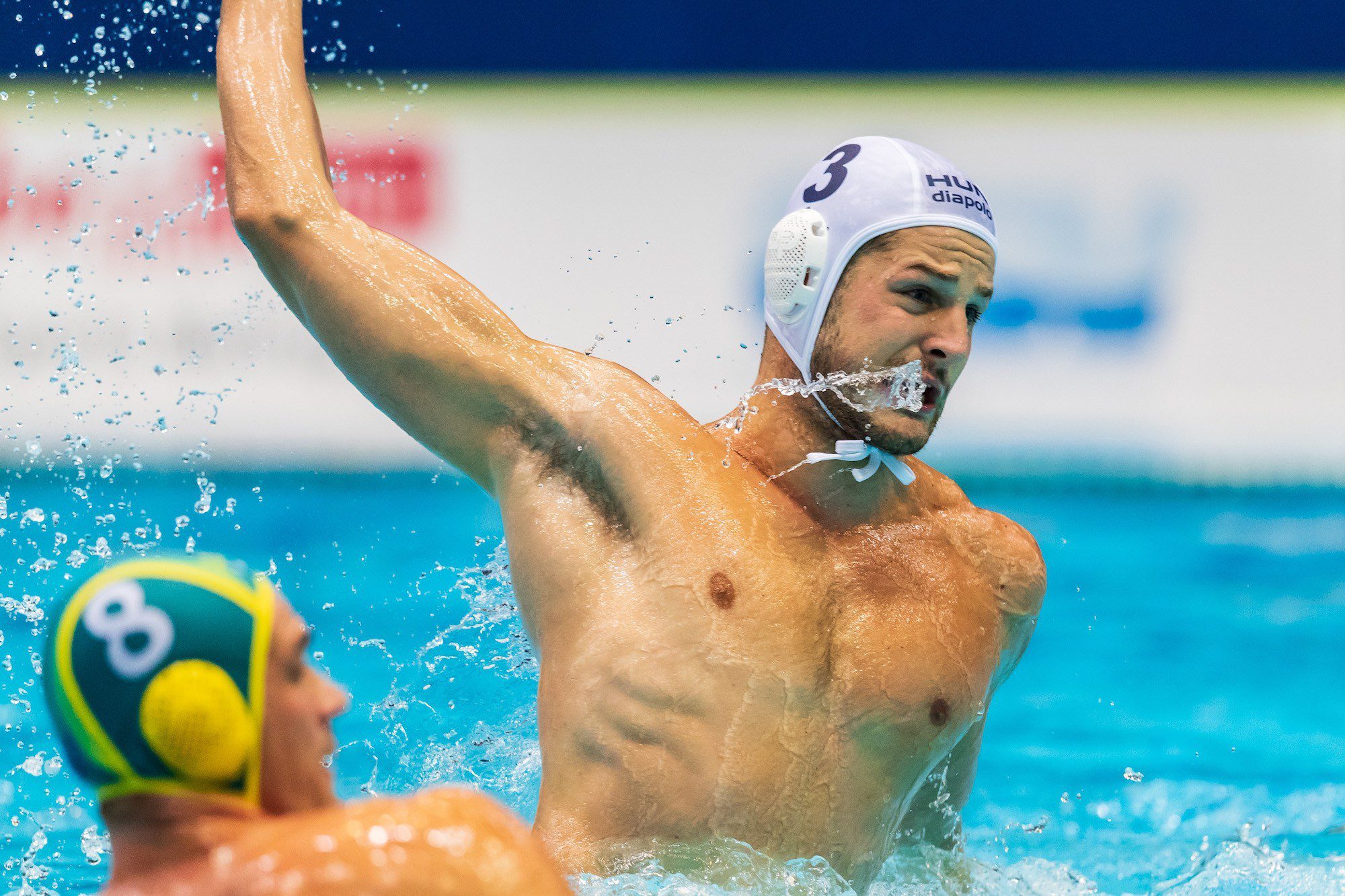 ---
by MICHAEL RANDAZZO
23 July 2019, 08:30am
At 22 years old, Krisztian Manhercz is one of Hungary's young stars.
Photo courtesy: Sportphoto.shop
Swimming World continues its coverage of the 2019 men's and women's water polo world championships. Stick with us for comprehensive coverage of this year's most prestigious polo tournament.
In a surprising upset Tuesday, the favored Serbians—who have won almost every major water polo title the past five years—were eliminated from title contention at the 2019 FINA World Aquatics Championships. Spain, which had not beaten Serbia in World Championship play since 2009, stunned the defending Olympic and European champions with a five-goal outburst in the second period, then hung on for a 12-9 victory.
It represents the first time the Serbians have not advanced to a World Championship semifinal since 2013—a debacle that marked the end of Dejan Udovicic's tenure as head coach. This year's squad—missing many of the "Golden Boys" who had fueled Serbia's prolific success—was still expected to contend with Croatia for gold in Gwangju, South Korea. Now the Serbians can finish no better than fifth, while their arch-rivals will look to become the first men's squad to win back-to-back FINA Worlds gold since the Spaniards accomplished the feat in 1998 and 2000.
For Spain, which will look to advance to the finals for the first time 2009, Alberto Munarriz Egana, Francisco Fernandez Miranda and Roger Tahull I Compte each delivered two goals apiece, while goalie Daniel Lopez Pinedo stopped 12 shots. Serbian Head Coach Dejan Savic got a game-high four goals—on seven shots—from Strahinja Rasovic but saw the rest of his team connected on only 4 of 22 attempts, a dismal 18% conversion rate. Certainly, Filip Filipovic, the great Serbian lefty, would have made an impact on this match, but he, as well as Olympians Andrija Prlainovic and Dusko Pijetlovic chose to skip Worlds.
In reality, this loss should come as little surprise. By virtue of its recent win in last month's FINA World League Super Final, Serbia has already qualified for the 2020 Olympics, and therefore was playing for pride—and yet another gold. The winner of the 2019 FINA World Championship will claim one of the 12 men's berths available for the Tokyo Games.
Croatia advanced to the semifinals for the sixth straight time with a 10-8 victory, beating back a determined German squad making its first appearance in the quarterfinals since 2011. Leading the way for Head Coach Ivica Tucak's team was Maro Jokovic with three goals. Germany got three goals from Luuk Gielan and two from Julian Real, a member of the last squad to qualify for FINA Worlds, back in 2013.
Gertjan Kooij, Croatia's Ivica Tucak looks for double
gold at FINA Worlds. Photo Courtesy: Gertjan Kooij
The Spaniards and Croatians will meet in the first semifinal on Thursday; filling out the other side of the bracket are Hungary and Italy. The Hungarians, behind hat tricks from Marton Vamos—including the game-winner with four seconds left—and Gergo Zalanki, as well as 12 saves from Viktor Nagy, held of a determined Australian side, taking a 10-9 decision. The Sharks got two goals apiece from Joe Kayes, Lachlan Edwards, Nathan Powers and Aidan Roach, as well as 13 saves from Joel Dennerley. But the Aussie goalie was unable to stop Vamos from six meters at game's end, a miss that advanced the Hungarians to the semifinals for the second straight time. Head Coach Tamas Marcz, a member of the dominant Hungarian teams that won three straight Olympic golds from 2000 – 2008, has quickly rebuilt his squad into a top contender for FINA honors, and Hungary must be considered a medal threat at the upcoming Tokyo Games.
In the last round of quarterfinal play, the Italians held off the Greeks behind 11 saves from Marco Del Lungo and two scores apiece from Francesco Di Fulvio and Stefano Luongo to claim a 7-6 victory and the final semifinal spot opposite Hungary. The Greeks held a 6-5 lead midway through the third period, but Pietro Figlioli tied it with nineteen seconds to go in the period, and Di Fulvio gave his team the lead for good a minute into the fourth. The Italians will be looking to make their first appearance in the FINA Worlds final since 2011, when they captured gold with an 8-7 overtime win over Serbia.
The semifinals won't be the same without Serbia, but the remaining combatants—Croatia, Hungary, Italy and Spain—won't shed any tears for a Serbian side that has dominated the top podium for years.


USA Men win; will play Montenegro for 9th place


Following a 20-3 blowout of South Africa. the Americans will seek to finish in their highest position at FINA Worlds since a 7th place showing in 2015. Leading the way for Udovicic's squad with four goals apiece were Ben Hallock and Alex Bowen. Alex Wolf and Drew Holland split time in the US cage, with each registering 9 saves.
USA's Alex Bowen. Photo Courtesy: USA Water Polo
On Thursday Team USA will face Montengro—which has only sustained one loss all tournament—for ninth place. The Montenegrins advance with a 14-7 win over Japan. Nikola Murisic and Vladan Spaic each netted two goals apiece, while Dejan Lazovic stopped nine Japanese attempts.
This will be the most significant match between the two sides since a meeting in group play at the 2016 Rio Olympics, which the U.S. men lost 8-5. The two sides met earlier this month in the China Wenjiang International Water Polo Tournament, where the Americans scored an 8-4 win to take top honors.