Untitled Post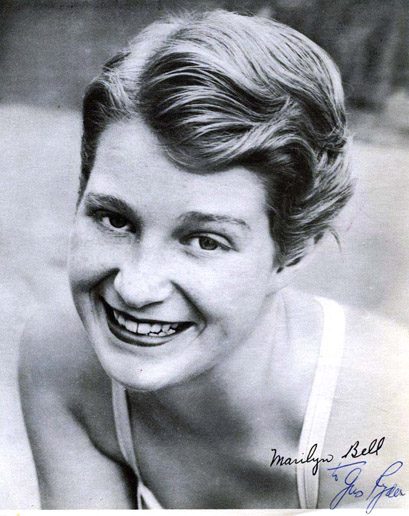 ---
Second Annual Jim Whelan Open Water Festival & 55th
Around The Island Swim is celebrating International Woman's Day
In honor of #InternationalWomansDay, we'd like to recognize Marilyn Bell. Back in 1954, she
was the first woman to finish the course around Absecon Island, NJ, that
today's Around the
Island Swim is based on. Bell, a Canadian distance swimmer
who also went on to swim across Lake Ontario and the EnglishChannel,
will be inducted into the International Swimming Hall of Famethis
April.
From all of us at the 2nd Annual Jim Whelan Open Water Festival, featuring the 55th Around the
Island Swim, CONGRATULATIONS MARILYN!!!
Interested in being a part of the legacy of
this event on Aug 9? Participant spots are still available (both individual
& relay team), as well as sponsorship opportunities. Visit www.jwopenwater.org to learn more!
From Marilyn: Heartfelt thanks to all
associated with the Jim Whelan Open Water Festival & 55th Around the Island
Swim.
My memories of the 1954 Inaugural Swim are very
special for me. It was my first marathon and no one expected a woman to finish, especially this 112 pound kid who was afraid of
fish.
Shortly before the start I was told by several
of my burly male competitors that I looked like a mascot! However, it was the
voice of Gertrude Ederle, the first woman to swim the English Channel and the Official Starter of the race that gave me
courage that morning. Her message to me was, "No one believed that a woman
could swim the English Channel but I did. Now you Marilyn will swim around this
island and then you, too, will swim the English
Channel!"
Each time I passed a male swimmer Gertrude's
voice gave me a smile and the motivation to continue. That day I swam on the
shoulders of a giant and when I reached Steel Pier only six men were ahead of
me.
I've shared this story with countless swimmers
whom I've mentored over the years. And I know it's a
story that can be told about our friend Jim Whelan who spent his entire life
mentoring kids and adults in and out of the water.
As I am inducted into the International
Swimming Hall of Fame I will be remembering and
sharing this honor with my Coach Gus Ryder, Winnie Roach Leuszler, First
Canadian to swim the English Channel, Gertrude Ederle and all those who
inspired and mentored me along the way.
Dream it! Do it! One stroke at a time!