Sarah Thomas, Cancer Survivor, Swims Pioneering Four Laps Of English Channel For "All The Survivors Out There"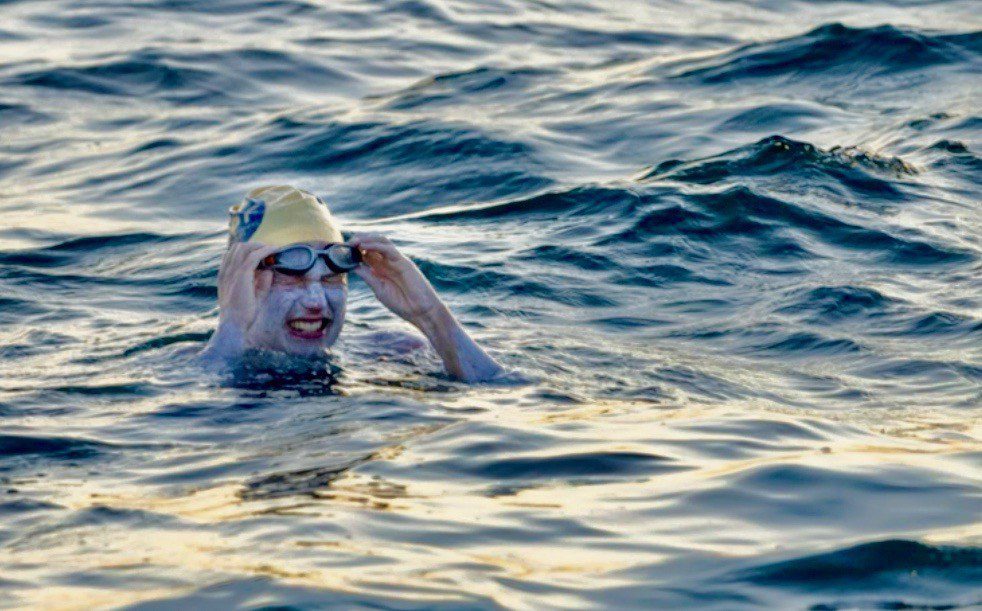 ---
17 September 2019, 02:42am
Sarah Thomas Swims First Four-Way English Channel In 54 Hours
Four laps. A fair bit more than 200m, though. As the crow flies, about 20 miles each lap. In the reality of the wash, the shipping lanes, tides and swells, 130 miles, 54 hours and 10 minutes. A pioneering four laps straight across and back twice in the English Channel.
Sarah Thomas, a 37-year-old from Colorado who completed treatment for breast cancer a year ago, just became the first person to swim across the English Channel four times in a row. The swim represents one of the greatest feats of human endurance.
Thomas began the epic challenge in the early hours of Sunday and finished after more than 54 hours just after dawn today around 6.30, London time.
She dedicated her mega-swimathon to "all the survivors out there". Speaking to the BBC on the shore soon after clambering out of the Channel, Thomas said:
"I'm really just pretty numb. There was a lot of people on the beach to meet me and wish me well and it was really nice of them, but I feel just mostly stunned."
She planned another marathon straight away: bed for the rest of the day: "I'm pretty tired right now".
First up, though, there was champagne and chocolates to celebrate making dry land at Dover in England.
On the last lap, Thomas encountered choppy seas and ever-worsening conditions. Had there been any doubts along the way, the BBC asked. Said Thomas:
"I almost didn't go back when I got back to England. I thought I should just finish and quit, but my team said, 'Guess what? You can do better. You can keep going'."
Accolades for Thomas included this from Lewis Pugh, the cold-water adventure swimmer, campaigner and fundraiser for a cleaner world: "Extraordinary, amazing, super-human!!! Just when we think we've reached the limit of human endurance, someone shatters the records. Huge congratulations to Sarah Thomas on swimming the English Channel 4x continuously!!!"
Thomas cited salt water as the toughest opponent, soar throat and mouth of bigger concern than aching arms. Asked how she got through it, Thomas told the BBC:
"My crew was really great about helping me out and keeping me strong. Every length had something that was really hard about it. Coming back from France the last time was definitely hard. It took forever and the current pushed me all over. I got stung in the face by a jellyfish and it wasn't as cold as I thought it might be but it was still chilly."
Only four swimmers had previously crossed the Channel three times without stopping, including Alison Streeter, the International Marathon Swimming Hall of Famer.
Thomas is na four-lap pioneer. Her mother, Becky Baxter, told BBC Radio 4: "I've been on a lot of her trips. This was by far the scariest."
She said her daughter, who used swimming as a way of coping with her cancer treatment, was a "freak of nature" but did have "a lot of trouble with stomach ache" on this trip.
"We were a little worried at the end of the first day as she was not able to hold anything down," she said. The cold was a challenge but Thomas is used to training in the cool waters of Colorado streams and lakes, her mother noted.
Protein recovery drink mixed with electrolytes and a little bit of caffeine helped keep Thomas going. Her mother noted that feeding was every 30 minutes in small doses, the bottle tide to a rope and thrown to the swimmer when the crew could catch her attention.
Official observer Kevin Murphy said:
"It is a triumph, she has tested the limits of endurance. It is amazing, absolutely inspirational. At the end we were very emotional."
That means much coming from Hall of Famer Murphy: his own tally of a record 34 crossings includes three double-channel swims. Murphy also holds the record for the earliest Channel crossing of the year, set on 29 May 1990. In 1964, aged just 15, he completed his first long distance swim – 6 hours 29 minutes for the 10 miles (16 km) of Lake Windermere – and in 1968, he completed his first Channel swim – England to France in 15 hours 15 minutes.
The record book now includes a four-way swim.
Thomas' mother agreed that all were "immensely proud" of her daughter. Baxter said: "We didn't know if she would make it all the way to her reaching Shakepeare Beach in Dover. She had to really dig deep to finish."
There had been 10-minute rests at the end of each lap. The tide was against Thomas on the way to the last beach, so much so that in the last 400m of the swim, "we had to do some screamin' and yellin' to get her through the tide," said Baxter.
The Founder of The Channel Pioneers Club – Captain Webb
Long the aquatic Everest, the English Channel might well be considered to be the greater human challenge in this age. There are no sherpas, for a start. Then, you have to be able to swim; you have to be able to swim in open water; you have to be able to swim a long way; and you have to be able to overcome the conditions and the coolness of the water, even in late summer.
There are other stats on the scale of challenge that tip towards the Channel as a champion of challenges. Swimming from England to France beat climbing Mount Everest by 78 years. Captain Matthew Webb was first to take the purge and get out on the other side: 1875. Sir Edmund Hillary and Tenzing Norgay flew the flag on Mount Everest in 1953. During that timeline, more than 3,000 have got to the top of Everest; fewer than 900 have made it across the Channel.
Captain Webb's crossing, well told in Kathy Watson's "The Crossing", among other books and parts of volumes down the years, predated sport as a business. It was about pure achievement for the sake of it. The Channel Swimming Association would be born 52 years after Webb showed the way.
In 2015, Captain Webb hit the big screen. The film was directed by Justin Hardy and starred actors Warren Brown, Steve Oram, Georgia Maguire, Terry Mynott, Tom Stourton and Hannah Tointon. Hardy said at the time:
"Captain Webb is a largely forgotten British hero. He attempted to swim the English Channel when the very idea was seen as beyond impossible, equipped only with his moustache, doses of Brandy and a wire wool swimsuit. We want to tell the story of a classic underdog who fought against all odds to make it to the other side."
J.B. Johnson tried and was forced to abandon the 22-miles-or-so crossing in his 1873 attempt to swim across the English Channel. Two years on, Captain Webb made history. His coach, the excitable Professor Beckwith (Oram) could not swim. So, how to instruct his pupil? Beckwith catches a frog and tells Webb to ape nature: "Be a frog! Forget the arms, a frog does not have arms." Failure followed.
Abandoned by all about him, Webb turns to his one supporter and fan: Beckwith's daughter Agnes (Maguire), also a swimmer. At one point she offers her body to Webb's American rival, Paul Boyton (Mynott) in exchange for Webb being left alone to attempt his next crossing without the threat of sabotage. Boyton declines and charts a different course as the architect of the first shiny suit saga in swimming: he becomes the first to cross the channel – wearing a buoyant suit designed by the inventor Clark S. Merriman, the prop allowing him to drift and propel himself forward with a wooden oar. Not quite swimming as we know it; not quite swimming at all.
In the mix are references to Webb attempting and failing to save a seaman from drowning. That drama suggests motivation for his crossing but they truth may rest more in the age of Victorian society and sensibility. Webb did not swim to proof he could live; he crossed to prove he could; to show his chivalry, manliness, valour, courage, persistence and derring-do, for self and country at a time when such things spoke to a sense of national identity.
Worth watching – but read The Crossing for greater richness of detail.