Ryan Held Regains Confidence After Record Swims at National Championships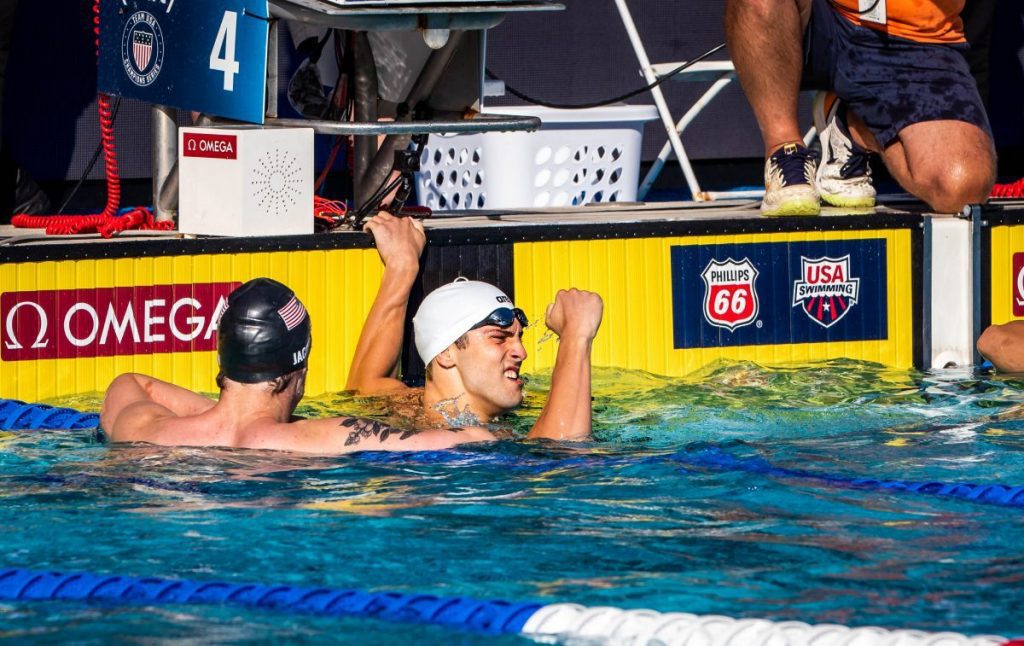 ---
31 July 2019, 08:39pm
Photo Courtesy: Connor Trimble
After a disappointing national championships a year ago, Ryan Held proved he is back on track, dominating the first day of the 2019 Phillips 66 US National Championships.
Held broke his own U.S. Open and national meet record during tonight's finals session of the 2019 Phillips 66 US National Championships in a time of 47.39 after breaking the record in prelims (47.43).
Jason Lezak held the previous U.S. Open Record with his time of 47.58.
Held felt a lot of excitement after this morning's race and after taking in the feedback from his coach Coley Stickels, and had a new game plan during tonight's race.
"I wasn't sure if I could duplicate that race, but now I know that I can go out that time and embrace the pain," Held said.
Last summer, Held did not have the summer he had hoped for but he is using it as a motivating factor to build his confidence and get him back on track with less than a year before the 2020 U.S. Olympic Trials.
"This race was a huge confidence boost on myself and the training program that I am in right now."
After reflecting on the past year and making some adjustments to his training, Held believes he is going through the same process he went through in 2015, where he also had major time drops.
"Last summer was not my best summer. I had a little sickness and was mentally a little burned out. I think the coaching change and environment change definitely helped and I knew something was special in the weeks leading up to this meet," Ryan Held said. "Seeing the results from (World University Games) and Worlds made me think — I could totally be there and there is no reason why I shouldn't or couldn't have been there had this meet been last year."
Held has really embraced the ups and downs that come with the sport of swimming and has proven what it takes to rebuild self-confidence and achieve the results he knew he was capable of.
"I think the strongest swimmers are the ones that are mentally confident in themselves and their abilities. I never really gave up on myself. This was the year everything finally came together," Ryan Held said.
Last time that happened, Held made the Olympic team the following year. He is on the right track to reach that goal in 2020.