Russian synchronized swimmer, Elvira Khasyanova to be Inducted into the International Swimming Hall of Fame as past of Class of 2020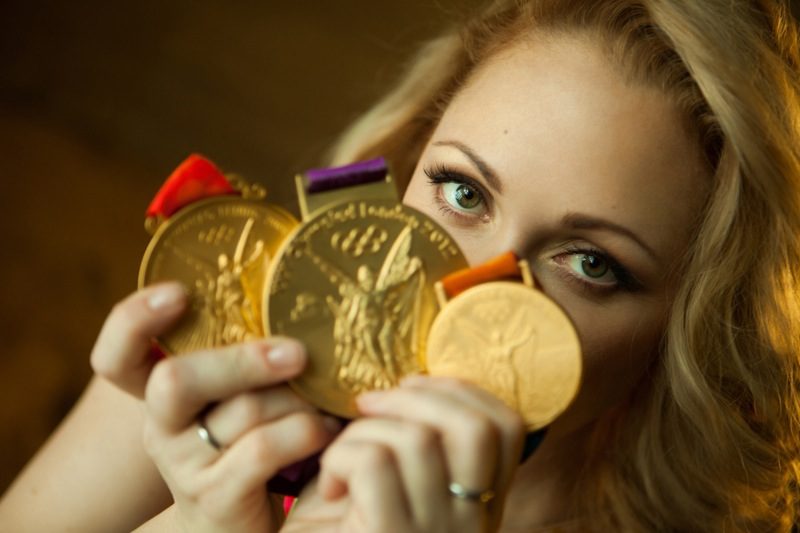 ---
by MEG KELLER-MARVIN
Russian Synchronized Swimmer, Elvira Khasyanova was a member of the Russian National Team from 1999 through 2011. She participated in three Olympic Games, winning gold medals in the team competition in 2004, Athens, 2008, Beijing and 2012, London. She won the World Championships in 2001, 2003, 2005, 2007 and 2011 in the team and the free combination events, along with the European Championships in 2002, 2004, 2006 and 2010 in the same events.
Khasyanova announced her retirement in November 2012 and began a new role, working for the Special Olympics organization for the new year, January 2013, where she functioned as the Director of Northern Europe and the Russia Region.
Come and meet Khasyanova in person and hear her incredible life story at the ISHOF Induction dinner on Saturday, April 25, 2020. Become an ISHOF Legacy Member and attend the ISHOF Induction Dinner for FREE. Can't attend the event? Please consider donating to ISHOF, support Khasyanova and our other inspirational Honorees.
More about Elvira Khasyanova:
Khasyanova began synchronized swimming at the age of seven in Moscow, Russia. She competed from 1994 to 1998 on the Junior National Team winning the World and European Championship in the team event in 1996, and in both the team and duet events in 1998, before moving on to the Senior National team.
After her stellar career in synchronized swimming, in 2015, she emigrated to the United States and began coaching with the Walnut Creek Aquanuts for the next year. She also became a USA National Team Assistant Coach in 2015. Currently, Khasyanova is an assistant coach at Stanford University, in Palo Alto. She is married and recently gave birth to a baby boy, Waris Singh Soni, on October 30 of this year. They also have an older daughter, Sofia Elik who was born in 2013.
About the International Swimming Hall of Fame Induction Weekend:
The International Swimming Hall of Fame (ISHOF) Induction Ceremony is shaping up to be a star-studded weekend with ISHOF Honoree and Sullivan Award Winner, Debbie Meyer, acting as emcee and host of the induction with multiple events spread out over two days in beautiful Fort Lauderdale, Florida. Make your plans now to attend the weekend of April 24-25, 2020! ISHOF Members can purchase the Weekend Package and Save! Can't attend the event? Donate to ISHOF to support our Honorees.
This year's International Swimming Hall of Fame Honorees include:
HONOR SWIMMERS: Brendan Hansen (USA), Michael Klim (AUS), Jon Sieben (AUS), Rebecca Soni (USA), and Daichi Suzuki (JPN); HONOR DIVER: Matthew Mitcham (AUS); HONOR SYNCHRONIZED (ARTISTIC) SWIMMER: Elvira Khasyanova (RUS); HONOR WATER POLO: Mirko Vicevic (YUG); HONOR OPEN WATER SWIMMER: Marilyn Bell (CAN); HONOR COACHES: Ursula Carlile (AUS) and David Marsh (USA); HONOR CONTRIBUTORS: Bob Duenkel* (USA) and Peter Hurzeler (SUI).
*deceased
In addition to the Class of 2020, two Honorees from the Class of 2019, who were unable to attend their induction last year, will be present to be officially inducted. Honor Swimmer: Otylia Jedrzejczak (POL) and Honor Diver: Ting Li (CHN).
The Weekend Schedule:
Friday, April 24, 2020
Paragon & ISHOF Specialty Awards Night
5:30 PM Cocktails,
6:30 PM ISHOF and Paragon Awards at ISHOF Museum
Saturday, April 25, 2020
Honoree Induction Day Luncheon
12-1:30 PM Luncheon ISHOF Museum
Official 56th Annual International Swimming Hall of Fame Induction Ceremony at Fort Lauderdale Marriott Harbor Beach Resort and Spa
6:00 PM VIP Reception,
7:00 –10:00 PM Induction Ceremony
TICKET INFORMATION
April 24-26 Complete Weekend Package (Includes Paragon/ISHOF Awards Night, Luncheon, and Induction Ceremony)
ISHOF Members $350
ISHOF Non-Members $425 BEST PRICE!!
APRIL 24 ISHOF Awards and Paragon Awards Night
(Hors D'oeuvres and Free Bar) 5:30 PM
ISHOF Members $75
ISHOF Non-Members $100
APRIL 25 Luncheon
ISHOF Members $35
ISHOF Non-Members $50 per person
APRIL 25 INDUCTION CEREMONY AND DINNER 6:00 PM
ISHOF Members $275
ISHOF Non-Members $300
10 Person Table $3,500 and $5,000 options
https://shop.swimmingworld.com/collections/2020-ishof-induction-tickets
HOTEL INFORMATION
Host Hotel: Fort Lauderdale Marriott Harbor Beach Resort & Spa
Four and a half star upscale retreat with private beach access, two pools, four restaurants, full service spa and oceanside bar. Location of the Saturday evening induction ceremony. ¼ mile south of the International Swimming Hall of Fame.
3030 Holiday Drive, Ft. Lauderdale, FL 33316 (954) 525-4000
Special ISHOF Guest Rate of $279 per night
Book your group rate for International Swimming Hall of Fame
NOTE: RESORT FEE IS INCLUDED in the $279 rate
Courtyard by Marriott Fort Lauderdale Beach
440 Seabreeze Blvd., Ft. Lauderdale, FL 33316 (954) 524-8733
Special ISHOF Guest Rate of $229 per night
Book your group rate for IHSOF Honoree Ceremony
For more hotel or ticket Information contact: Meg Keller-Marvin meg@ishof.org / 570-594-4367