Rob Butcher Joins ISHOF's One in a Thousand Campaign: 'It Is an Honor to Support'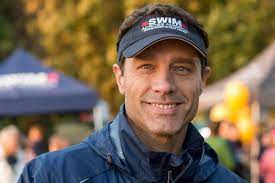 ---
30 June 2021, 08:53am
Swim Across America CEO Rob Butcher has become the latest to join ISHOF's One in a Thousand program, designed to help the Hall of Fame prosper during the COVID-19 pandemic.
"ISHOF has so many stories how water & swimming have impacted humanity that it is an honor to support ISHOF with One in a Thousand so we can continue to share our love for aquatics," Rob Butcher said.
Butcher has been involved in aquatics for many many years as the former executive director of U.S. Masters Swimming, where he stepped down in late 2015 to join Swim Across America.
Rob Butcher came to USMS in 2008 from professional car racing, where he was the chief marketing officer for the World Racing Group and served as marketing director for the International Speedway Corporation. He helped increase the NASCAR and Indy Racing brands through sponsorships and partnerships with major corporations.
Butcher has plenty of swimming experience, having swum for Georgia Southern University in the early 1990s. He competed in the 2000 Olympic Trials in the 100 breaststroke where he was 57th overall at age 28.
As executive director at USMS, Rob Butcher made an immediate impact. He moved the organization's headquarters to Sarasota and created a full-time staff to revitalize the USMS brand. Not only did he help create a new logo, but his team redesigned the USMS website, that allowed members to find places to swim across the country, track meet results, and log workout distances through the new 'Go the Distance' program.
One of the things Rob Butcher hoped to do in his time as executive director was grow active membership to 50,000 athletes. He managed to do that in 2009 after just one year on the job. That number continued to grow as Butcher and his staff worked to make USMS visible to several demographics. Through the Swimming Saves Lives Foundation, adult learn-to-swim programs flourished around the country, bringing new members to the organization. The increased exposure was not missed by college students who were not part of NCAA teams, who flocked to Masters swimming to continue their athletic careers.
Marketing the sport was another goal for Butcher. Using collaborations with Olympic champions Rowdy Gaines and Misty Hyman, he helped get the word out about the Swimming Saves Lives Foundation, as well as the annual High Performance Camp in Colorado. USMS was also a sponsoring organization of the SwimToday campaign, an advertising initiative to bring people of all ages and abilities into swimming.
One of Rob Butcher's top accomplishments was securing the Qwest Center in Omaha, Nebraska as the site of the 2012 USMS summer nationals, held three days after the Olympic Trials. Participation at Masters nationals continues to hover close to 2,000, and Butcher was almost always racing while doing his executive director duties.
Join the One in a Thousand Club by helping ISHOF on a monthly or one-time basis.
For larger corporate sponsorships and estate-planning donations, please contact us at customerservice@ishof.org.
The International Swimming Hall of Fame wants to know if you are one in a thousand? We think you are! Show how special you are and become a member of the International Swimming Hall of Fame's "One In A Thousand" Club. Help keep the International Swimming Hall of Fame moving forward toward a new vision and museum by joining now!
During these unprecedented times, the ISHOF Board is calling on every member in the aquatic community to make a small monthly commitment of support to show how special you are and how special the International Swimming Hall of Fame is to everyone.
"Our goal is simple. If we get 1,000 people to simply commit $10, $25 or $50 per month, we will generate enough revenue to go beyond this Covid-19 Pandemic Crisis." – Bill Kent – Chairman of the ISHOF Board

"Those that believe in our vision, mission, and goals can join us in taking ISHOF into the future and be a part of aquatic history." – Brent Rutemiller – CEO and President of ISHOF
Since 1965, ISHOF has been the global focal point for recording and sharing the history of aquatics, promoting swimming as an essential life-skill, and developing educational programs and events related to water sports. ISHOF's vision for the future is to build a new museum and expand its reach by offering its museum artifacts digitally through a redesigned website.
The ISHOF Board of Directors is calling on all members of the aquatics community to make a small monthly commitment to show their dedication to aquatics and how special the International Swimming Hall of Fame is to everyone.