Regan Smith Shatters Missy Franklin's 200 Back World Record In 2:03.35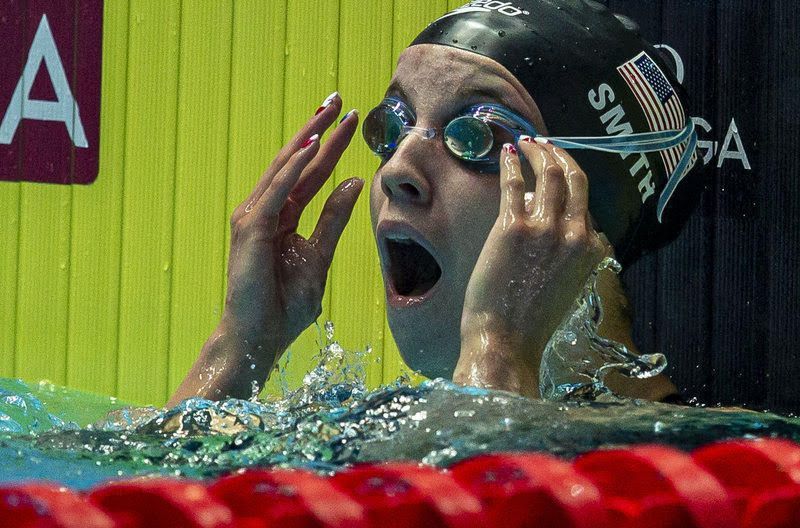 ---
26 July 2019, 04:37am
World Swimming Championships (Regan Smith)
Gwangju 2019
Photo Courtesy: Becca Wyant
Day Six Semifinals
Women's 200 Backstroke
Regan Smith of the United States looked impressive in the women's 200 back prelims when she broke her own world junior record with a 2:06.01, but as it turns up, that was just the beginning. Smith looked like a world title contender, but few expected she would shatter Missy Franklin's world record. Smith did just that, recording a monumental 2:03.35 to take down the 2:04.06 Franklin set on her way to Olympic gold in 2012.
Smith's splits: 29.06, 1:00.37, 1:31.84, 2:03.35
Franklin's splits: 29.53, 1:00.50, 1:32.16, 2:04.06
The outcome of the semifinal was never in doubt, as Smith stormed ahead of the field just as she had in the preliminary round. And what resulted was the fastest swim ever recorded by a whopping seven tenths, after Smith had entered the race ranked No. 9 all-time in the event.
"I'm in shock. I really don't believe it. I didn't think I'd ever do that. It's crazy but I am very happy with what I was able to do," Smith said. "I really just wanted to get myself in a good lane for tomorrow night's final and I just hoping to slip under 2:06, that was my goal. If I (went) 2:05-mid or something, that would (have been) amazing. I exceeded my expectations and I'm super super happy."
Previously, Smith won just a single senior-level international medal, a bronze in the 200 back at Pan Pacs in 2018. Smith made her international debut at the 2017 World Championships, where she finished eighth in the 200 back, and she later took down the world junior record in the 100 back. Smith didn't have the opportunity to swim the 100 back in Gwangju, but she recorded a 58.45 last month that was faster than the gold medal-winning time in the event this week.
The U.S. World Championships team was selected last year, with Smith missing out on berths in both the 100 back and 200 fly by one spot. After her world record-breaking performance, Smith could still end up with another race in the Gwangju beyond the 200 back final, should the U.S. coaches elect to swim Smith on the leadoff leg of the 4×100 medley relay Sunday evening.
Behind Smith, Canada's Kylie Masse took second in 2:06.57 to qualify for lane five in the final, while Italy's Margherita Panziera took third in 2:06.62. Panziera and Masse had ranked second and third in the world, respectively, prior to Smith's record-shattering swim.
A second Canadian, Taylor Ruck, got into the final, while two Australians, Minna Atherton and Kaylee McKeown, and two Hungarians, Katinka Hosszu and Katalin Burian, rounded out the top eight. American Kathleen Baker, the 100 back world record-holder and last year's Pan Pacs champion, ended up ninth in 2:09.68.
Finalists
Regan Smith (USA), 2:03.35 WR
Kylie Masse (CAN), 2:06.57
Margherita Panziera (ITA), 2:06.62
Minna Atherton (AUS), 2:07.38
Katinka Hosszu (HUN), 2:07.48
Kaylee McKeown (AUS), 2:08.19
Taylor Ruck (CAN), 2:08.42
Katalin Burian (HUN), 2:09.40