Races Without Favorites: Ben Proud Defending World Title, Caeleb Dressel Possibly Returning in 50 Freestyle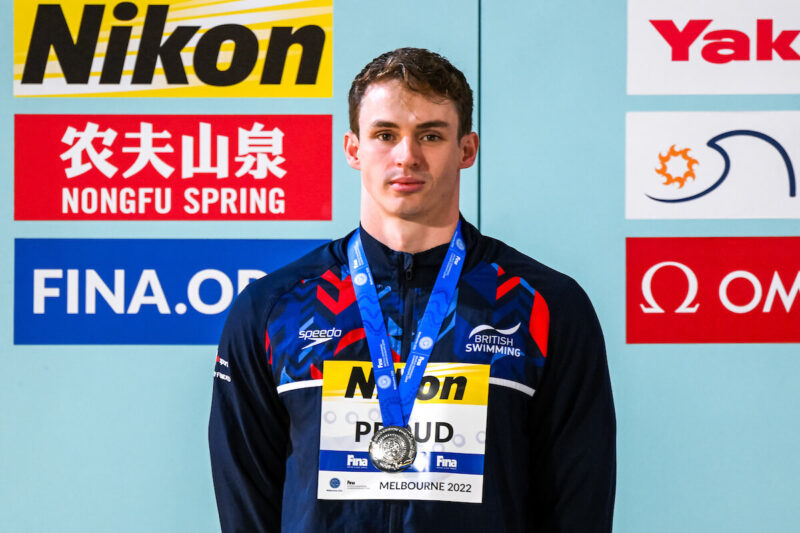 ---
Ben Proud — Photo Courtesy: Giorgio Scala / Deepbluemedia / Insidefoto
by DAVID RIEDER – SENIOR WRITER
06 June 2023
Races Without Favorites: Ben Proud Defending World Title, Caeleb Dressel Possibly Returning in 50 Freestyle
Less than two months out from the World Championships in Fukuoka, Japan, several individual races already have clearly-established favorites, but plenty of others lack an obvious choice for gold. Most countries have already competed their selection meets for Worlds while the world's two premier swimming powers, Australia and the United States, have meets scheduled for next month. So it's a great time to examine the status quo in several of the events lacking a centerpiece star right now.
Previous entries: women's 200 individual medley, women's 400 freestyle, men's 100 breaststroke and women's 100 and 200 breaststroke. Up next is the men's 50 freestyle.
---
In Caeleb Dressel's historic performance at the Tokyo Olympics in which he mined three individual golds, the most dominant of his races was the splash-and-dash. He won Olympic gold in the 50 freestyle by 0.48, an incredible margin in a race completed in less than 22 seconds. Dressel's margin of victory was the largest in history, more than double the previous biggest win.
But last year, when Dressel pulled out of the World Championships on the fourth day, the 50 freestyle was left without an obvious favorite, even as David Popovici emerged as the new global king in the 100 free and Kristof Milak was a clear successor to Dressel's throne in the 100 fly. The 50 free final, on the other hand, lacked any of the returning medalists from one year earlier in Tokyo as silver medalist Florent Manaudou ended up 11th in the semifinals and Brazil's Bruno Fratus lost to Manaudou's French teammate Maxime Grousset in a swim-off for the eighth spot.
The man who took advantage of that void was Great Britain's Ben Proud, who had not earned a medal at a long course global-level meet in five years since he won 50 butterfly gold and 50 free bronze at the 2017 World Championships. But in Dressel's absence, Proud ripped a time of 21.32 to edge out American Michael Andrew by nine hundredths. Grousset grabbed bronze in 21.57, marginally ahead of Hungary's Szebasztian Szabo and Canada's Josh Liendo.
After Worlds, Proud cemented his status as the world's top 50 freestyler with wins at the Commonwealth Games and European Championships plus a Commonwealth gold in the 50 fly. Proud finished the year at the Short Course World Championships, and he missed gold in that race by just three hundredths, with short course standout Jordan Crooks getting in just ahead.
Naturally, Proud begins this summer as favorite for a repeat world title, but he has not distinguished himself from a flurry of potential contenders. In a race where every detail matters and the smallest mistake can doom a swimmer's hopes, the 28-year-old London native is by no means a lock. Indeed, Proud owns the top time in the world so far in 2023 at 21.71, but 20 other men have dipped below 22, all crunched within three tenths of each other.
Many of those top-ranked swimmers are familiar names on the sprint scene: Szabo is ranked second globally, just ahead of Andrew and Liendo, but behind them are 21-year-old Dutch swimmer Kenzo Simons, 25-year-old Israeli Meiron Amir Cheruti, 25-year-old Singapore-native Ian Ho and 18-year-old Portuguese swimmer Diogo Matos Ribeiro. Then there's Manaudou, the 2012 Olympic champion and runnerup at both the 2016 and 2021 Games, with the 32-year-old hoping for one final run at a medal at an Olympics held in his home country next year.
The seemingly-random nature of the 50 free means that any of these men could realistically stand on a World Championships podium late next month.
A wildcard here is Crooks, who owns the short course world title and became the second man ever to break 18 in the 50-yard free during the recent college season. However, Crooks has yet to show any sign of elite long course abilities. There's a good chance he will eventually find his way into a major long course final but perhaps not this soon.
And if that's not enough possibilities to consider, remember that if one man is in the race and anywhere close to top form, he will instantly become the big favorite. That is Dressel, who has previously won two world titles (neither of them particularly close) in addition to his Olympic gold. He took a long hiatus from training after leaving Budapest last June, and he has competed sparingly so far this year, but if he can find a way onto the Worlds team, his 50 free is likely to bounce back quicker than his 100-meter events because of Dressel's natural speed and power.
Returning to top form in time and winning an individual world title would be a remarkable achievement, even by the high standard Dressel has set for himself through his year-to-year performance, but his presence would be an imposing one in a final sure to be unpredictable.